WIGSVILLE SPLIFFS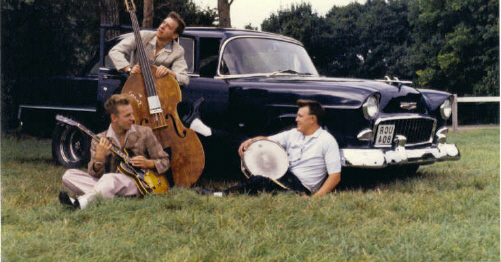 The Wigsville Spliffs were originally formed by Ian Aitkin (g/v), Danny Mowl (d) and Mike Lister (b) in 1981. The three-piece became quite popular during the mid-80's when they were regulars at the London-based Psychobilly mecca, better known as the Klub Foot and appeared on a lot of Psychobilly and Neorockabilly compilations like 'Rockin´ It Up', 'Stomping At The Klub Foot' and 'Zorch Factor' to name but a few. Their contribution to another Fury Records compilation I Ain't Lonely No More was even used as the name giver for this classic release. The original line-up split up in 1987.
The Spliffs played an one-off gig at the 'Live Over London' festival in 1989, followed by two more festival appearances in 1995 with the line-up consisting of original band members Ian and Mike, supported by ex-Meteor Woodie Taylor and drums and Boz Boorer as second guitarist.
The Wigsville Spliffs never recorded an album of their own, but songs like "Al Capone" or "Highclass Power" made them a fan favourite. Best-known Boz Boorer was also working in the background for this British trio. More than a decade after their initial split, Raucous Records released a sixteen-track CD, which included most of the songs issued on compilation albums and some previously unreleased material. The Spliffs played great, fast Rockabilly with a hard slapping bass.
In 2008 the band reformed with the original line-up to appear on the bill of the Bedlam Breakout festival. Paul Richardson was drafted in for hitting the skins and the band started to play more frequently the following year. This line-up recorded their first 'real' studio album in 2011. After the recordings of Fat 41, Ian Aitkin left the band due to private commitments and was replaced by Rick McKay.
Discography:
Singles: n/a
Albums: Wigsville Spliffs(1999) – Fat 41 (2011)
[ Home ] [ TORMENT TRIBUTE ] [ PSYCHO NEWS ] [ GIGS, FESTIVALS,TOUR DATES ] [ UPDATES ] [ THE BANDS ] [ THE RECORDINGS ] [ INTERVIEWS ] [ LYRIX ] [ LINX/CONTACT ]