The following pages are dedicated to SIMON BRAND and TORMENT.
" Behind my eyes lives a nightmare-- It´s no mystery to me
You can walk away in someone´s shoes-- In a suicide or dream "
(taken from Out Of My Head )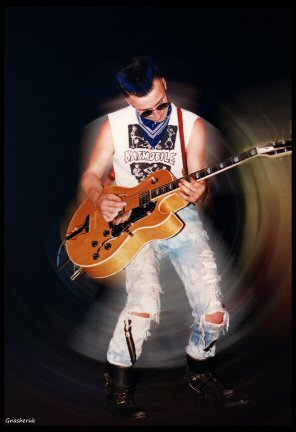 It´s long overdue and my personal wish to honour Simon Brand and his second Psychobilly outfit TORMENT as well as his contribution for the movement. While other bands have already found their home in the WWW and the recognition, that they deserve, with official websites, it looks to me like it is in nobody´s interest to cherish one of the genre´s most outstanding and prolific bands of the second half of the eighties.....
Thanks for all the help, personal stories, facts, lyrics and encouraging e-mails to Simon Crowfoot, Seth Dillingham, Kevin Haynes, Loz, Clive, Brett, Benny, Jurgen, Alan Wilson, Tobe, Bracko ,John Plummer and all the people from the Speed Freaks Ball Forum, who replied on my Torment topic, everyone who contributed with these awesome photos and flyers (check out the credits on the gallery), special thanx to everybody I´ve forgotten (sorry!!!) and most of all to Arin for always helping with the lyrics section and Roy Williams for always answering his e-mails.
This is just a start and I´m still interested in learning more about Simon / Torment. I hope there will be loads of updates. If you know more, just contact me.