TORMENT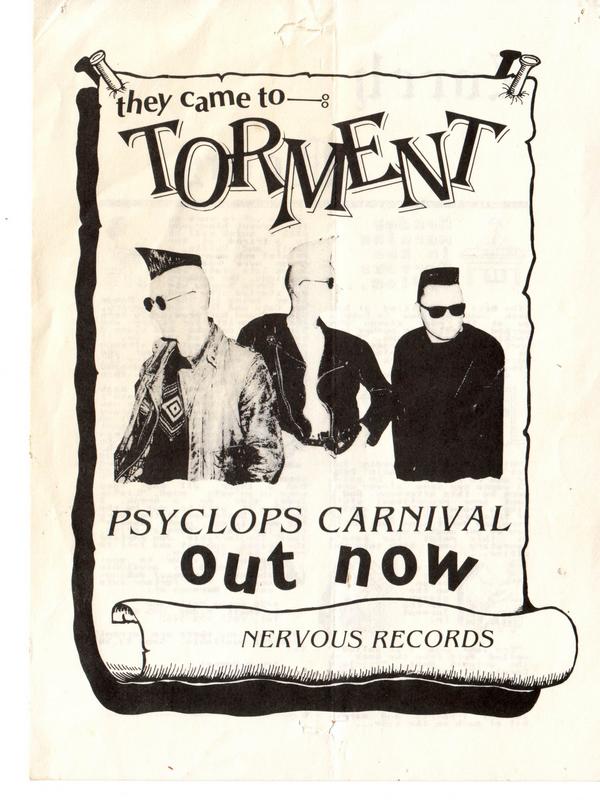 Torment was formed by ex- Frenzy Simon Brand (v, g) and Kevin Haynes (d) in late 1985. In the very beginning they were joined by Sean Holder on the double bass. In 1986 the Torment thing really started to thrive. A demo tape was accorded to Roy Williams from Nervous Records, who showed interest in releasing some stuff. Simon Crowfoot, an old mate from Simon Brand, had taken over the double bass duties and more gigs were held, too. The band not only made its record debut with a two track appearance on the Zorch Factor One compilation album, but also released the Mystery Men EP and their first full length album Psyclops Carnival within the first year of existence.
The band soon became one of the genre´s best known and highly regarded acts and eventually released three more albums, all on Nervous Records. With the big success of their vinyl releases Torment also became crowd pullers on a bunch of big festivals all over Europe and frequently gigged at the Klub Foot.
Vince Mildren (b) replaced Simon Crowfoot in 1991 and the band continued to tour all over Europe. Simon Brand left the United Kingdom for private reasons and relocated to Vermont, USA in 1993 which forced the band to rest. He headed back to England the following year to rekindle his partnership with his ex-wife Wendy and he and Kevin Haynes also made plans to renew Torment. Finally Simon Brand committed suicide in the grounds of the hospital, where his parents admitted him whilst suffering a depression. Kevin Haynes, who was a popular sleeve designer for Nervous Records back in the eighties too, is still in Bristol and Simon Crowfoot nowadays lives in New Zealand.
For a more detailed story on the band check out the TORMENT TRIBUTE pages here on this webspace.

Discography:
Singles: Mystery Men(1986)
Albums: Psyclops Carnival(1986)--Three´s A Crowd(1987)--Round The World(1989)--Hypnosis(1990)--Best Of Torment(2000)
[ Home ] [ TORMENT TRIBUTE ] [ PSYCHO NEWS ] [ GIGS, FESTIVALS,TOUR DATES ] [ UPDATES ] [ THE BANDS ] [ THE RECORDINGS ] [ INTERVIEWS ] [ LYRIX ] [ LINX/CONTACT ]