THE T
ONY MONTANAS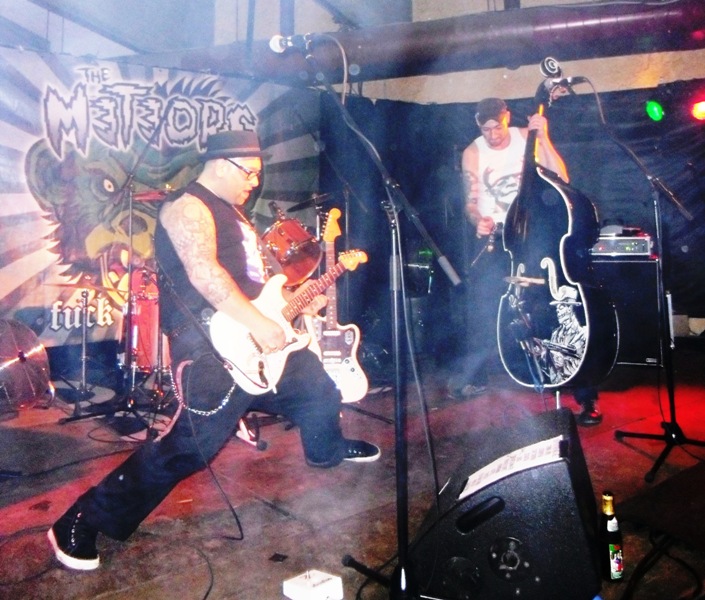 It' said that the first incarnation of the Swabian Psychobilly outfit was formed by Tony Blue Eyes, Tall Tony and two mates in 2001 and they were to be called the Maccaroniax. About a year later Lil Big joined Tony Blue Eyes (g) and Tall Tony (b) on lead vocals and stand-up drum kit and the reshuffled three-piece eventually rechristened to THE TONY MONTANAS in October 2002. Things became more serious and the trio started to gig frequently. Their record debut, 'Criminal Energy' was released on 7" vinyl on Urban Zombie and was in high demand.
Over the next few years the threesome decided to leave their mark all over Europe, including stops in Italy, France, Russia, opening shows for the cream of the cats like The Meteors, The Ricochets and The Caravans to name but a few and an appearance at the Kings Of Psychobilly festival was enjoyed. Germany's premier Psychobilly label Crazy Love Records also released their full-length album Destination Hell in 2004. Things slowed down a little bit in the tail end of the noughties as the MONTANAS were thrown back by jail time, hospital stay and other mishaps. But as you can't keep a good band down, the MONTANAS released their 2nd E.P in 2008 and were also seen at the PsychoMania festival the following year. Due to the usual differences of opinion Lil Big was asked to leave and Tony Chaos was drafted in for drum kit duties in 2010. Blue Eyes and Tall Tony- who also slaps the bass for well-known Rockabilly outfit Johnny Trouble- share lead vocals from henceforth and their idea of Mafiabilly sounds tighter and more rockin' than ever before. New songs have been written and the band was included on the 'Psychobilly Ratpack-Lesson 4' split CD and their second full-length album Mafiabilly arguably was one of the strongest releases of 2012 .
From a musical point of view THE TONY MONTANAS are hard to pigeonhole with a whole bunch of influences joined up together but definitely always remain Psychobilly. Excellent musicianship, forceful song-writing and a healthy 'FTW' attitude top it all off.
Discography:
Singles: Criminal Energy (2004) -- Traitor! (2008)
Albums: Destination Hell (2004) -- Mafiabilly (2012)
[ Home ] [ TORMENT TRIBUTE ] [ PSYCHO NEWS ] [ GIGS, FESTIVALS,TOUR DATES ] [ UPDATES ] [ THE BANDS ] [ THE RECORDINGS ] [ INTERVIEWS ] [ LYRIX ] [ LINX/CONTACT ]