(added July 2011)
INTERVIEW WITH Tony McVey
(ORIGINAL BAND MEMBER AND GUITAR PLAYER WITH SKITZO)
by Wildhank
At which age did you start playing guitar and what are your main influences as a guitarist?
Hi Patrick, I started playing guitar when I was twenty years old a late starter I know. It is something that I always wanted to do but I was too busy drinkin' and rockin' rollin' to do it then. When my son was born I had to change my life style a bit and my wife bought me a guitar. I was into all the old Rockabilly and Blues. People like Carl Perkins, Gene Vincent, Hank Garland, T.Bone Walker all 50s rockin stuff .
When and how did you meet Phil Connor and the rest of the guys and how did you get Skitzo going?
I first met Phil and Rod the Connor brothers in 1986. They were working on a market stall and we started talkin' about music. Rod had a tape playin' Psychobilly. I'd never heard of it. We went to Phil's house and he had a double bass, a guitar and some bongos so we started jamming. After a few weeks of jamming Phil decided to play guitar instead of bass so we called on my friend Tony ( ED. Bronham) who played double bass. Then the Electros were born. After giggin' as the Electros for a while we changed our name to Skitzo.
How did you get the record first deal with Nervous Records and what were your first impressions when you listened to Skitzo Mania album?
After playing a gig downstairs at the Claredon Roy Williams approached us about recording for Nervous Records. By this time Rod had to go into hospital so we had a replacement drummer Steve ( ED. Tomlinson) who recorded on the Skitzo Mania album. The first thing that stood out to me on the recording was Phil's screams.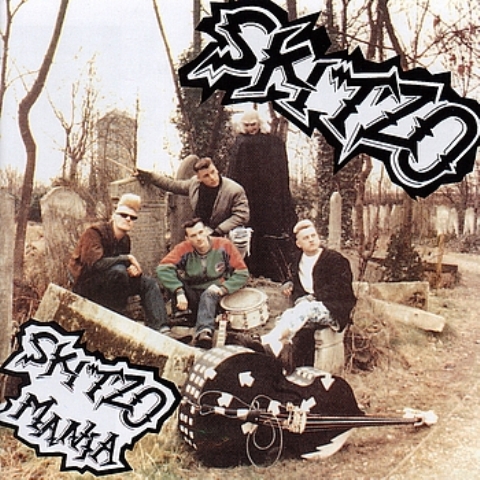 You were also filmed by the Jettisoundz crew in 1987. When was the last time you watched 'Goin' Skitzo' and how did the video come about?
The Jettisoundz crew filmed a gig with Demented Are Go and the Coffin Nails and decided to put our gig on a video tape titled Goin Skitzo. I watched the video at Joel's flat a few months ago it most enjoyable as I haven't seen it for years.
Skitzo also toured the continent in 1987. Any memories and funny stories left?
I remember when we were touring Germany that our van broke down when we were showing our passports by the Berlin wall and we had to get out and push the van while the police with guns were watching. We don't usually see police with guns in England at that time.
When and why did your involvement with Skitzo come to an end?
I left Skitzo at the end of 1987 I think. My wife at the time was expecting my third child and as much as I loved the guys in the band I needed to earn some proper money.
What have you been doing since leaving and did you join any other bands?
I studied to be a London black cab driver so I now have a career and yes I have played a few gigs with rockabilly bands just for fun.
Have you been keeping track with the story of the band and what do you think about their later releases like Terminal Damage and Vertigo?
Yes I've always been in touch with the lads they're my best mates. I personally didn't like the Terminal Damage album 'cause it was a bit heavy sound wise for me. Although I think there are some great songs on that album . I prefer the Vertigo CD as its not so heavy sound wise. I was in the studio with the lads when they recorded Vertigo although I didn't play I just had a good laugh.
For years the possibility of a Skitzo comeback was denied. So why did Skitzo eventually reform, who came up with the idea of the reunion and did you join in without thinking twice?
I've been jammin' Skitzo songs for years with Phil and Rod behind the scenes you know a few beers and a laugh. Then out of the blue Phil rang me up and said right, Mac were gettin' the band back together with Joel on bass so I didn't think twice. There's no one id rather be in a band with than these nutters.. ha ha
Joel is the only new member of the band. Why does he play a bass guitar instead of a double bass and are you 100 % pleased with the way the band sounds like these days?
All the lads live in Ramsgate and have been jammin' the tunes with Joel on bass guitar and me being an old Rockabilly I thought about the double bass. But hey once we started playin amplified etc it sounded great and Joel is doin' a great job now I don't think I would want it any other way.
You already played a few gigs. How did it go and how does it feel like to be back onstage after all these years?
We've done a few gigs all have gone well and I'm enjoying playing on stage again and mostly meeting all the old and new friends.
Are there any news about Love'n'Hate? How will the new album be like?
We were going to record the new album last year but due to some personal problems within the band that I don't want to say too much about. We switched to gigging and hopefully we will be in Doyley's studio very soon as the songs are done just need recording now.