(added July 2012)
INTERVIEW WITH STEVE JEFFERY (SJ) AND MARK BEARD (MB)
( FORMING MEMBERS OF THE MIDNITERS)
by wildhank
How and when did you get drawn into the Rockabilly, Psychobilly thing?
SJ: When I was growing up in the late seventies and early 80's it was a mash of Punk, New Wave, Ska revival, Dub Reggae, Electronica, Neorockabilly and Psychobilly. So it was just fantastic time to experience music and so many different styles and influences. Basically anything goes! To me it is always about having a genuine attitude and ethos to what you are doing rather than ability and how good you look etc.
I had been in a couple of bands before (one Ska band and one Indie type band) in the mid 80's and was looking for something rockin' and was introduced to Mark Beard by Carew from the Texans.
MB: I got into the Psychobilly scene through my mates Spider McCormick and Mark Carew, Spider used to play slap bass in a band called The Asteroids with Boggles on guitar and Carew - stand up drums and vocals. I started going to Long Tall Texans gigs and the Spider gave me his old broken double bass, which my dad repaired. Between Spider and Carew they taught me how to play slap bass, this was around 1983/84.
As far as I know the band was originally known as THE MIDNIGHT RHYTHM BOYS. What was your main inspiration to start a band? Who was in the original lineup and how did you get the track 'Where's Derek?' on the Fury Records compilation 'I Love My Car'?
SJ: Yep we were called that at the start then decided to shorten it.
For me starting and being in a band is that I love playing the guitar and there is a magic that happens when you play in a band and it clicks. You finish a song and you look at each other a go 'yep, that's just awesome, Orson!'. Few things ever come close to that especially live.
The original line up changed a few times in the early days. Mark and I had some different drummers and Carew from the Long Tall Texans used to sing and play guitar every now and again when we went out busking in Brighton and London.
I started writing some songs and then as we had a settled line up we thought we would play a few gigs and record some tracks.
The first official line up had Andy Godfrey on drums ( he was from another Brighton band called Zoltan's Pack) a Scottish guy called Neil on saxophone, Mark Beard on bass and me on guitar and temporary vocals as we have always been on the look out for a singer!
This is where our new drummer Lol comes in. He was a pal of mine and his brother Ritchie had a small 4 track recording studio. So we decamped from Brighton to Lewes and recorded two tracks a cover of the Clash's 'Should I stay or Should I go' and an instrumental I wrote that didn't have a name. On the day we came up with th vocal line Where's Derek and you can hear Lol, Ritchie and the rest of us shouting out 'Where's Derek?' on the track.
We then, like so many other bands sent the two track demo off to Roy at Nervous Records. He liked it and suggested that we stick out a track on Fury Records up and coming release 'Where's My Car?' They wanted both tracks but settled for one when I told them 'Should I Stay' was a Clash song.
MB: For me I think I just always wanted to be in a band. The tune "Where's Derek?" just happened but we didn't have a name for it, one day while we were practising it I just said 'Where's Derek?' and it stuck.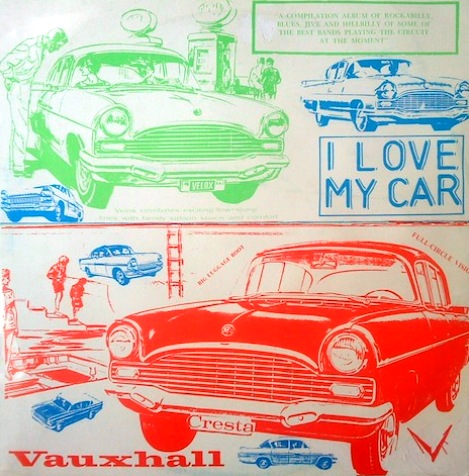 When and why did you decide to shorten the band moniker to THE MIDNITERS?
SJ: Like most decisions it was in a pub somewhere probably! Mark liked Hank Ballard And The Midnighters. So that may have been why. Also some of our fans back then used to call us THE MIDNITERS anyway I'll have to ask Mark about this...
MB: Me and Steve got pissed off with Andy on drums and replaced him with Nick Wade, we also thought the name MIDNIGHT RHYTHM BOYS was far too rockabilly for our sound so one day when we were rehearsing at Grapevine recording studio in Brighton we were talking to the guy that owned the studio who suggested we write a list of potential names for our band and THE MIDNITERS was the only sensible name that we could come up with.
How did you eventually get the deal with Razor Records? What are you favourite songs on Easy Money and why?
SJ: This was all thanks to Mark Denman from the Long Tall Texans. They were signed to Razor, the record label liked us but it was Mark's recommendation and a few knock out shows that swung it for us!
I quite like them all really; perhaps Sin City because it was a track that really came together in the studio, with loads of overdubs and atmospheres. I also got on well with the producer Roger. I liked what he could do and I wanted us to sound different and try different things. It was the worst case for the band that we didn't get him for the second album.
MB: The Texans ranted on to the guy from Razor Records to check us out and he came to one of our gigs, he asked us to do a demo for him. He like what he heard and we signed a deal with Razor. For me my favourite track on Easy Money are 'Little Devil ', 'Walls' and 'Swords' .
I remember seeing you guys supporting The Long Tall Texans in Germany around the same time when the album came out. Are there any impressions from Germany etched in your mind and are there any crazy stories left from the tour bus you would like to share with our readers?
SJ: For me yes, I love the place! I even married a German some years later, I have worked their and visited quite a few times.
Mark has the best tour stories, but I have some history for you. When we toured the wall was still up and Berlin was in East Germany. We got stopped by East German boarder guards on the journey and it was surreal to see young guys the same age as us with uniforms and machine guns and the looks on their faces when we got out of the tour bus smelling of beer, with quiffs, ripped jeans, hangovers and guitars!! They had no sense of humour and we had no sense of the seriousness of the situation! All was well in the end.....
MB: I fucking loved touring Germany, one thing I learnt while I was there was how to open a bottle of beer with a cigarette lighter - cool eh?! I remember we played an awesome gig in Munich but us along with the Texans had to get straight in a van and drive to Berlin, the wall hadn't yet come down so we had to drive through East Germany, sitting in a van with 10 people, so me and Carew, Theo and Nick used to play fight all the time!! Steve and Boggles were the sensible ones but us 4 were like children. It took us 13 hours to get there.
The following year you were supporting the mighty Stray Cats all over the United Kingdom. How was it like to open for arguably the most popular Rockabilly band ever and how did you get along with these guys behind the stage?
SJ: For us it was a dream come true. It was a fantastic tour. We were getting encores as the support band, only later did we find out that that was not usual. We grabbed lots of attention and the Cats themselves saw us on several occasions. We had several sit down chats with Slim Jim and Lee Rocker, Brian kept himself to himself more but he was always cool and friendly. We got on well and they wanted us to tour Europe with them but someone else had bought that slot. We were invited to support them when they returned for gigs at Hammersmith Odeon. There is something special when you walk out on to a stage that just about every rock and roll legend has played on! Overall it was a great experience and was worth all the hours in a van and rough sleeping.
MB: I loved every second of supporting the Stray Cats, we got to play at big venues on big sound rigs and to packed crowds all over the country. When we played at Worthing we were invited to meet the band and go for a drink at their hotel in Brighton, only Slim Jim turned up, Brian and Lee were too tired! Jim told us a joke that I still remember to this day. On tour we did meet the rest of the guys and Lee drank pints of vodka on stage and wears built up boots cos he is almost a midget!
Walk The Line.. was released on Rage Records in 1989. In my opinion the album is way more heavier and more darker both on a lyrical note and sound-wise. Would you agree with that and is there a particular reason for these musical changes?
SJ: As a band we had always liked different types of music and when I was writing the songs for Walk The Line.. I wanted a more Rock sound and to build upon what we had done on the first album. Musically and lyrically it is darker than Easy Money but I view the themes in the songs as more about overcoming situations and fighting back regardless of the shit that life can throw at you. We were set to have Restless and Meteors producer Pete Gage but the record company let us down. Real shame as he would have helped create a fantastic second MIDNITERS' album!
However things didn't work out so well with the producer who had very different ideas. As the songwriter and main arranger it was important for me to get a connection with the producer as I had done before but this simply didn't happen. So we ended up with an unhappy compromise. This is why now days I record and produce all of my own music.
In hindsight we should have waited a few months and then gone in the studio with someone we wanted to work with. But record companies aren't very patient especially when you have just finished touring with the biggest rockabilly band in history!
Many people like Walk the Line and it is the only album of ours you can buy via Amazon or via Nervous Records these days.
MB: Yeah I agree "Walk The Line.." was a lot heavier than "Easy Money" but for me 'Midnite' and 'Weekend' are my favourite MIDNITERS songs. It as just a shame that the sound guy we had producing the album was deaf and stupid, let me just tell you when we recorded the bass tracks the sound guy miked up the bass and had a separate mike for the slap, I laid down all the bass parts then on hearing them back we realised the sound guy forgot to record the slap so the bass sound is a bit weak and we just didn't have enough time to re-record the bass lines.
I just had another look at the 12" and it's read that the album is dedicated to Kevin 'Spider' McCormick. Who's Kevin and what did happen to him?

SJ: This was important for us as people and as a band. Spider was a fantastic and very funny guy. He was a biker but had previously been the front man of Zoltan's Pack a Brighton Psychobilly band that boasted our first drummer and Carew from the Texans.
Spider was a courier rider and he died tragically riding his motorbike during a delivery run. Everyone in Brighton was shocked by his death. We knew him and his brother well and we wanted to express something for him and his family so we decided to dedicate the second album to his memory.
MB: Spider was a true friend, he got me playing slap bass and I miss the fat fucker dearly.
As far as I know Steve was also involved with Boggles & The Bin Men. What was this project all about?

SJ: Since getting involved in the rockin' scene I had got on well with Mark Denman the guitar player and songwriter in the Texans. We often would jam together and he is one of the best blues players I know. We even co-wrote a song on the Texans' Saturnalia album 'No Tomorrow'.
He had a old school heavy R'n'B band before called the Bin Men so we worked together came up with a set and played a few gigs. We even played a couple of psycho festivals when the early bands failed to show. All good fun with amps turned up to 11!!!!!
After one more track on the Outrage Vol.1 compilation album THE MIDNITERS obviously called it a day. What did happen and did you play with any other bands?

SJ: We had reached a bit of a plateau after the second album. We all wanted slightly different things and musically we were all interested in different things. We never had a serious bust up but it was clear with bands like the Stray Cats and Restless calling it a day and crowds shrinking rather than growing. The musically world was moving or indeed dancing to rave and hard dance and rap rather than slapping basses and twanging guitars!
I played in two other bands Insanity and Evolver. The later is basically me and guest musicians. I have a small studio so I love to write and record music.
MB: Yeah we never had a major row or anything but in England the scene was really struggling everything was still rocking in Germany. The gigs in England started to dry up and the audiences were dwindling and I just think it ran its course. I left the scene completely and started to organise illegal raves, funny thing was one night I put a party on the beach about 5000 people turned up, I was standing behind the decks and I noticed these two fellas completely off their tits dancing like bell ends to banging techno....It was only Carew and Wadey!!!!
Have you been keeping track with the Rockabilly, Psychobilly scene over the years and what do you do for a living?
SJ: Personally I haven't. I have heard some things that sound quite interesting. But it seems as if many of the same bands that I knew back in the day are still playing. But as I say I am not really familiar with the scene so could be wrong. I like a varied rage of music and the last band I saw was Rammstein who were totally awesome. For work I run a large training and employment company in London.
MB: Even though I was into other music I have always loved Psycho rockin' music and have always kept my eye on what was going on and having Carew as one of your best mates you will never be too far way from the scene.
When and why did you decide to reform and who's the new guy sitting on the drum stool?

SJ: Our new drummer bumped into Mark and they suggested that we should look at a comeback gig. Mark and I met up after 20 years and thought we should and could do something so with Lol's help we started playing again and it has been great fun.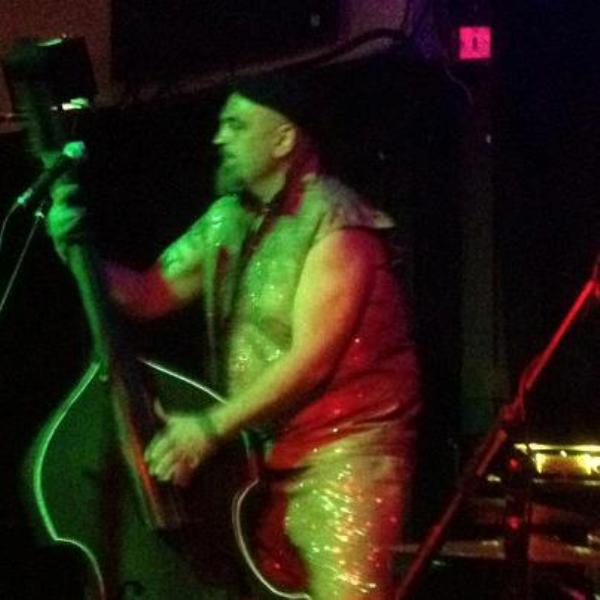 How did the comeback gig go ahead and what's next for THE MIDNITERS?

SJ: The comeback gig was great loads of people and there is a really good buzz about us and we have decided to do a few more gigs. We have a new bunch of songs which have been demoed. So we hope to release something either later this year or perhaps early next if we find the right people to work with.
MB: The come back gig was awesome, I loved it and cant wait to come back and play in Germany and anywhere else that wants to THE MIDNITERS live and rockin'!!