(added March 2012)
INTERVIEW WITH T. DANIEL HOWARD
(DRUMMER WITH KING KURT AND )
by John McVicker
How old were you when you first learnt to drum?
I was always tapping on things. I used to play with pencils on my brother's sobutio boxes (I remember QPR made a good crisp snare sound, and Caglieri had a good bass tone). I used to tap along to my Mum's Beatles records. Then aged 16 I got a snare drum and started playing in local punk groups.
Favourite drummers ?
By 18 I was listening to avant-garde Jazz and free improvisation (TOTAL PUNK!). This lead to interests in African music and in the 80's it became fashionable so I was exposed to lots of different forms of African folk music and modern popular music. I went to see Sunny Ade at the Hammersmith Odeon which blew my mind and I started studying with the great Nigerian Percussionist, Gasper Lawal (eventually joining his group and performing on his album …..) I went on to play with most of the African bands based in London at the time (80's)
What had you been doing before you joined King Kurt in 1992?
I was doing an album with a neighbour of Paul (Laventhol... ED) 's (The Dave Howard Singers) and Paul was producing it. One night he called me up out of the blue to do a gig; some dodgy party in a garage in Brixton (cut n shut specialist!) I remember the phone call like yesterday, he said " no problem, it's just 'boom chaka boom chaka boom chaka', you got nothing to worry about. As it was they all got trashed on mushrooms and some weird sexual stimulant that made you go red. I thought fuck this. But Paul was insistent that it was really good....!
I remember missing all the stops and cues (cos there weren't any). And so was born ' Fishtank Gravel'. I was quite dismissive of it at the time, but enjoyed the fact that every gig in every dodgy boozer in south London was so much fun and the band all seemed to appreciate the fact that I wasn't a proper 'rock drummer' although it sometimes got on peoples tits when I would try to be more jazzy than was necessary and what was required was 'boom chaka boom chaka boom chaka b...
Had you heard of them? Had you seen them live or bought any of there records before you joined?
We were playing early R'n'B / Country / Rock'n'Roll. I don't remember playing any King Kurt stuff at that time. Then when Paul got the call about a possible reunion the band was already up and running. We just had to do 2 weeks of pure torture at Alaska studio every day working that shit for 2 hours then down the pub for hour n half before doing another 2 hours before buying chips and going down the pub again.
I was blissfully unaware of King Kurt before this time. I remember seeing them on 'the Tube' or 'Switch' or whatever it was called when they were famous. It wasn't my bag at the time so didn't pay any attention.
Then working on the songs in rehearsal I thought some were great, the Rockabilly influences, the Blues, the mad Punk elements...it was great fun. I'd always been a bit serious about the function of my music. The African music I like is just about making people dance and I like that craft; locking into a groove adding subtle elements of swing to give it momentum, I was always a bit serious about it. With King Kurt all pretensions went out the window but the functionality of the music was the same (to make people dance!!!.....AND HOW!) .
There were a couple of songs I didn't like much and I refused to perform 'Banana, Banana' But others in the band refused to play other songs so it was cool.



What are your memories of that re-union gig in 1992 at the Astoria?
That Astoria gig was the most amazing gig I've ever done. The support act was a drag queen who went down like a lead ball on. Then the drinking competition.... I had never been a part of anything like that before and didn't know what the fuck that was about. I'm not much of a drinker.
I remember the stage littered with plastic beer glasses, what a mess and we hadn't even played yet. It was like carnage before we even got out there. But the buzz was palpable. I've done gigs in front of loads of people before, but never headlining, a situation where everyone out there is waiting for YOU!
I was the first one to step out onto the stage and this roar went up. I remember it in slow motion, like I had to wade through this vibe and get to my drum kit, I've never felt anything like that before. Or since sadly. The gig was a fury of fast music described brilliantly by the mixed up editing of the video on 'My Business" which was all taken from that gig. I was blissfully unaware of the pyrotechnics from where I was sitting and just concentrating on the music. Man, just thinking about it reminds how raw and raucous and rockin' it all was. We recorded a demo of covers to sell as cassettes at the gig. And that was a brilliant session with some great performances, like 'Give me back my wig' and 'I'm so lonesome I could cry'. I still listen to it occasionally and I still think it's brilliant.
What was life like in King Kurt -any funny stories?
We went on to tour Germany that winter. We did two warm up gigs on the way via Sheffield and Leeds I think. Can't remember to be sure. But the second one was awful. I overheard the club manager saying to the bouncers " You gotta search these fuckers, you're not looking for knives or guns, you're looking for FOOD! Any food, you gotta take it off them". Someone managed to bring in a bucket of sprats. Yes the fish! It's a small venue the crowd were right on us, the stage was covered in spit, flour, beer, more spit....and FISH. I thought fuck this, I'm in the wrong gig, this tour is going to be awful.
Our first gig in Germany was at Hamburg. I was setting up my drums, someone was unfurling the back drop and splonk! A fish landed on my snare drum. I hung it to my cymbal stand and it lasted the whole tour, until somebody ate it.
The tour of Germany was exhausting but great fun. The audience were not like I'd expected from the 2 warm up gigs in Yorkshire. There was a real mix of people; original Psychobillies still crazy and doing too much speed, original Punks who had straightened out but came to the gigs for old time's sake. Proper well dressed Rockabillies, and young teenagers coming just to check it out.
I was studying at the time. I had got pissed off with doing little budget tours, coming home, getting depressed. So I had enrolled onto this access course at Lewisham College, I wanted to get into teaching, maybe get a degree. I got time off to do this tour but they had given me loads of home work to do. So I was doing these Graded music theory books. I like to wear a suit, so there I was completely different to all the others and people would regularly assume I was the tour manager or something. Needless to say I kept myself together for a few days, working on the long bus journeys and after sound check. But it wasn't long before I got embroiled in the craziness. I don't drink before I play, but afterwards, there was always some kind of madness going on somewhere.
I think I'm a fairly easy-going person, and I've been on tour enough times to know that after a week or so, whoever you're with is going to piss you off. As long as you let the lead singer be a diva, the guitarist tell everyone what to do and fit right in with the bass player.....then everything should be fine.
Smeg is a brilliant front man. I think because he is so nonchalant and irreverent. In King Kurt mistakes were actively encouraged so we would be having a laugh all the time. Me, Paul and Billy were the engine room. It's the strange thing about being a drummer, due to the instrument and your position on stage you don't really get the same connection with the audience that other musicians do.
I cannot remember where the gig was ...somewhere in Europe (Amsterdam I think); in the dressing room after a show, two lovely girls were drinking our beer and laughing. I timidly went over to talk to them, "Hello", they said, "Did you enjoy the show?", A bit of a strange question to ask the drummer I thought, "It was ok from where I was sitting", I said trying to be clever. "Oh you were sitting DOWN?! How BORING is THAT??!!" They said and went off to flirt with Maggot. That's my rock'n'roll story.
While in the band you recorded the album ' Poor Man's Dream' . Were you happy with it and what were your memories of recording it?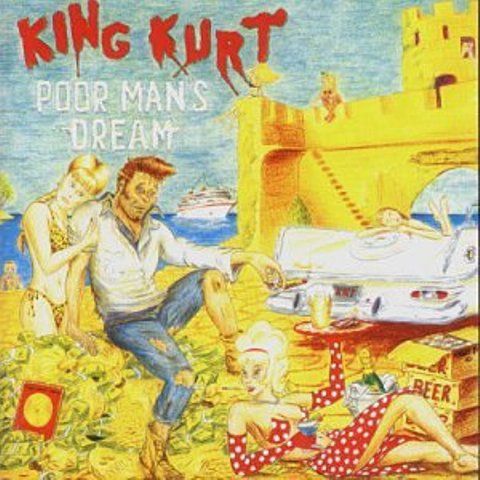 The album 'Poor Man's Dream' was hard work. There's one or two tracks that I could have done better, 'The Shark' doesn't swing like it should. But '1st Cock (Crow)', and ' (Hey Mr.) Bartender' and 'Move On' are great.
Why and when did you leave ,and do you still see Smeggy or any of the band?
I don't think I actually left the band, Paul was in Canada and we did some great gigs in Toronto but things started to wear thin. It kind of fizzled out naturally. Then Smeg was doing 'I Can't Believe It's Not King Kurt'. He asked me to do it but I was busy at the time. I depped a couple of times but got a bit bored of driving to Manchester to play to eight 40something Psychobillies on speed. I still see them, I'm good friends with Paul and Smeg (went to have a drink with him on his 50th) and Eli, the new Guitarist. Don't see Billy cos he's in Glasgow I think. And Maggot is in Canada still.
What did you do after King Kurt and how did you get involved with Katy Prado?
I still play occasional African gigs, I've always been interested in playing away from regular 'Rock' music. But I got the rockin' Rhythm'n'Blues bug, and I play regularly with Jake Vegas, Andy Neil and Phil. After King Kurt I got involved with the 'Cinematic Orchestra' and recorded some of their first album. I've been doing odd Jazz gigs all my life.
Then a band called 'KingSize5' which was going to be huge but ran out of money after the 1st album. The 'Mamboleros' are a mix of 50's Rockabilly with 50's Mambo and Bolero, It's quite challenging but Katy is a brilliant singer. I met Phil through playing with 'Li'il Ms. Cookie and the Cutters'. Cookie got pregnant and gave up music. Me, Phil and Andy started playing with Katy. Got too busy so we have Carlos Olmos on guitar now.
What does the future hold for you and do you make your living from music?
So I got a degree in 1999 and I go around to schools to teach drums to kids in different schools during the day. I work in Secondary mainstream, Primary and Special needs schools as well as privately. I play most weekends with whoever will pay me!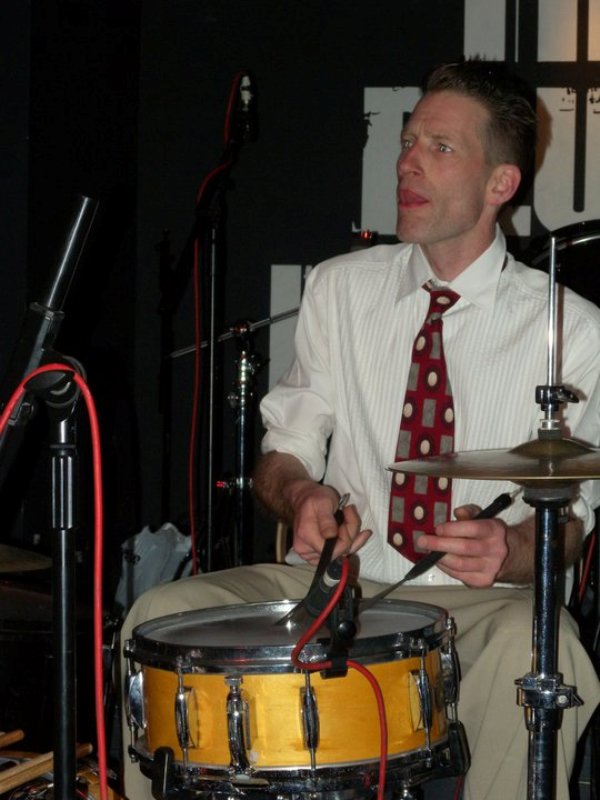 KATY PRADO & THE MAMBOLEROS ON FACEBOOK