Sunny Domestozs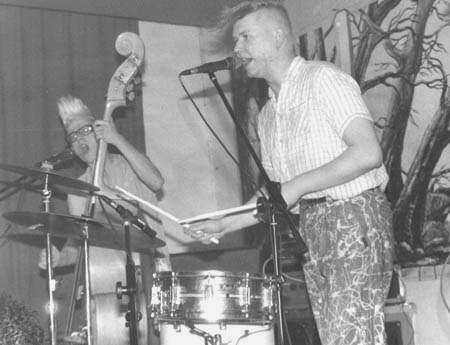 The Sunny Domestozs were formed in Muenster (Germany) by Tex Morton (g) and Ossi Muenning , who´s nicknamed Sunny Domestozs (d/v), back in January 1985- "Domestos" was a popular German toilet cleaner, that was used to bleach blue jeans back in the 1980´s . They added Manni Feinbein (b) and the band started to thrive . They released their debut album in 1985, which was produced by very popular TV-host and Jazz musician Goetz Alsmann, who also played organ on a few tracks. It´s early 1986 as the band decided to add a girl ,who played organ, named Jennilee Lewis aka Jenny Zylka to get a very special and unique sound.
Despite the addition of the untypical organ, the outfit played a real wild mixture of Psychobilly and Neorockabilly and became one of the first popular German bands of the circuit. Tex Morton left the band in 1988 for personal reasons - he eventually joined Mad Sin- and was replaced by Teddy Conetti. The Domestozs kept together for two more years. but without releasing any new material. The band finally split up in 1990.
The band started to rehearsal again- it´s still the original line up- in 2005 and performed an official reunion gig at the Rockin´ Wildcat Festival in 2006. After the great and positive respond the quartet recorded a new 7´´ vinyl EP and has started to tour again.
Discography:
Singles: Get Ready For The Get Ready(1986)--Playin´ Favourites(1987)--Playin´ More Favourites(2006)
Albums: Barkin´At The Moon(1985)--The Complete(2000)
[ Home ] [ TORMENT TRIBUTE ] [ PSYCHO NEWS ] [ GIGS, FESTIVALS,TOUR DATES ] [ UPDATES ] [ THE BANDS ] [ THE RECORDINGS ] [ INTERVIEWS ] [ LYRIX ] [ LINX/CONTACT ]