(added June 2015)
INTERVIEW WITH KEV 'STRETCH' HIGHLINER
( THE HIGHLINERS, THE TOP FUELLERS)
by John McVicker
Tell us a bit about yourself. Where and when did you grow up?
So Luke and I grew up in the same town, 'Sunny' Egham which is a real town which definitely exists and is not made up or imaginary. We went to the same school and were in the same class although we didn't start hanging out together until we had left school and then found we shared many common interests.
When we got our first cars we would often take turns (with other buddies) to be the designated driver to events like the Chelsea Cruise (fine machinery driving round the area) other car shows and rockin' clubs around London, although sometimes we all wanted to drive our cars so we'd have ourselves a convoy.
When did you first become interested in music and when did you pick up a bass for the first time?
I was eight years old or so, and thought it would be good to learn how to play an instrument. One lunchtime I turned up at the recorder club in school and was promptly turned away as I didn't actually have a recorder of my own. Well I learnt a lesson, and I decided next time I was to learn an instrument I would have to be a lot taller, and have an instrument to play.
I was about 13 and 5 foot 10 when I persuaded my mother to buy me a pair of creepers for school shoes and that influence came directly from music I was hearing around that time. I recall thinking that I was now with the shoes about 6 foot tall, tall enough surely to play any instrument? I didn't realise people spend many, many hours practising their instruments to become proficient.
Now the bass; Luke and Chris started THE HIGHLINERS and I joined a few weeks later. I'm not certain about this, but both Luke and Chris (Finchy) together built the first Highliners pink coffin shaped double bass which I think was hand painted by Luke with our logo and a picture of Betty Grable in a classic pose. In the beginning we would all swap around instruments. After a while we settled down with Luke vox, Chris sax, myself the coffin bass and Tim Potter on drums. That was my first bass. My second bass was a Fender telecaster/jazz mix which I still use today on stage and although is currently pink, it is likely to have a repaint before The Top Fuellers album launch party at The Dublin Castle on June 12th.
What was your first band and did you release anything?
First Band being THE HIGHLINERS the earliest release was a four track cassette tape with Wild Thing, Jungle Rock, Hoots Mon and er…oops I forgot the fourth track, but we had a range of these tapes, the rarest of which is one which came with both a pink polka dot carrying handle and a pink polka dot tail.
How did THE HIGHLINERS first come together?
Luke and Chris started THE HIGHLINERS when they shared a flat in Bournemouth, I think I visited one weekend and never went back! Tim the magnificent drummer who let Ginger take over later was a neighbour with a drum kit and ability.
Didn't you all jump in a van and head off to the south of France for a few months? where did you play? What did you live off and where did you live? Was it sun sea, sand and sex? It sounds like a great experience anyway. I can't imagine any one doing that now.
We had enormous enthusiasm and a great can-do mind set from Luke so, as his sister was living down there, it seemed like a good idea; drive to the south of France, write some songs, learn to play and enjoy the sun for the summer. And so it was. We were at the time, a Bournemouth band who would learn, play, rehearse whilst busking or playing local shows as the band was our full time job.
So we got together just enough cash to pay for the last cheap one way ferry ticket to France before the summer, and enough fuel to drive as far as Rouen. I think we had approximately 37p left over and we had to wait for the towns folk of Rouen to wake up before we could start busking to earn some money for breakfast, that said we were given so much kindness and cash that by late morning we had enough money to drive to Paris and feed ourselves plenty (plus extra donuts for someone) to continue the adventure in the capital. One night of us was enough for Paris, and we had (just) enough cash to drive the pink 64 split screen bus to St Tropez where we sorted out gigs, learnt songs on the beach during the day, played shows at night.
We made many friends and stayed for the whole summer returning to London briefly in the autumn, then moving to Ashbourne near Derby. That's when Roy Williams introduced us to Ginger Meadham from The Meteors and The Ricochets.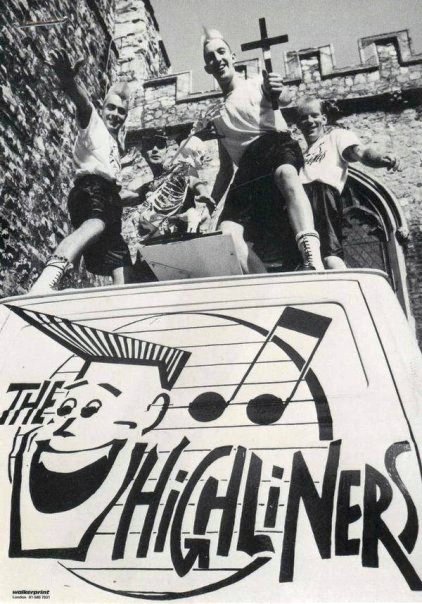 How did you get the Comedy Wavelength gig ? How many shows were you on and .is it on DVD?
If I mention this TV show happened before the days of decent mobile phone coverage and before the days of the internet, emails etc you can see that if a band was on tour they could be out of communication for a couple of weeks with messages left at venues for them. So, we were on tour and perhaps midway during tour we had a headline show at the Klub Foot on a Friday and another big show at The Camden Palace the next day. The London listings magazine Time Out had a feature photo and article about THE HIGHLINERS' London shows which had been picked up by a researcher for Channel 4's Comedy Wavelength.
The Comedy Wavelength producers (I think it was) plus the researcher came down to the Saturday night show and saw an enormous crowd queuing up outside The Camden Palace waiting for the doors to open and seemingly decided we must be an interesting prospect but didn't want to join the queue. They contacted our agent on the Monday to ask if we would play the show, which was filmed live at The Forum, Kentish Town London in one long take which was divided to fit the TV show for each week. Making our way to the stage was quite a Spinal Tap moment; there's a maze of corridors I'm sure we got lost on the way from the dressing rooms.
You played with King Kurt. Are there a lot any fun tales from Smeg and the boys?
After show cocktails or cheese and wine parties, were not top of the list when we shared hotels after a show but I will say, to a man, they are a great bunch of guys to spend time with.
How did you get your first record deal? Was it a good one?
Think we self released the four-track tape, oh how lovely!
Is it true that you were getting plenty of radio play but people couldn't find the record? Otherwise you would have been on Top of the Pops like King Kurt had been?
We were receiving a lot of support and airplay from BBC radio stations but for reasons unclear it wasn't possible to go in to a record shop and buy Henry The Wasp. There may have been some confusion as Henry had been released as a B-side to Double Shot of My Baby's Love a few weeks prior also the distribution of the record may have been the problem.
Made it very difficult for people to find the record, even if they worked in the record shop!
Why did Ginger leave and Ben left too. What was it like working with Rick Buckler?
I'm unsure now why Ginger decided to take a break but he is back on board and that's great.
It was brilliant that Ben was on a world tour or two with The Cocteau Twins however he wasn't always available for events.
Rick was always very calm and professional but with a smile, even when we were having a meal in a service station at 3 in the morning, hungry for his food, and approached by (always very nice people) fans of The Jam.
Whose idea was all the stage antics and dressing up?
We all contributed and fed off each other so it sometime became a torrent of possibilities.
What was your favourite country to play in ?
Spain for the beach, France for the sun, Finland for the snow, Germany for the beers and England for the audience participation!
When an why did you split up. What did you go and do?
Most recently it has proven too difficult to organise times when I could rehearse with THE HIGHLINERS so we agreed that the band should continue without me as I would be holding things up rather than making things happen, THE HIGHLINERS as a band is probably an entity beyond any individual, which is great for fans as that should ensure the band continues.
You reformed a few years later with Russ on drums and released Fetish Party and Spank-o-matic. What were your feeling s on that album?
I can hear the potential in Spank-o-matic and reflect now that perhaps we needed more focus to have honed the songs.
You're no longer in THE HIGHLINERS but do your stay in contact with them? Do you know what Tim , Finchy, and Ben are up to these days?
Tim is hoping to come to The Top Fuellers album launch party, haven't yet spoken with Chris about the launch but he is playing sax in The Guns of Navarone and sadly I am not sure where Ben is at this time.
Have you heard any of the new stuff Luke has released with today's HIGHLINERS?
Yes it's a tight sound and a great line up, I want to see them live but that's tricky to co-ordinate.
Finally what are you up to these days and tell us about Top Fuellers, line up, recordings and gig plans?
The Top Fuellers is my new project which has developed from a bunch of songs that have been rattling around my head for a while. Dave de Ville (The Highliners guitarist for many a year) and I managed to find some time to tidy up and refine the songs so that now, as a five-piece, we have been in the studio recording our debut album Psychos On The Beach. Track titles such as Hot Rod Drags, Whiskey and Beer, and Psychobilly Hair might suggest a certain leaning in the style of the album, I think though it could have a broader appeal. I particularly enjoy turning up the volume for La Notte Dei Serpenti where we had Ryan Linham the trumpet player come in and do his thing, close your eyes and you can almost hear the wind and tumbleweeds rolling when Dave starts the song.
We have agreed three shows for the moment. A secret party involving hot rods, bikes and trucks. The album launch party at The Dublin Castle (UK) Friday June 12th with support from The Marksmen and Thee Creepfreaks where we will be playing many of the songs from Psychos On The Beach and, Santa Pod, the drag race strip (UK) at the weekend event Dragstalgia on Friday July 10th.