Sting-Rays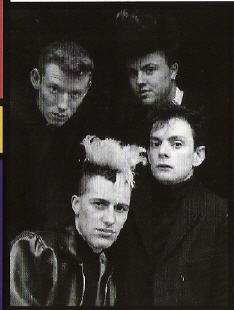 Born in the early eighties, the Sting-Rays were based in Crouch End, North London. The band was formed by four former school fellows Bal Croce (v), Alec Palao (d), Mark Hosking (g) and Keith Cockburn (b). Ted Caroll from Ace Records signed the band to a record deal in 1982 and the ball was beginning to roll. They appeared on the " These Cats Are Nothing But Trash" album and released their debut EP the following year. Keith Cockburn, who had qualified as a doctor, left the band in1984 and was replaced by succession of temporary bassists like Lloyd Trapp (Vibes) or Jeff Mead (Cannibals), before John Bridgwood settled in.
During a six year span the Sting-Rays issued five albums, six singles (including the well-known Bananamen-EP), appeared on several Psychobilly compilation albums and toured all over Europe. The band also supported the Cramps on their European Tour 1986, but the Rays were done the following year.
The Sting-Rays gave away their specific legacy to the world of Psychobilly with a very special sound, mixing the 50īs,60īs and 70īs with progressive lyrics to their own avail. Influenced by the Cramps and The Meteors, the Rays were one of the first bands that mushroomed out of nowhere to play a new and wild sort of RnR music.
Discography:
Singles: On Self Destruct(1983)--Bananamen(1983)--Flash On You(1984)--Escalator(1984)--Donīt Break Down (1985)--Behind The Beyond(1985)--June Rhyme(1986)
Albums: Dinosaurs(1983)--Live Retaliation(1985)--The Essential Sting-Rays(1987)--Cryptic And Coffee Time(1987)--Good-Bye To All That(1987)--Live & Raw(1995)-From The Kitchen Sink(2002)
[ Home ] [ TORMENT TRIBUTE ] [ PSYCHO NEWS ] [ GIGS, FESTIVALS,TOUR DATES ] [ UPDATES ] [ THE BANDS ] [ THE RECORDINGS ] [ INTERVIEWS ] [ LYRIX ] [ LINX/CONTACT ]