(added April 2015)
INTERVIEW WITH STIEF BILLY
( THE NOXIOUS TOYZ, COCKNEY REJECTS)
by John McVicker
Tell us a bit about yourself. Where and when you were brought up?
I was brought up between East London and Tyneside, Coming from a big family and as the youngest I was always surrounded by a massive variety of music. With a sister who was heavily into Motown Music and 50's ballads and brothers who were into a whole range of music from ELO to ABBA right through to The Sex Pistols.
What did make you first get interested in music?
My first real memory of knowing I wanted to be in music was when I was 8 yrs old and I saw Wizzard performing 'See My Baby Jive', I loved the whole OTT and eccentric look and behaviour that you can get away with as a front person. I'd already heard artists like Lou Reed, David Bowie and Roxy Music and picked up on individuality and talking bluntly at a very early age,, Hence I was a bit of a loner at school cos all the other kids thought I was a bit of an oddball and scary.. I was already wearing very brightly coloured mismatched clothes by the time I got to junior school.
My oldest brother is 8 years older than me, so I got introduced to The Sex Pistols and Punk by the ripe old age of 12, He also worked at a local music venue and due to him having to work on a night when he was supposed to be babysitting me way back in 1978 I got see The Clash, Siouxsie & The Banshees and Adam & The Ants all on the same bill that night. I don't remember too much about it all tho except for the noise, until Siouxsie walked on, That was when my life changed forever. I'D DISCOVERED MY PURPOSE IN LIFE AND IT WAS PUNK ROCK..
What was your first band and did you release anything?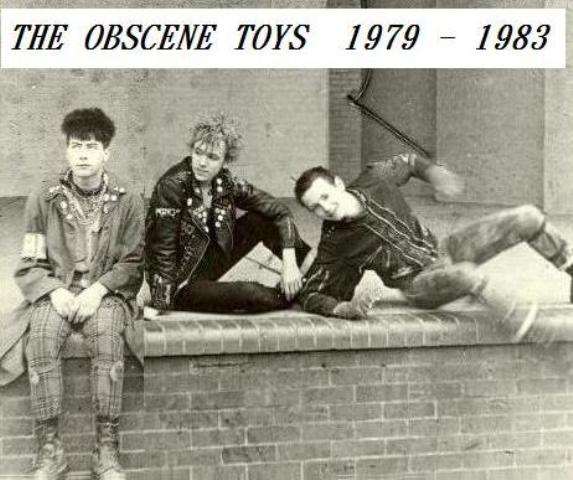 By 1979 and at the right old age of 14, I had my first 'real' punk band THE OBSCENE TOYS, We used to bunk off school to go and do gigs, Tho' we got banned from most places we played once they found out we were all kids (And possibly also cos we used to give out glue bags on stage .Well it was hip back then LOL.
THE OBSCENE TOYS lasted till 1983 by which time I had become very disillusioned with the whole Punk thing and the way it had lost sight of it's true meaning and had become a 'uniform' and 'London Postcard' culture.
There are still some bootleg recordings out in public from THE OBSCENE TOYS and I was recently approached about the possibility of a re-union, But that is never going to happen as I think some things are best left in the confines of the dustbins of music history and forwards is always the best way to go. I will never deny or ignore my days with THE OBSCENE TOYS tho', as it was that band that gave me a voice and the start of the public recognition and notoriety that I'm still enjoying 36 years later, A very important band and part of my history and life.
Next for me was Psychobilly which would play an even bigger part in my music career and indeed the eventual birth of THE NOXIOUS TOYZ. I spent the rest of the eighties touring with pretty much all the Psychobilly bands like King Kurt, Guana Batz, Frenzy, The Krewmen and The Pharaohs.
The 90's, I pretty much spent that whole decade off my face as a DJ out in Ibiza and Kos with another friend of mine from Newcastle..
How did THE NOXIOUS TOYZ get together?
Myself and Glenn (from The Pharaohs) started THE NOXIOUS TOYZ just for a bit of a laugh really. We were gonna do about 5 or 6 songs for a couple of local gigs then go back to our own respective bands, Tho I had already started promoting and appearing in films by then and planned to go back to that more full time.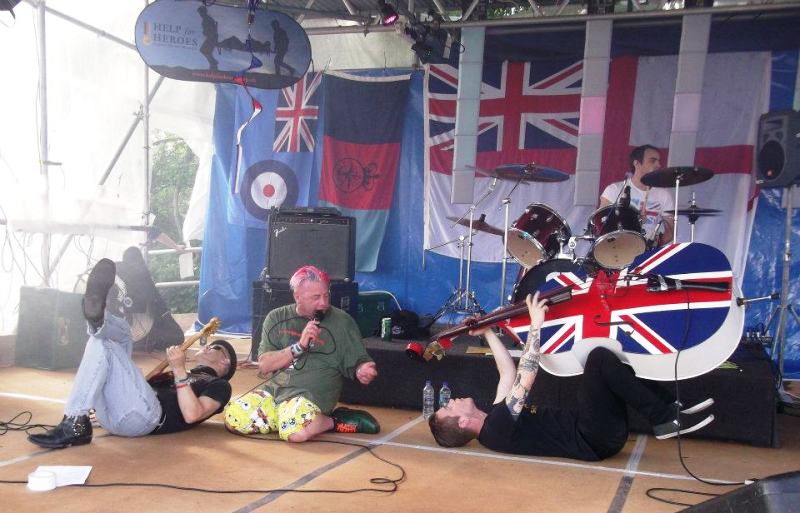 Tell us about .line-ups and releases.
I'm still, to this day, not sure how THE TOYZ took off at such a quick pace or why people took to us so quickly. Most bands take years to get the chance to play abroad, Our 5th gig was in Berlin followed by Antwerp the next night. I'm truly humbled by the success of THE TOYZ and the various members who have all become a big part of THE TOYZ success. There are 3 albums out by The Toyz and various singles, the new multi 3 track single was released on Friday 3rd April. Tracks are Deliver Us From Redemption, The Beast Within/Redemption Delivered, Customs Review (Original Version). All three tracks will be FREE to download on The Noxious Toyz SoundCloud page.
Any plans to play abroad?
We have a handful of gigs this year in October and November when we play with King Kurt and The Cockney Rejects (Who I also stage manage). We've cut down on live gigging due to my filming schedules.
Tell us a bit about your acting duties? What shows and movies have you been in?
Yes, I also work as an actor, and over the years I have appeared in 'The Wall'' two of the three ''Green Street'' movies, The Football Factory to name a few. I am also more recently in The Hooligan Factory and 'Looters Tooters and Sawn off Shooters. I also do some TV shows regularly like The Wright Stuff, The Fantasy Football Show and Dara O Briain's School Of Hard Sums.. I have also just finished filming a project for ITV Tyne Tees due for release next year.
What do you hope for the future?
2016 will see the first ''Full UK and European Tour'' in 4 years by THE NOXIOUS TOYZ and also feel free to follow THE NOXIOUS TOYZ on facebook. THE MOST SECRETIVE, UNKNOWN, YET MOST OVER-EXPOSED BAND IN THE WORLD. THE 23RD GREATEST BAND OF ALL TIME AS VOTED FOR BY READERS OF THE ''BEANO'' COMIC. (THO' WE PROBABLY JUST MADE ALL THAT UP)