Sir Psyko & His Monsters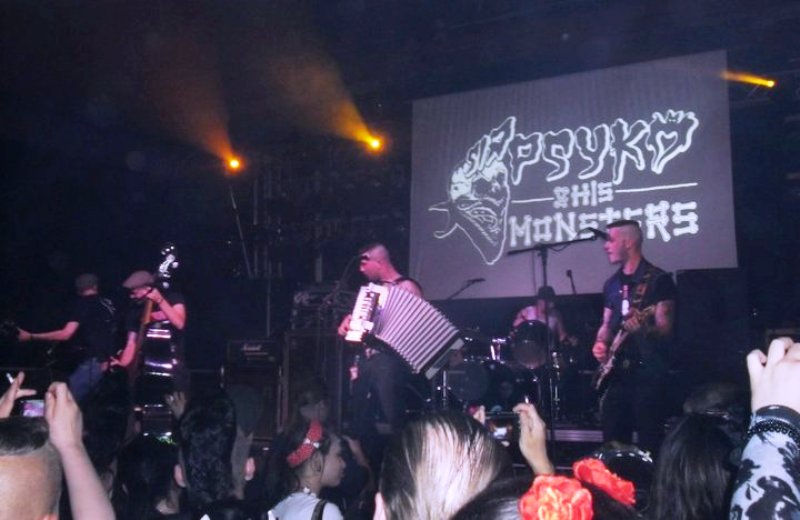 Austria's finest brand of Psychobilly was formed in 2006 when multi-talented Sir Psyko recruited some like-minded maniacs whilst he and his piano were schlepping honky-tonks in Psychobilly outpost Vorarlberg. The original line-up consisted of the band's name giver on double bass and vocals, Ben666 on guitar and vocals, Marco on lead guitar, Bam on drums and Staudi on saxophone.
SIR PSYKO & HIS MONSTERS released their debut album Zombie Rock in 2008 and things have continued to thrive ever since. SPahM have become one of the most celebrated bands on the current scene with remarkable live shows and festival appearances all over Europe as well as excellent studio offerings, breathing some life into a culture of dinosaurs that is still headlined by reunions, comeback shows and nostalgia. Their second album Reapers Tale was released on Germany's Crazy Love label in 2010 and supported by work from P Paul Fenech himself behind the desk. Staudi left after this release with the rest of the band continuing their mission as a more classic four-piece.
Going from strength to strength SIR PSYKO & HIS MONSTERS' third offering Till The End became an instant classic of the genre the very next year and one of the most top-selling albums in the history of Crazy Love.
Steamrolling the wreckin' nation with no-nonsense attitude, original enthusiasm and sheer power that this scene was also known for in its early days this combo leaves you without the shadow of a doubt that they won't leave you alone any time soon.
Discography:
Singles: n/a
Albums: Zombie Rock (2008) -- Reapers Tale (2010) -- Till the End (2011)
[ Home ] [ TORMENT TRIBUTE ] [ PSYCHO NEWS ] [ GIGS, FESTIVALS,TOUR DATES ] [ UPDATES ] [ THE BANDS ] [ THE RECORDINGS ] [ INTERVIEWS ] [ LYRIX ] [ LINX/CONTACT ]