SIR PSYKO & HIS MONSTERS
Zombie Rock(2008)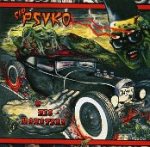 Zombie Rock is the furious rockin' debut album from this mind-blowing teenage combo, hailing from Bregenz, Austria. The thirteen-track self-release, stands out from the crowd of similar offerings with no-nonsense Psychobilly sounds, twangy guitars, enthusiastic musicianship, the odd saxophone on few songs, tremendous dedication and sheer power. Highlights are Voices, Mutant Kr3w, Ballad, Monsterbilly Queen, Sir Psycho & His Monsters and Zombie Rock.
Reapers Tale (2010)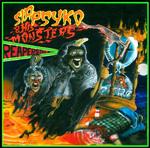 Cementing their reputation as one of the most up-and-coming talent on the scene are SIR PSYKO & HIS MONSTERS with their excellent second album, released on Crazy Love Records in 2010. The Austrian five-piece took another step further down the road to wreckin' notoriety with a thirteen-track stock of straight Psychobilly. Tight sound, a hard stompin' beat, superb work by P Paul Fenech from behind the desk, shared lead vocals, an additional booklet that includes all lyrics, the odd sax now and then ... what else? Buyer beware !These kids take no prisoners. My favourite tracks are Nightmare, Fucker, The Reapers Tale, Bastard and Out For Blood.
Till The End (2011)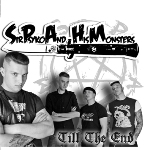 Originally intended to be released as a 'Psychobilly goes Western' mini concept album, S.P.a.h.M. changed their minds for good and delivered their third full-length punch in the face to knock out both their loyal following and those innocent minds that don't get outta their way fast enough. In fact Till The End is one of the most varied Psychobilly albums of this millennium without ever seeing these crazies straying away from the (war)path of Psychobilly. Psychobilly's tomorrow's already here!
Highlights include the bass guitar-driven Welcome To Our Hell, Pistolero, Lonesome Rider,

that also features a Mexican spiced trumpet,

Dead Man Walking , Each Day (FTW), Los Cuatro Condenados, Outlaws, a song that was recorded unplugged and in in one take, The Crazies

that

showcases SIR PSYKO & HIS MONSTERS and what this band is all about at their very best with twangy twin guitars, no-nonsense Psychobilly power and a decent breeze of 'FTW'. The bonus track is in a league of its own and is just Sir Psyko solo with his pumpin' piano, rockin' and rollin' with the Nowhere Train.


Welcome To Our Hell (2012)





This terrific Crazy Love release captures one of the hottest bands and most exciting live acts of the scene at their record release gig at Berlin's (in)famous 'Wild At Heart' in January 2012 promoting their brilliant studio masterpiece Till The End!. Austria's finest Psychobilly export were taped here rattling through a full-throttle TWENTY-THREE !!!-track set of all original, no-nonsense Psychobilly material, that includes all of their fan favourites and dance floor fillers. If that's not enough, the 5" disc also contains a harp-driven, acoustic rockin' blues version of their very own Bastard as a bonus. It really wouldn't be fair to mention here any highlights from this offering as the gig is most enjoyable as a full session anyway and I don't have any doubt that your personal favourite S.P.a.h.M. tunes are featured here as well. This is a strong buy for all Psychobilly lovers who haven't been to a SIR PSYKO & HIS MONSTERS gig yet and a must-have for all The Crazies who were there and are still blown away. Welcome To Their Hell!
[ Home ] [ TORMENT TRIBUTE ] [ PSYCHO NEWS ] [ GIGS, FESTIVALS,TOUR DATES ] [ UPDATES ] [ THE BANDS ] [ THE RECORDINGS ] [ INTERVIEWS ] [ LYRIX ] [ LINX/CONTACT ]