(added October 2011)
INTERVIEW WITH SIMON CROWFOOT
(BASS PLAYER WITH TORMENT, THE CULTIC HEADS, DEMENTED ARE GO, JOHNNY STASH AND MORE)
by wildhank
pictures by Simon Crowfoot
When did you start listening Rockabilly, Psychobilly and at which age and why did you decide to play double bass?
I started to listen to Rockabilly in 1980 when I first saw the Stray Cats on their second tour in Bristol and fell in love with that music and style, Psychobilly came a few years later about 1983/4 and I liked the harder edge of the music and I was about 22 when I first decided to want to play double bass after seeing Lee Rocker from the Stray Cats.
Who were the CULTIC HEADS and why didn't the band go beyond recording a demo tape?
The CULTIC HEADS were the Psychobilly band that developed from a rockabilly band called THE KERNALS that I was in that came from Gloucester in the UK. The band didn't go beyond a demo tape of 7 songs when I was playing for them. But did try to get a recording deal with Nervous Records, but unfortunately didnít get accepted. That happened after I left to go and play for TORMENT.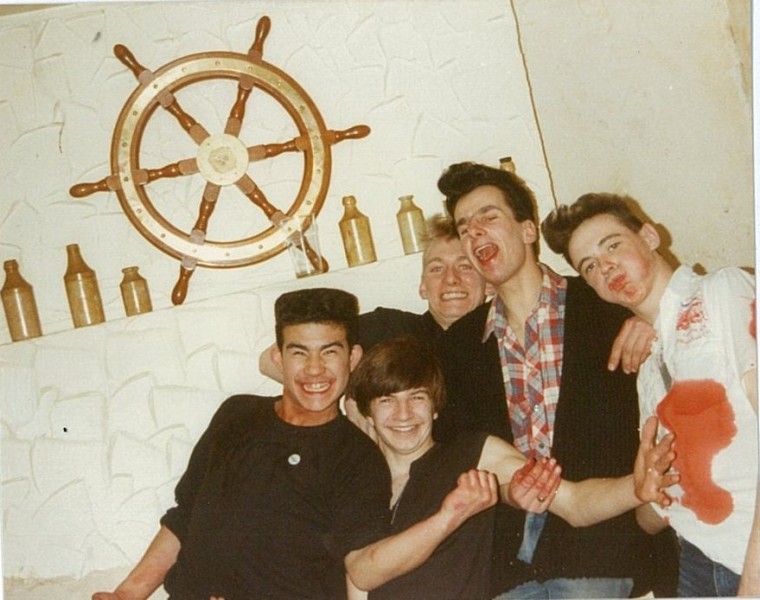 When and how did you get involved with DEMENTED ARE GO and how frequently did you fill in for double bass duties?
I got involved with DEMENTED ARE GO through a friend called Colin Evans who was the singer of another band I was in called 'THE SWAMP TOADS' and knew Dick Thomas the guitarist with Demented at that time. That would have been about 1985/6. I played with DEMENTED ARE GO for about a year. Playing when they needed me to. Ray Thompson was the regular bass player at that time as he was another Cardiff local resident which made things easier for the rest of the band.
How did you become a ' special guest ' on In Sickness & In Health and is there a particular reason why you slapped the bass strings on Rubber Love?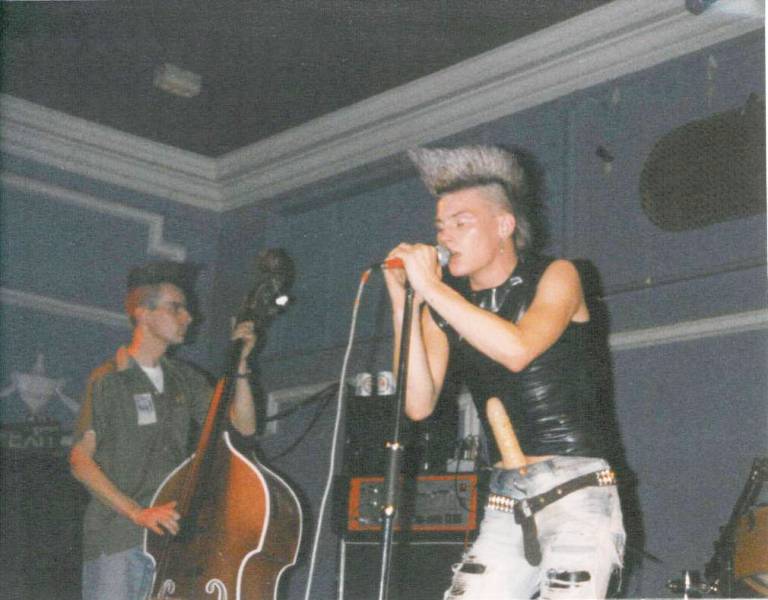 Hahaha. That's a good question Patrick. There is a good unknown story here my friend. The album credits me as playing on Rubber Love but the sleeve notes are wrong... (Probably due to too many Purple Hazes LOL) I am actually playing on the track called Frenzied Beat. I got to be on that album due to me asking to play a song on their forthcoming album 'In Sickness And In Health'.
Had you been in any bands others than DEMENTED ARE GO and the CULTIC HEADS before you eventually joined TORMENT?
Yes, I have been in a Rockabilly band called THE KERNALS that turned into THE CULTIC HEADS. A band called THE SWAMP TOADS that was a mix of Rockabilly and Psychobilly. And a Hillbilly band Called 'JED AND THE CLAMPITS' with Dick the guitarist from Demented and the singer from 'The Swamp Toads' and a couple of other musicians too. That band would have been around the time of me just starting to play with Demented.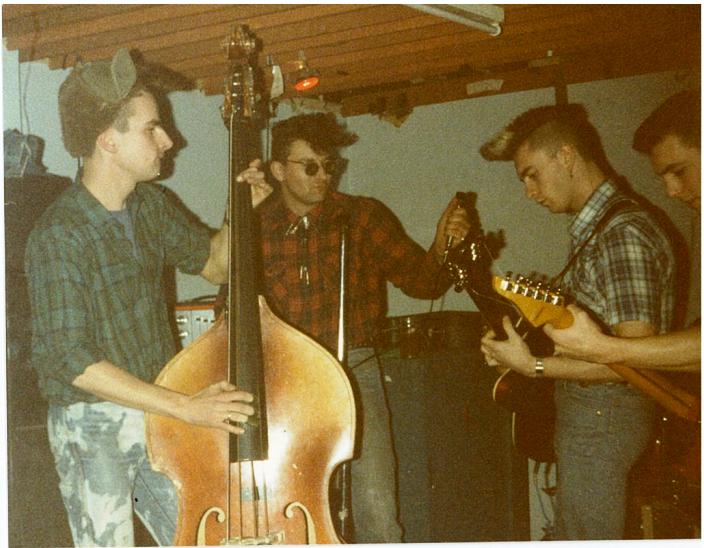 Since when did you know Simon Brand, do you remember the first meeting and how did you become the final part of the classic TORMENT line-up?
I first met Simon Brand in about 1986 when he called me up and asked me if I wanted to join Torment. I don't remember the very first meeting with him actually. But a good friend of mine Tony Biggs was the previous bass player (he is now the bass player for The Rimshots with John Lewis and also for Bill Fadden and The Rhythm Busters) for them but, it wasn't his thing really as he is more of a good rockin' sort of a guy so I think he left the band. So, I was asked and as they say 'The Rest Is History'.
The band was already about to making a name for itself when you were drafted in. As far as I know the album deal was already signed, shows including some Klub Foot action were booked. So how difficult was it to get familiar with the set within a few weeks and any memories left about the 'Psyclops Carnival' sessions?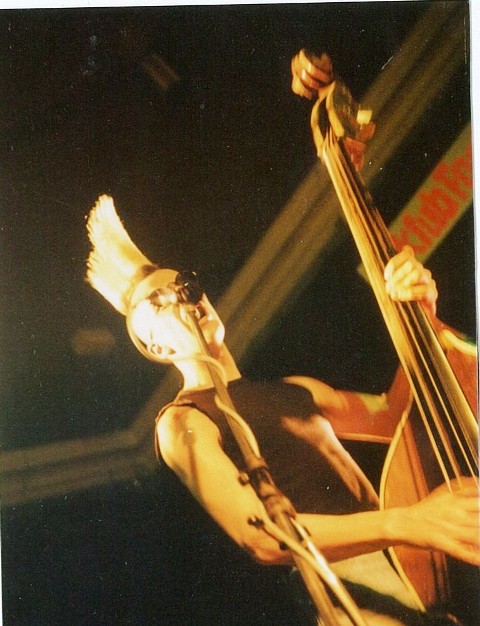 Yes that's right. I had 2 weeks to learn all the songs on that first album before the recording session that had already been booked. I just went home and practiced and practiced them to get familiar with the songs for the imminent recording at Diamond studios. My memories of that session were that it was stinking hot in there during the summer and we were sweating our pants off during the recording.
In 1987 TORMENT not only did record two more classics of the genre ' Mystery Men' 12'' EP and Three's A Crowd LP but also toured the continent. How was it like to spread the word over Europe and which are your favourite tracks on the 1987 releases?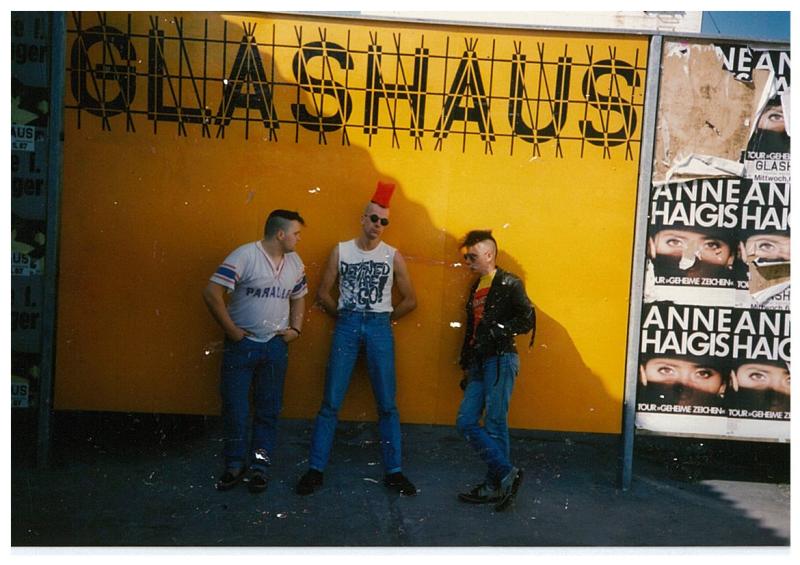 We always loved to play abroad as it was great to see some different sights and play to different and bigger crowds. It was always like being on holiday for us actually. My favourite songs from these two issues are Conscription Plan from the Mystery Men EP and Threeís a Crowd, the title track from the Three's A Crowd album.
You were not only playing the doghouse with TORMENT, but you also contributed a lot on the song-writing with many songs co-credited to Simon Brand and to yourself. How easy or difficult was it to work with Simon Brand on that part of the music and how did you usually get the songs together?
Apart from playing double bass, the song writing duties went pretty well between the two of us actually.
Sometimes I would write the music and he would contribute the words or help out, and vice versa. I canít remember that ever being a big issue between us. We would have an idea for a song and just keep working on it and nutting it out until we had something that we were proud of to put out there and play to our audience.
Round The World was released in 1989. One of my favourite songs of the album is Catch 22, a song that was written by yourself. What's the song all about and was their a special inspiration to write it?
Thanks for that Patrick. Catch 22 was written about my mum actually as she was going through that horrible thing of divorce from my dad in 1987 and so for a year or two had a crap time dealing with all that emotional stuff. So I wrote the song about her and her situation and that was my inspiration.
The album was quite different from the previous output. The sleeve includes pictures, showing you guys with classic quiffs rather than big flat-tops and shaved hair. The sunglasses were missing too and the production sounded a little bit more polished than on earlier releases. So how did that all happen and how do you think about the album in retrospect?
I think that it was definitely a new and different concept for TORMENT on that album, musically and with our image. I don't know if it was a big success but there were good songs on that album. I remember thinking at the time that it was a bit strange going for that electronic drum sound when, for me it should have been a hard hitting normal drum kit sound. I suppose it has its strong points on the album in places. The Psychobillies will tell you if that album was a success or not. I wasn't too overly happy with the overall result.
Some time after the Hypnosis album you left TORMENT for love. Do you remember the last gig and have you ever had regrets leaving the band?
After the Hypnosis album I was definitely in love and wanted to move to Amsterdam to be with my girl. When I mentioned that was my intention I was immediately kicked out of the band even though I said I would still play gigs with them. So leaving/kicked out whatever or however you see it .I donít have any regrets as a lot of negative things were said about me at that time. So, I didn't have any regrets about not being in TORMENT. The last gig for me was in Zurich in Switzerland and a blinder of a gig actually.
As far as I know you lived in Amsterdam at that time. Did stay in touch with Kevin Haynes and Simon Brand and how did you make a living over there?
I was living in Amsterdam after I was not in TORMENT anymore making my living as an Engineer and making Neon signs too believe it or not. All that work was through a contract agency. I had no more contact from Simon or Kev except after a year they asked me to do another tour but I declined their offer.
When and how did you hear that Simon Brand committed suicide ? How did you feel when you got the news and do you think that was unavoidable?
I heard that Simon Brand committed suicide when I was living in Amsterdam. I felt sorry that he had done such a terrible thing. As to if I think it was unavoidable. I didn't know that he was so far down the track of mental illness to ever do such a terminal thing. I had no idea that he was ever in a suicidal state of mind.
You finally emigrated to New Zealand. How about that and how much do you enjoy life over there ?
I emigrated to New Zealand in 1994 and it has the best decision of my life. Life is great here beautiful scenery all around me. I have a home in the country with beautiful views. My partner and I have a Swing Dance school teaching students how to dance the Lindy Hop. The dance for the hepcats from the 1940's. I own a 1940 Indian Scout motorcycle with suicide shift gear change.
I have two bands a Rockabilly band called JOHNNY STASH and a Swing/Jazz band called BLUE TUXEDO playing songs from the 1940's and 50's great fun and we are just starting to make a name for ourselves here. With JOHNNY STASH we don't play as often as we used to as the BLUE TUXEDO thing is our focus at the moment. But, with The Stash we have been playing at Hot Rod events and have played for 4 years running at New Zealandís biggest Rockin' thing Ē The Beach HopĒ at Whangamata. Over 1200 cool American cars and hotrods last year and growing bigger every year.
After unearthing the long-lost Klub Foot tapes, Alan Wilson has started to release these complete sets ( or at least what was recorded on tape ). The third release of this series will be the TORMENT gig from the 30th of August 1986. So do you remember that particular night and any stories to tell from that show ?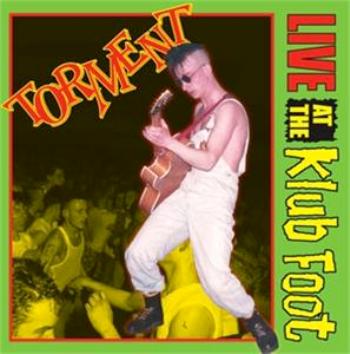 I do remember that night of the Klub Foot recording. I remember that we were so proud to be considered for a live recording and practiced hard for that gig. We were all a bit nervous but it went pretty well I think. It was a tighter running schedule than any other Klub Foot gigs which we had previously played. I don't actually remember any specific stories from that night actually Patrick only that we made the recording and I do remember that I split my fingers open from playing hard that night.
As you mentioned earlier you're still involved in Rockabilly music and you're slapping the bass with JOHNNY STASH. I got hold of your debut album Rum, Rockabilly & the Stash ( THANKS JOHN, you know where you are !!! ). Anyway please introduce the band and are you pleased with the release?
JOHNNY STASH my Rockabilly band has members of an International flavour. I, Simon Crowfoot, well, as you know I am from Bristol in the UK and playing slap bass for the band. The drummer is an American guy called Eric Otoka who hails from Portland, Oregon and lastly but not least the guitarist is called Johnny Maydon and is from Dunedin way down South in New Zealand on the east coast of the South Island from a city called Dunedin.
The CD called 'Rum, Rockabilly And The Stash' that we recorded a year or so ago has a lot of different styles on it from Rockabilly, Rock 'n' Roll to Ska, Country, Swing, R&B, Rock, Rock Steady. I am pretty pleased with it although it is not strictly a Rockin' CD.A bit for everyone I would say. Although I like the Rockabilly songs the most. Goes without saying really doesn't it.