SHARKS, THE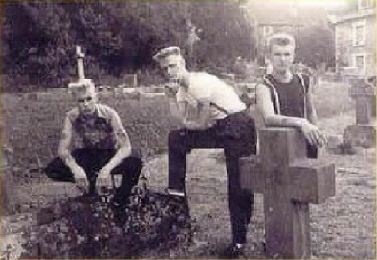 The Sharks were formed in the late 1970's by guitarist Alan Wilson and were playing straight 50's styled Rockabilly. A line up change in 1982 brought in Steve Whitehouse (b) and Paul 'Hodge' Hodges (d). Within 2 weeks the trio had not only recorded their first album, but had also signed a deal with Nervous Records - a new label that was spearheading the Neo-Rockabilly movement.
Their first release "Phantom Rockers" was a huge success in 1983.But after a few months the band split after a trip to Holland. Whitehouse went on to form Frenzy whilst Alan Wilson set about a career in sound engineering and producing.
It would be ten years before the Sharks came back. Gary Day (b), Ex-Frantic Flintstones replaced Whitehouse and the Sharks issued a new record.. After Day´s departure, Whitehouse came back again for a new album and gigs. The band has never officially split, but they have not performed since 1999.

Discography:
Singles: Bitch Attack(1994)--Sir Psycho(1996)--Live In Hamburg`93(1998)--Short Shark Shock(2005)
Albums: Phantom Rockers(1983)--First & Last(1988)--Recreational Killer(1993)--Ruff Stuff(1994)--Colour My Flesh(1996)--Bitch Attack(2001)--Live In Japan(2001)--The Best Of The Sharks(2003)
[ Home ] [ TORMENT TRIBUTE ] [ PSYCHO NEWS ] [ GIGS, FESTIVALS,TOUR DATES ] [ UPDATES ] [ THE BANDS ] [ THE RECORDINGS ] [ INTERVIEWS ] [ LYRIX ] [ LINX/CONTACT ]