Your EP was also the first release of your own label, why did you do it by yourself ?
I wasn't sure that other labels would have been interested. We weren't based around London and weren't part of the 'Klub Foot' scene. I has already started Raucous Records for mail-order, so it seemed like a good idea to start a label and release my own band's record.
The original line-up was a 5-piece. There were two bands playing rockin' music in my hometown of Loughborough. My band played a mix of Psychobilly & Garage Punk, and was called The Exorcists. Then there was another band called The Go Go Dakotas. The two bands broke up around the same time, and we were all in a bar one Sunday and decided to form The Go-Katz.
Whip Me Houston happened after the Go-Katz broke up. We recorded 4 songs - but the two best ones were kept for a single which never got released, and now the tapes are gone. The single was going to be called 'Arthur's Pink Kitchen'. No reason for the band name. I needed to think of a name and Whitney Houston was on the radio. I didn't like it so I called the band Whip Me Houston.
I went to Russia for fun. I was at a Meantraitors gig in St Petersburg and found out that people know The Go-Katz. No British Psychobilly band had played there before - so we formed the Russian version of The Go-Katz for fun. The Bombers usually play Psycho Surf and are a great band.


Now you´re working with a British line up. Are you thinking about keeping the band together and gigging more regularly? Can we expect future
Go-Katz
' releases?
The Spanish gig (Ed note: 1er Festival Psychobilly Asturias) will be the first with this line up. If we enjoy it we'll play some more and maybe record. The Russian band will continue, but probably only in Russia.
Since its appearance back in the 80's Psychobilly music has seen an amazing evolution, you can find tons of bands with many different styles, ranging from the original revved up rockabilly/70's punk mix to new bands with sounds coming from Hardcore to New Wave, Ska to Garage or Gothic to Metal. Your band could be best described as an old school Psychobilly band, do you dig all these different tendencies?
The style of the band doesn't matter. If they're good and have some originality, then I'll probably like them.
What about your favorite bands, all-time favorites, newcomers and no-Psychobilly bands?
I could list hundreds...
The Meteors, The Blasters, Shakin' Pyramids, Stray Cats, Cramps, Reverend Horton Heat, Blondie, Clash, Sex Pistols, Gene Vincent, Johnny Cash, Dion, Julie London.......
As runner of a record label do you think the home burning CDs is harming the future of underground labels or you think that is only a problem for big mainstream labels?
Anybody copying CDs (other than making a copy to play in the car) is killing the scene. CDs sell much less these days. People copying CDs are robbing the bands and the scene. If it gets worse, CDs won't sell enough and bands will stop releasing them.
Making compilations is probably a different matter, as this means people are hearing new stuff from their friends. But if you want to own anything you should buy it and not steal it. This means music too.
You have been promoter for psycho/rockabilly events in the UK too. Psychobilly seems to be getting popular again attracting audiences from other different scenes, but in the UK the last festival at the Charlotte didn't go down well. Why has the British scene been on the decline since the early 90's ?
It´s more attractive to spend a weekend in Spain watching Psychobilly bands with the sun and the beach, than in Leicester with the rain.
We had the best scene in the 1980s. We had the Klub Foot and all the original festivals. The Psychobilly scene in the UK can never be that exciting again. So it's great that it's been replaced by good scenes in other countries. Now it's their turn. We still have good gigs here though.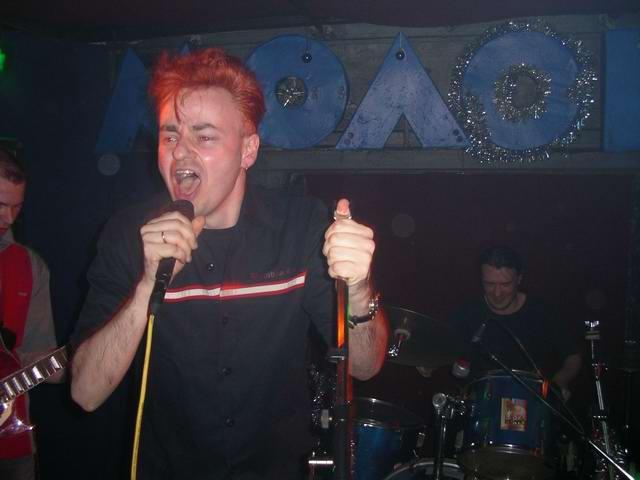 [ Home ] [ TORMENT TRIBUTE ] [ PSYCHO NEWS ] [ GIGS, FESTIVALS,TOUR DATES ] [ UPDATES ] [ THE BANDS ] [ THE RECORDINGS ] [ INTERVIEWS ] [ LYRIX ] [ LINX/CONTACT ]