(added July 2015)
INTERVIEW WITH SEAN ROBERTSON
( FULL MOON FREAKS)
by John McVicker
Tell us the history of the FULL MOON FREAKS. When did you form? Who was in the original lineup?
FULL MOON FREAKS started out as four school kids back in 1984. Although the name "FULL MONN FREKAS" didn't arise till around 1986, previous names were Strontium Dogs and Bonehead Teds respectively. Original bands members were Eric Pullar (vocals), Stuart Selvester (guitar), Stuart Seath (bass &amp) and Sean Robertson (drums). Due to our age at the time we mostly played local gigs in the area we were originally from Livingston, Scotland.

You had two tracks on a Raucous Records compilation in 1989. What did happen? Did you split and if so why?
We first started sending demos to Raucous Records around 1987 (mostly recorded in our bassists living room). But Howard Raucous encouraged us to get some proper recordings done, so we found a producer Claude Harper of David Bowie fame apparently! and recorded our first "proper" four-track demo including Rockabilly Railroad, Strontium Dogs, Martian Men and Screaming Hyena. Howard was very impressed and wanted to use two tracks for an upcoming compilation. We also went down really well with Claude and he suggested doing more recordings with us for free. So we recorded another three tracks two of which ended up on the previously mentioned Psycho Tendencies compilation Swamp Rockin' Baby, Surfboard Song and I Wanna Be A Freak. Not content with that, Howard wanted us to record an album for his label which we did and there was going to be a single out first on green vinyl double-A side I Wanna Be A Freak, Liberty Cap. The wheels were in motion 12 tracks recorded, contracts signed, artwork done and even a release date, Howard was also sorting out gigs for us in England and got us on Night Of The Long Knives.
There was personal stuff going on within the band. Eric, our vocalist decided to cut off his trademark quiff and was getting into other music genres which was causing problems with the rest of us. I don't remember the exact day we split up, or the words that were used but everything got scrapped the LP, upcoming gigs etc.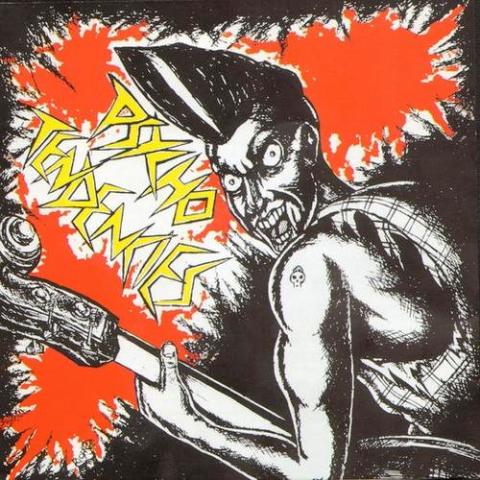 What did the various members go on to do?
After the split I think most of us lost touch for a while tho' I think Eric and Stuart Selvester were still playing in other bands together, Stuart Seath decided to join the Army and me gave up playing but was active on the Psychobilly scene for a number of years and attended hundreds of gigs.
When and why did you get back together?
Myself got in touch via Facebook with Stuart Seath in 2012. We hadn't seen each other in over 20 years but I think it was inevitable that we were going to do something together musically again. We arranged some practise time, just for fun with other musicians we knew and quickly realised that we should get the right personal in and make a proper go of it.
Stuart Henry (also ex-Army) and nephew of Stuart Seath was recruited as vocalist, we tried out a few guitarists along the way but found it difficult to get the kind of commitment we were looking for. A young guy called Scott Williamson played rhythm with us and was really keen. We just had to find an outstanding lead guitarist. And through numerous advertising we eventually found our man Martin 'Wolfman' Kelly.
So in February 2013 our line-up was complete. We did our first gig at Henry's in Edinburgh and went down really well, so we haven't looked back. We kept really busy during the rest of 2013 and played Edinburgh and Glasgow regularly some gigs we organised ourselves as headliners and we've done our share of support slots as well with the likes of Demented are Go, Frantic Flintstones, Mad Sin, The Meteors and of course King Kurt. We recorded a couple of DIY CDs and gave them away at gigs. We also had a personal change mid 2014 with the departure of Scott Williamson. Dave 'Southside' South stepped in on rhythm guitar duties. We met him while recording at his studio 'The Rec Room' in Edinburgh. He has made our band complete and produces all of our music as well playing guitar.

How does today's line-up look like?
The current line up is: Stu
Seath (upright/electric bass),
Sean Robertson (drums & percussion), Stuart Henry (vocals),
Dave South (
rhythm guitar) and
Martin Kelly (lead guitar)

.
What has been the reaction to you getting back together?
The reactions been fantastic. I think everybody's aware that it's difficult for gigging bands these days, because people just don't go to gigs as much as they did in the past. But we've had a positive response from every gig we've played so far.and we definitely put on a show that's worth seeing.

Any sign of a record, CD coming out?
YES! We're in the process of recording something special. Instead of doing an album, we've decided to do a trilogy of 4-track CD-EPs. They will all be a part of a series under the moniker 'B-Movies for the Blind' with some really nice artwork by a brilliant artist that's designed covers for The Meteors. If we get a good response from the CDs we hope to release them as a complete package on vinyl at some point
.
You have supported King Kurt twice in recent years. How have got on with Smeg and the boys? Any tales?
Ha! There's always stories to tell after a King Kurt gig but we'll keep them to ourselves. They really are a great bunch of guys and an absolute pleasure to play with.
Are there many gigs lined up? Will you play abroad?
We've been busy recording at Dave's place The Rec Room in Leith Edinburgh. So we've only done a handful of selected gigs so far this year. Next one was the first ever Psycho on the Tyne all dayer in Gateshead on the 23rd May. We've nothing else gig wise in the pipeline at the moment which is our choice. The CDs should be ready for the summer and once they're out we'll get back to regular gigging.

What would you like the future to hold for the FULL MOON FREAKS?
Aspirations. It would be really nice just for people to like our music, we've recorded some really good songs, We think we have something special and hope others appreciate it aswell, and of course it would be brilliant to play in other countries, so we'll all keep our fingers crossed.All the bands we've played with so far have told us we'd do well in Europe. So let's see.