(added December 2011)
INTERVIEW WITH SCOTT 'MAD MAN' MILSOM
(BAND MEMBER OF THE COFFIN NIALS, ROCK-IT-DOGS, ROCKER COVERS AND MORE)
by John McVicker
How old were you and who was it that got you into music?
I remember listening and buying singles from Matchbox, Showaddywaddy, The Jets, Elvis and a certain G. Glitter when I was around 10 or 11, and my Dad listened to everything from Blondie to classical music when I was a child. Then I had a dark couple of years and brought chart music like the Thompson Twins, Bananarama and Howard Jones etc. When I was around 13, my sister got into the Newbury scooter/mod scene (which was quite a big scene for such a small town). I met many of her friends and started listening to a lot of Northern Soul, 79 Mod (like Secret Affair and Squire etc), and classic mod stuff like The Who and The Kinks. Then when I was 14 or 15, I was handed a Meteors' cassette (from one of my sister's boyfriends I think). That was it, at 14 or 15 years old I had discovered Psychobilly, and for a few years at least, that's pretty much all I listened to at home (plus a little Punk and Oi). At 15 I attended the Isle of White scooter rally and saw King Kurt play on the main stage. Then from 16 years old I went to the Klub Foot on a number of occasions and drove my various scooters to rallies across the country. The scooter rallies have always played a lot of Jamaican Ska, Northern Soul, and Two Tone etc, which I have become more and more fond off, as I've grown older.
When did you first pick up a double bass and which fellow bassists do you like?
I actually started to teach myself electric bass at 14 years old, but on discovering Psychobilly, I quickly bought my first and only double bass for £315 (and I think I've only ever changed the strings once or twice since then!). As a youngster, I remember thinking Charlie Fallensteller, bass player of German band the Scum Rats was great and super fast, and I was of course influenced a lot by the likes of Batmobile, Frenzy, Torment and the Guana Batz etc, as well as old Rockabilly songs.
What was your first band and did you release anything?
I think I played one or two gigs on electric bass with my first attempt at a band "The Cruickshanks", then using a double bass with 'Hellbound and the Demon Wreckers", but neither band released anything. Then I joined the Coffin Nails at 17 years old.
How did you join the Coffin Nails and had you seen them before, bought any of there albums?
My hometown Newbury is close to Reading (where the Coffin Nails come from), so I had seen the band a few times in Reading or at the Klub Foot. I don't think I actually owned a Coffin Nails album at that point. I bumped into Steve at a concert one night and asked how the Coffin Nails were going, and he said the bass player had just left. We soon arranged a rehearsal, and it went from there, with my first Coffin Nails concert being in Belgium to nearly 2000 people!
Why did you set up up Greystone Records, who else is involved and what has been the label's best seller so far?
I started Greystone Records with Steve (Humungus), primarily to release Coffin Nails stuff. Shortly after, Steve became busy with his tattoo shop and raising a family, so I took the whole thing over. The Coffin Nails releases have always sold the most to date, and nearly all the Coffin Nails back catalogue needs re-pressing now.
What's been your favourite place to play?
Wow, there's been so many gigs over the years and I can't remember some of them, thanks to a lot of beer being drunk. We had some great times in Le Grand Duc (France), the Hemsby Big Rumble gigs in the early 90s were amazing, the Satanic Stomps in Germany, the Just For Fun festival in Spain and Speedfreaks of course. Playing with Mad Sin in East Berlin just after the Berlin wall came down was a great experience, and my whole first tour of Germany was crazy.
Do still play with Big Boss Man and how is Nass these days?
Yes, Big Boss Man are still going strong. We try and tour Spain once a year, and play various concerts and festivals in the UK and Europe. We've even been to Russia 3 times, including a Russian new year's eve party a few years ago. As I'm sure you know, Nass was the drummer of Ska band The Loafers and for a short while the Coffin Nails, but he mainly plays Hammond organ now. So being a multi-instrumentalist, he's always busy with his own projects and playing on other people's music.
How did Rockers Covers start and are you still with Rock-It Dogs?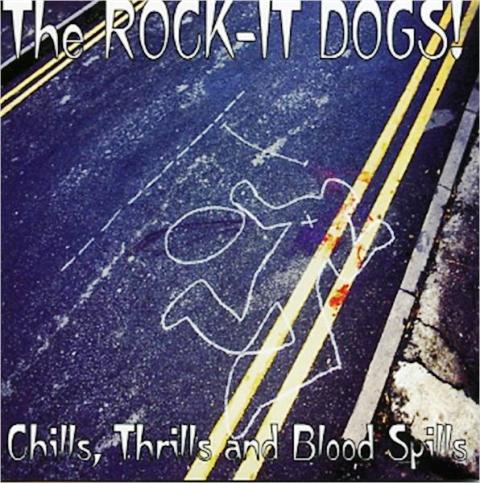 Kris and I had talked about starting a Rockabilly covers bands for probable 18 months or more, before we had even heard of The Baseballs etc, but we were always too busy to get anything off the ground. Then in 2010, whilst we were on tour in Germany with the Rock-It Dogs, we decided to do some busking in Cologne's city centre. We really enjoyed the busking experience and, after learning a few more songs, busked in Bath a couple of times and even in Reading before a Coffin Nails gig. Our first proper gig was at The Black Horse in Bristol for Christmas 2010, so The Rocker Covers are not even a year old really.
The Rock-It Dogs have taken a back seat recently, but we have recorded and mixed a few new songs and have an album's worth of material, so we'll hopefully release a second album in 2012.
Ever fallen out with Klunky? Has he tattooed you yet, who does your work?
All the guys in the bands I'm in are my best friends, so there's never been big fall outs. Klunky (Humungus) has tattoo'd most of my left arm and is in the middle of tattooing the whole of my front torso. Most of my right arm was tattoo'd in Japan by Yujiroh, the bass player of Psychobilly band 'Cracks'.
Tell us a bit about The Hawk , heard great single with girl singer a while ago I think?
I've released some of my own music under the name "The Hawk". I've experimented with a few different styles, but really enjoy making Northern Soul sounding songs. I recently released a 7 inch single called "Don't Judge A Book By It's Cover" on the Italian label 'Record Kicks' and I hope to release some more soul stuff next year.
Describe a normal day for yourself?
I still have a 'normal' job for 3 days a week, and I'm usually busy with concerts, DJ-ing and recording the rest of the time. Some days I'll spend 12 hours in the studio, or the whole weekend is gone, travelling to play a show in Europe. It's easy to fill your time when you play in a few bands, and the weeks fly past.
What's the future hold for Coffin Nails, Rocker Covers, Rock-It Dogs, The Hawk?
The Coffin Nails are off for the first time to Brazil in February 2012, to play the Psycho Carnival. The second Rocker Covers album should be out in the first half of 2012, plus we have loads of tattoo convention, VW festivals and car shows booked for next year. We'll also try and get the second Rock-It Dogs album released in 2012, and a few more Hawk singles should make it onto vinyl!
What's the next release on Greystone and is Dog House your own studio?
The next Greystone release will probably be the second Rocker Covers album and we are speaking to some other bands about releases. Yes, the Dog House is my studio where we record all the Coffin Nails, Rocker Covers, Rock-It Dogs and Hawk stuff. My long term plan is to set the studio up somewhere I can record other bands more easily, as I really enjoy the whole recording process.