(added May 2014)
INTERVIEW WITH SAM WOODS
( LEAD VOX AND GUITZAR PLAYER WITH THE HYPERJAX)
by John McVicker
Where have you guys been? Have you had to get proper jobs and why did you decide to come back now?
Well about three years ago, Liam left for South Africa. He was only supposed to be going for a few months but ended up staying out there until the middle of last year. During that time it had been like 15 years as band and I thought I'd use that time to have recharge my batteries. I really couldn't be arsed getting new members in at the time and teaching them the songs. So I took a back seat and joined other projects. I even made time to rebuild my friendship with Bob and Wally and we even managed three live shows which was great. I would have liked to have continued with them as I'm sure many folk would but they're a couple of old farts now. The good thing is Neil (The Wolf) Holden said he wanted to rejoin and Liam's now back in Manchester. It just makes sense to pick up where we left off. I've got some songs in the basement. (the basement of my gut) which need to surface and I've got the right team on board. It's like we haven't been away for long at all.
With all the line up changes have you ever thought about jacking it all in?
Many times. But the bands my baby and when I'm up there playing our songs I still get that electric vibe and it's somewhere I want stay.
You played with the Loveless Bastards. Will the recorded stuff ever get released?
That's a good question, I hope so. We've recorded 4 tracks and I've written another one so we'll eventually have enough for a full album. I think I'm sitting out of some future sessions as it's not really a band in the traditional sense.
What's been your best selling album?
Our first. Generation X Rated, so I believe.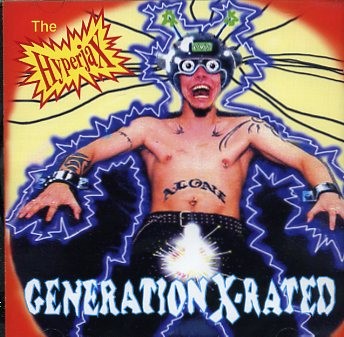 What happened to the Krewmen single?
I'm afraid it was aborted and abandoned the release of that. We're playing it again now and it will see light of day one way or another?
Any plans for a new album?
We most certainly do. We'll be going in the studio at some point this year to cut a couple of tracks and shop em around again. I think what people didn't get on the last two albums was the raw charm of the three piece which I want to get down again. Especially with Liam and Neil.
What's been your fave country to play in.and why ?
I think that's gotta be Holland, they've always looked after us over there. The crowds just go nuts and sing along with the chorus's.
Who do you like to listen to/see play live?
At the minute it's Barrance Whitfield & The Savages. I'll be seeing them play next month.
Do you see and any idea what any ex-members such as Bob C, Wally P, Matt Cooley are doing today?
I see Wally about once or twice a year a year at a gig here and there exchange a nod and a grunt and then reminisce the good old days. He finally made the great step of what I'd call "Walkind" and moved out of his folks and in with his girlfriend. I see slightly more of Bob with the Loveless Bastards project when he's not drawing on people's arms. I haven't seen the other one for a quite a bit, I think he's painting old ladies kitchens now or something.
What do you hope the future holds for the HYPERJAX ?

I want us to make another album and play places we've never been and win over more crowds. And do it over and over again.