(added February 2014)
INTERVIEW WITH RUSS SURFER
( DRUMMER FOR THE HILIGHNERS, FRONT MAN OF THE DEATH VALLEY SURFERS, BAND PROMOTER)
by John McVicker
Where and when were you brought up and when did you discover music?
I'm from East London, yes I'm a cockney, a West Ham fan. I drink Light & Bitter (traditional London drink). My parents bought me up on 50's Rock'n'Roll, they were always playing it in the house. My mum also took me to old style concert halls as a child. She was a performer & singer. Maybe that's where I get my stage antics from.
So how old were you when you first picked up a musical instrument?
I guess that was the usual stuff at school, recorder, triangle & I loved the drums the best.
What was your first band & have you any recordings?
We were called THE SPIRALS in 1984, a 3-piece psycho/Garage band. No recordings, sadly. The bass player, Virgil went onto play with Colbert Hamilton. Then I was with SADDLE WHORES, who were formally SUNGLASSES AFTER DARK. The first band I recorded with was LOST IN SPACE in 1987. Check out 'Outa my Sight' on High Voltage Vol.2.
Is it true you used to roadie for King Kurt? How did you get the job, any funny tales and are you still in touch with them?
I started out to roadie for The Shrew Kings, the lead singer was Jef Harvey (first singer of King Kurt). So I mixed in with that whole Brixton/Camberwell scene. When King Kurt started to play the come back shows at The Astoria, they needed a driver & stage-hand. I was there & jumped at the chance. After that I got working for a driving / roadie company & worked for some big bands. Well too many funny stories for sure, you always had to sleep with one eye open! One show at The Astoria in Soho, was I had to clean up the stage after the wheel of misfortune. There was beer, puke & groffoss all over the stage. I was the target for beer. The more I cleaned & dried the stage, the more beer was thrown. I was soaked especially when I slipped over in front 2000 Psycho's. Im still good friends with Smeg, Thwack, Robert & John Reddington is in DEATH VALLEY SURFERS.
How did you get the job as drummer for THE HIGHLINERS and what releases are you on ?
I loved THE HIGHLINERS from when I first saw them supporting King Kurt in 1986. As the whole scene sort of died in early 90's they stopped playing too. I was a friend of Luke Morgan & after years of nagging him about playing again, he said. "Get the band together & I'll do it". I played drums on the Cassette release 'The Vatican Tapes', 'The Fetish Party' EP & The Vinyl Japan release 'Spank-o-Matic'. Under the name 'Tiger'
Why did you start THE KLUB nights and what have been your best ;worst nights. Also if money was no problem what would be your fantasy line- up for THE KLUB?
In 2001 I started KLUBTATSIC with Agent P (Adrian) because the scene in The UK was almost dead. Apart from the few Meteors & Demented Are Go gigs, there was nothing. No-one was willing to promote Psychobilly here. We didn't want it to disappear forever, so we put it back on the big stage. We lost some money at first, but attendances' started to rise & we had a number of sell out concerts at The Garage in Highbury. KLUBTASTIC still hold the bar record for beer takings at The Garage. Adrian stopped due to work commitments in 2005 & I decided that a regular small Klub would work, so I started a monthly show upstairs at The Garage.
The best & worst nights? Well that's not for me to answer.
The Cramps, The Sting-Rays, Gun Club, Texas Mongols & Torment & maybe a guest appearance from Ray Campi. What a show that would be!
Why did you start DEATH VALLEY SURFERS?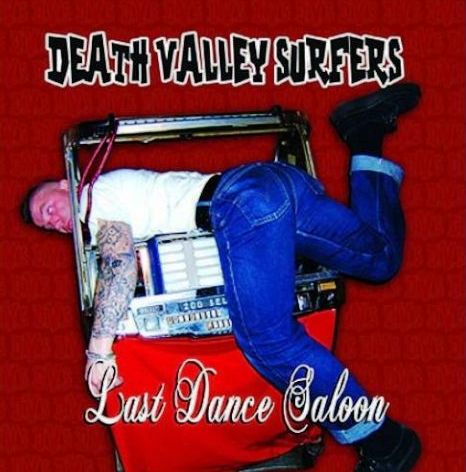 Well, gigs for THE HIGHLINERS slowed down & I really wanted to carry on playing. I had written a couple of songs for THE HIGHLINERS & wanted to sing them. It was just a natural progression. It was my destiny… ha haha.
DVS seem to have a fast change over of members. Is there anyone you wish hadn't left and although it's handy to know a good lawyer how did you get John Reddington to join?
We call it The revolving door. It is hard for a band in London to keep members. People come & go to live here, that reflects on musicians too. Also there is no money in UK, unless your headline band. So most good musicians move on to where the money comes from & other musicians are lame & flaky. The line up we have now is fantastic & reliable. But I do miss playing with some great people over the years. Especially Ayes, Brendan Blowers, Tib (Texas Mongols) & Jenz (50 Foot Combo). John almost joined a few years ago as guitarist, but events didn't work out. However I got my man in the end. Last year DVS were looking for a sax & bass player, so I was asking around. One Friday night at the 12 Bar in Soho I was chatting (drinking) with John & Robert (King Kurt) about this situation & after many beers later, John declared he was going to buy a saxophone in the morning & start lessons. I thought, great, but maybe we were drunk bla bla. Next morning I got a hazy phone call. My hangover disappeared when he told me about the saxophone he had just bought & the lessons booked for next Wednesday!
DVS seem to play in a lot of different places such as Argentina. What has been your favourite place and do you have a country you want to play in?
That is a hard question as I have loved every country that I have played in. All the people we meet around Europe are such good fun, kind & crazy. However Argentina was something special. We want to get back on the German Festival circuit & especial to play Calella-Pineda in Spain once more. Finland, Estonia & Russia are on our bucket list, so watch out.
From what footage I have seen, a DVS gig looks a fun party, is that the idea?
Defiantly, its all about having fun. A DVS show is about the people who come to see us, going home with a big smile & saying that it was a great night out. I always think that the better the audience, the better we play. So we entice people to join in with free Tequila, get girls up on stage and if the people don't come to us, we go to them.
It has been a while since your first album came out. Are there any new recordings planned ? Tell me how did you get Smeg to do that introduction?
I asked Smeg to produce the 'Last Dance Saloon" album & he did a great job. As he was there anyway doing some backing vocals, I thought it might be a great idea to fill-in the long intro & after a few beers he obliged. No crib sheet, he just went & did it. Yes it has been way too long since our last album, due to line up changes though I have been writing songs. On 16th February we release a live Album on tape cassette with digital download. It was recorded in 2007 in Berlin at The Wild at Heart. Finally we get it released. Also this February 2014 DVS go into the studio to record a brand new album. Working title "Biffin's Bridge".
Who does your tattoos has the same person done them all? What do you do for a living & and what does the future hold for DEATH VALLEY SURFERS and the KLUB gigs?
The legendary Lal Hardy started on me & I had almost all my work done at his studio 'New Wave Tattoo' in Muswell Hill, North London. The last ten years Adam Collins has been my tattooist, he is top quality artist. Being an old Psychobilly he knows exactly what I want before I get in the chair.. Tony of Blue Hawaii in Rotterdam did my King Kurt and excellent Lux Interior tattoos on my legs. Keep Tony off the 'shots' & only go drinking with him the next day! Is my advise….
Over the years I have been a Roadie & Driver for bands, Tree Surgeon & Garden Designer. Apart from running THE KLUB and helping to organize gigs at The Underworld, Camden Town, I DJ pubs & gigs around London. However, I have been a fire fighter for over eleven years now, which is a profession that I'm proud of.
DVS have been going 15 years now and we hope to carry on for longer. Having fun, playing gigs, travelling around & drinking others peoples beer. The KLUB? I'm not so sure of. It is hard to keep a regular venue going, places close, people move on rent goes up bla bla bla. I tried to stop but Psychobilly has a big place in my heart & I just love bands playing my home town……..Thank you for interview & I hope to see all of you Krazy Kats & Kittens soon…… TEQUILAAAAAAAAA.