ROUGHNECKS, The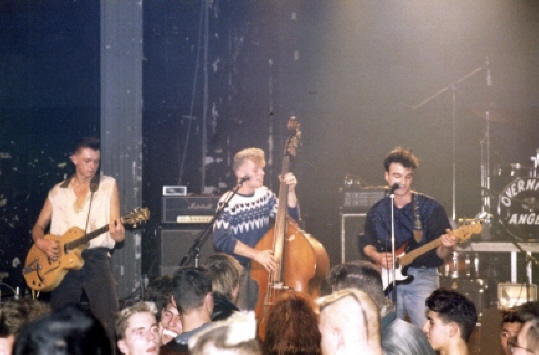 The Roughnecks started in West Berlin in 1984/1985. Tom Reiss (g/v) saw Tex (g) Schmidt ´s 56 Chevrolet Impala on the street and they started a talk. The two wrote a list of own songs, added a guy named Chicken (d) and Micha Lahmann (b) and appeared on a few party gigs. After Pete Grun replaced Chicken the Roughnecks really exploded.
After the "Saddle Soap" EP Martin Buechler took over the double bass and in 1986 the Roughnecks were among the best known German Neobilly acts. They started to tour excessively all over the country.
After an incident on a German TV show, the band members disappeared into all corners of the world and the Roughnecks were finished and done.
Most of the Roughneck ´s songs are uptempo Rockabilly written by Reiss. The band appeared on the popular "Psycho Attack Over Europe " series and got a lot of success especially in Germany. In 2000 the band experienced a short revival with a new studio album (including a popular song for a TV commercial spot) and a couple of gigs.
Discography:
Singles: Saddle Soap(1986)--Hard Times(1987)
Albums: Stop, Look 'n 'Listen(1988)--Crash(2000)
[ Home ] [ TORMENT TRIBUTE ] [ PSYCHO NEWS ] [ GIGS, FESTIVALS,TOUR DATES ] [ UPDATES ] [ THE BANDS ] [ THE RECORDINGS ] [ INTERVIEWS ] [ LYRIX ] [ LINX/CONTACT ]