(added March2011)
INTERVIEW WITH ROBERT BOUSTEAD
(FORMING MEMBER AND BASS PLAYER WITH KING KURT)
by John McVicker
Who or what made you pick up the bass guitar?
My dad was a musician, of the blown classical kind, and so there were always instruments around from post horns to pianos. I had piano lessons, and then played cello at school. I was absolute crap at both and gave up as soon as I could. However, teenage-dom arrived and playing guitar was cool. All my friends did, so I started playing bass because I have to be different, and it was in the same register as a cello, and it made me a commodity. What is more, I can't dance (look at the videos), so there was no way I was going to attract the girls at the school disco. So I reasoned the only other option was to be on stage.
How did you meet the rest of King Kurt?
I went to Sussex University in 1978. The guy downstairs deserves a mention: Mark Benjamin, guitar player, musician and man of the first order. Mark saw me carrying a bass upstairs and asked if I wanted to audition for a band he and another guitar player were trying to form. The other guitar player was John Reddington. Ironically, we didn't get on too well at first, considering that it is extremely rare for me to have been in a band without him ever since.
John was in his final year, and I dropped out. We formed a band with John's sister Suzanne singing, Mark Benjamin initially on guitar, and auditioned for a drummer. Paul answered the advert. I seem to remember he was the only viable candidate, but we also hit it off, so he was in. Mark was still at Sussex Uni, so we eventually acquired Phil on rhythm guitar and became known as The Uglies. At one rehearsal this 13 year old ginger cousin of John and Suzanne's turned up with the school sax and a dog-tooth check suit… guess who!
Anyway The Uglies fell apart, Paul and I went to NYC for holiday, my visa ran out and I came back leaving Paul there. I bumped into John in the Hope and Anchor, can't remember who we were watching, and he rang the next day to say he'd met this singer (through Mark Benjamin) and did I want to play bass. The singer was Jef… I think John overstated his credentials, sorry Jef! We rehearsed with a drummer called Phil, who promptly dumped us, but Jef had ran into a one-time school friend Rory, who took over. This was the line up for the first gig, which was probably as the Zimbabwe Swingers, at Bromley Art College, the night Spurs beat Manchester City 3-2 in the FA Cup final replay and Ricky Villa scored that goal (a good night for me… yes I'm from NORTH London, not South).
Maggot joined shortly after that and the band named settled as Rockin' Kurt and His Saur Krauts. Paul returned from the USA, with a guitar and a Teac Portastudio, and was asked to join on guitar – because we liked him more than him having a portastudio. And from there around mid-81, it just grew and grew.
Whereas every other band I had been in had something earnest to say (well perhaps) this band was just an excuse to go out, massage out egos, get paid in beer and then get pissed. I guess just being out to have a good time rubbed off on the audience.
What were those early gigs with Jef like?
Early gigs with Jef? Chaotic. I can't remember why but John had a jar of sauerkraut at one gig and muck went of from there to sausages. Until Jef's last gig when we made him in to a cake. The audience took up the theme from the next gig, Smeg's first and from then on it was a competition.
How did you recruit Smeg and can you remember his first gig?
I don't know! He appeared like a demented spider (dressed in black with his hair arching out everywhere like a spiders legs) at once of Jef's last gigs, I can't remember if Rory or Paul or John had asked him along. It just had to happen though. No offence to Jef, one of the best whose stage presence was brilliant, but Smeggy was the missing piece.
In 1982 you recorded and released the single Zulu Beat. Did you think then that it would still be popular today?
Are you kidding! I still find it hard to believe that people still buy King Kurt T-shirts!
What was the Top of the Pops appearance like?
Tedious. By the time it was filmed I'd drunk far too much. The BBC centre has a cheap bar J
Where was you favourite place to play U.K. or Europe?
Difficult. I guess it has to be the 101, Clapham though. When the place was packed out and you knew everyone. Supporting Bo Diddley at the Lyceum was pretty cool; Frank's in Colne was always a laugh; Bradford was always bizarre – we had some sort of competition going with The Meteors over who could get there name highest on the club wall, every time we came back there be a new one to beat, but we had Reddington, the human fly! And Glasgow – the only place you can hear an accent when the audience are chanting, and it was always "You dirty English Bastards", which was praise!
By July 1984 as Banana Banana was out you and John left . Why and what did the rest of the band say did they try and change your mind?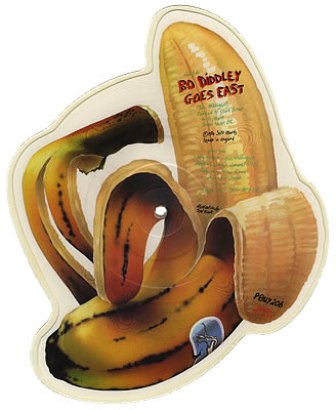 Not a lot. I think they were stunned. I was surprised at that. Who needs a bass player… not The Cramps. Well not in those days.
What did you do after and did you keep in touch with the rest of the KK boys and did you keep an eye on there career?
Played with John, Joby and Rag in The Zimbabwe Swingers. Outside of music… you don't want to know, but I have a wife, two kids and a mortgage. However, I have a small scar on my collar bone where I was hit by a pigs head on stage on Norwich to remind me who I really am (evil laugh). Did I keep in touch? Yep! Went to see 'em a few times, got really drunk with 'em a few times, played on a demo for Paul. Lots of things. We're friends.
What was your favourite memory of your time in King Kurt?
That is an impossible to answer question. I forget things, and then some thing triggers a memory and I start sniggering. Different things, different times. Right now, the reunion gig in the spandex super hero outfits just cracks me up every time I think of it.
What do you think of the stuff they released after you left?
Good and not so good; just personal preferences.
What did you think of the re-union gig and will it happen again?
How many times has someone you know gone to a 'reunion gig' and said 'Oh yeah! It was really great, they played all the old stuff'; just nostalgia. OK, that's why people go, but we determined to a real King Kurt gig, something stupider than we'd done before, hence the "Rock'n'Roll Super Hero" costumes. As I say it makes me laugh even now. I hope it does the audience. My kids, both grown up and both musicians, were in the mosh pit throwing themselves about – I don't think I'll need to justify myself to them again! It was great having Jef involved too. Not sure what the audience made of him, but he's part of the brotherhood.
Why does no one I talk to seem to have a good word to say about Rory Lyons and finally MWA. What's next and will they release anything and have you been to see Smeg's new King Kurt line up live?
King Kurt happened the way it did, and Rory was a part of that.
MWA: who knows, it's just some fun… now that sounds familiar.
Smeg's King Kurt? Yes I've seen them. I stood in on bass for him at the Shed rally last July – that was fun. Funniest thing was all those kids had no idea why Smeg was so chuffed about the fat bald speccy git on bass!