RESTLESS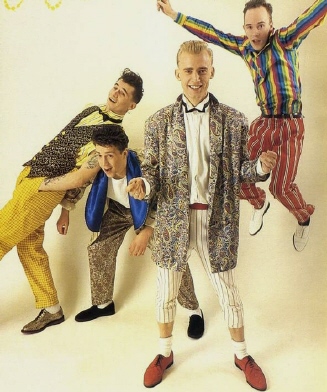 Restless was formed in 1978 by Mark Harman (g/v), Paul Harman (b) and Ben Cooper (d). The band name was borrowed from a Carl Perkins song. In 1981 "The Restless" EP was issued-limited to 400 copies. Once 'Why Don't You Just Rock!' was out, the boys were pretty much doing the regular Rock 'n' Roll circuit throughout England. Restless played their own style of Rock 'n' Roll and are arguably one of the most influential British Neo-Rockabilly bands. One time they played a 50īs Rockabilly standard just to follow with a pure Psychobilly song.
Jeff Bayly replaced Paul in 1984 and Restless hit the UK Independent Charts with "Mr. Blues". In 1986 Restless optioned for a second guitar and added Mick Malone. After the departure of Bayly & Cooper, Restless wanted to quit. But the addition of ex-Frenzy/ ex-Shark Steve Whitehouse (b) brought them back in business. In 1989 Rob Tyler (d) ,one of the better known Rockabilly drummers, also joined his old fellow Mark Harman.
1998 Restless played their "last" show in London just to be back in 2002 with the original lineup, that has split in 1984.
Discography:
Singles: The Restless!(1981)--Edge On You(1983)--Mr. Blues(1984)--Vanish Without A Trace(1985)--Somebody Told Me(1986)--Just A Friend(1986)--Ice Cold(1987)--Radar Love(1988)--Tobacco Road(1990)--Ghost Town(1997)--Restless Versus The Rizlaz (2002)
Albums: Why Donīt You Just Rock(1982)--Do You Feel Restless?(1984)--After Midnight(1986)--Live And Kickinī(1987)--The Early Years 81-83(1987)--Beat My Drum(1988)--Kickinī Into Midnight!(1989)--Movinī On(1990)--Number Seven(1991)--Figure It Out(1993)--Three Of A Kind(1995)--The Lost Sessions(1996)--The Best Of Restless(1996)--Unplugged(1997)--Do Your Thing(2002)
[ Home ] [ TORMENT TRIBUTE ] [ PSYCHO NEWS ] [ GIGS, FESTIVALS,TOUR DATES ] [ UPDATES ] [ THE BANDS ] [ THE RECORDINGS ] [ INTERVIEWS ] [ LYRIX ] [ LINX/CONTACT ]