Radium Cats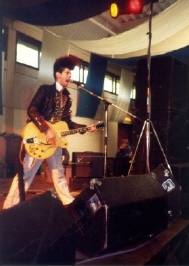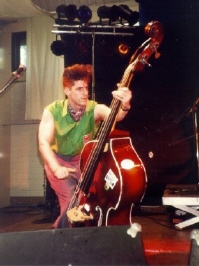 The Scottish Psychobilly trio were originally formed around 1988 by Paul (g/v) and Lee Paterson (b/v). The two brothers were joined by Johnny Maben (d) and released their debut vinyl "Munster Madness" in the same year.
Combining hot Rockabilly music with sci-fi and b-movie lyrics, adding radioactive energy and Paul Patersonīs excellent guitar work, made The Radium Cats to one of the best Psychobilly acts of the late 80īs / early 90īs. Their special and very unique sound plus their their reputation as one of the better live acts, made them very popular among both Rockabillies & Psychobillies.
In 1992 they released their second and last album " Other Worlds " on Nervous Records with Mark Carr on drums. Two years later the band split up. Paul Paterson has joined the authentic Rockabilly band Hi-Voltage while his brother Lee teaches 1940īs swing and Jitterbug dance.
Discography:
Singles: Pink Hearse(1991)
Albums: Munster Madness(1988)---Other Worlds(1992)
[ Home ] [ TORMENT TRIBUTE ] [ PSYCHO NEWS ] [ GIGS, FESTIVALS,TOUR DATES ] [ UPDATES ] [ THE BANDS ] [ THE RECORDINGS ] [ INTERVIEWS ] [ LYRIX ] [ LINX/CONTACT ]