QUAKES, THE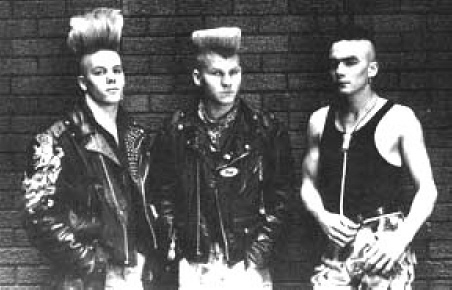 The Quakes started in the fall of 1986.In the beginning they were playing modern rockabilly. The problem was, they couldn't play their instruments very well and they didn't sound like they wanted to. But Paul Roman (v/g), Rob Rob Peltier (b) and Dave Hoy (d) got positive response from the Punk scene, who liked their faster stuff. Knowing that there´s already a scene in Europe, the Quakes moved- like the Stray Cats a few years earlier- to London : "Pack our bags and go!"
The Quakes appeared on a few festivals and made their Klub Foot debut in1988. In the same year they recorded their first album. While Rob & Dave went back to Buffalo, NY Paul Roman stayed in Europe and tried to start a new band and a solo record (both plans had fallen through-so he played with Demented Are Go at a few gigs-). Upon his return to Buffalo, Dave "the Ace" Hoy was killed when he was struck by a car while crossing a highway.1989 Roman went back to the States too. Then Peltier & Roman put the Quakes back together and added Chris Van Cleve (d). They played at the first and second Big Rumble and released their second album "Voice Of "America ".
Chris Van Cleve left the band again and the band seemed to be history in 1995. Rob Peltier worked with the Irving Klaws -later with the Tiger Army. in 2001 The Quakes their 4th studio album and started to tour again. Paul Roman has also started a side project with Mika Railo (b) and Slim Salminen (d) called The Paul Roman 3 in 2004.
The Quakes are without doubt the most important US import for the Psychobilly/ Neorockabilly circuit and are responsible for more than a handful of great rocking albums in different styles and looks.
Discography:
Singles: n/a
Albums: The Quakes (1988)--Voice Of America(1990)--Live In Tokyo(1992)--New Generation(1993)--Quiff Rock(1995)--Last Of The Human Beings(2001)--Psyops(2005)-- Negative Charge (2009)
[ Home ] [ TORMENT TRIBUTE ] [ PSYCHO NEWS ] [ GIGS, FESTIVALS,TOUR DATES ] [ UPDATES ] [ THE BANDS ] [ THE RECORDINGS ] [ INTERVIEWS ] [ LYRIX ] [ LINX/CONTACT ]