Rochee & The Sarnos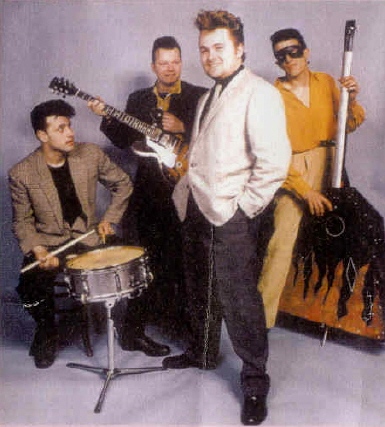 In 1982, Rochee And The Sarnos took their first tremulous steps toward superstardom. Lord Herbert Sarongster III, after several years on the London Rockabilly scene, decided that he would form a band along the lines of the Legendary Stardust Cowboy and Hazil Adkins, and he created Rochee and the Sarnos. The style was based on skiffle, combined with wild Rockabilly, and a Mexican flavour was added to the mix.
The original line up consisted of Lord Herbert III (v/g), the Phantom on Tea Chest Bass, and Budwin on Bongos. Rob Glazebrook, a well known and highly talented Rockabilly guitarist, who also was the drummer with Raw Deal before Mark and Paul split, saw the potential and asked Lord Herbert if he would like to rehearse some new material that he had been working on. The very first session produced Sarno Fever and Sarno Dictionary, and a new sound was born. Budwin soon left and was replaced by the Man With No Brain on drums.
The emphasis was always on never taking themselves seriously and producing a really bizarre sound and a great show for all. Gig after gig followed, some of the best were at the Klub Foot in Hammersmith, London. After a short tour with Demented Are Go, Lord Herbert decided to split as he felt that you should always leave on a high note and not kick the arse out of it!
In 2004,they have been tempted out of semi retirement, mainly because a new generation of fans should witness for themselves how one of the most influential bands of the 1980's really rock up a storm. After a couple of successful appearances at festivals in Germany (2004) and Belgium(2007), the band has released a brand new album entitled The Golden Dawn in spring 2008 and will have more live shows too.
Discography:
Singles: Have You Got Sarno Fever(1983)--Rumble In The Jungle(1985)
Albums: Understanding Sarno(1985)-- The Golden Dawn (2008)
[ Home ] [ TORMENT TRIBUTE ] [ PSYCHO NEWS ] [ GIGS, FESTIVALS,TOUR DATES ] [ UPDATES ] [ THE BANDS ] [ THE RECORDINGS ] [ INTERVIEWS ] [ LYRIX ] [ LINX/CONTACT ]