(added March 2012)
INTERVIEW WITH PHIL BLOOMBERG a.k.a. PHIL POLECAT
(BASS PLAYER WITH THE POLECATS, KATY PRADO & THE MAMBOLEROS)
by John McVicker
Can you remember when you first met Tim ( Worman ) and Boz (Boorer) ?
I have known Tim since I was 4 or 5 years old at primary school. I met Boz when I was about 13 or so. I remember he was always riding around on a black pushbike delivering for Curtis Vintners and whistling.
Where did you get your first double bass from and whose slapping inspired you?
My first double bass cost £35 from a music shop in Edgware. My main inspiration was Bill Black, as the Sun Sessions was the only album I had with slap bass on it. Sleepy La Beef taught me some tricks, like triple/quad slapping when we played with him in 1980ish.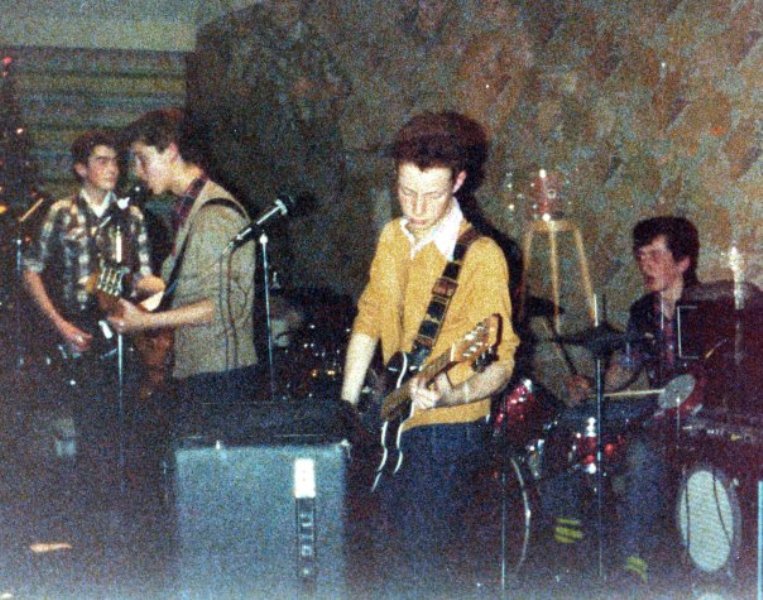 Those early gigs must have been really exciting, what was/is your favourite place to play?
Royalty in Southgate and Marquee in Wardour St, both sadly gone now!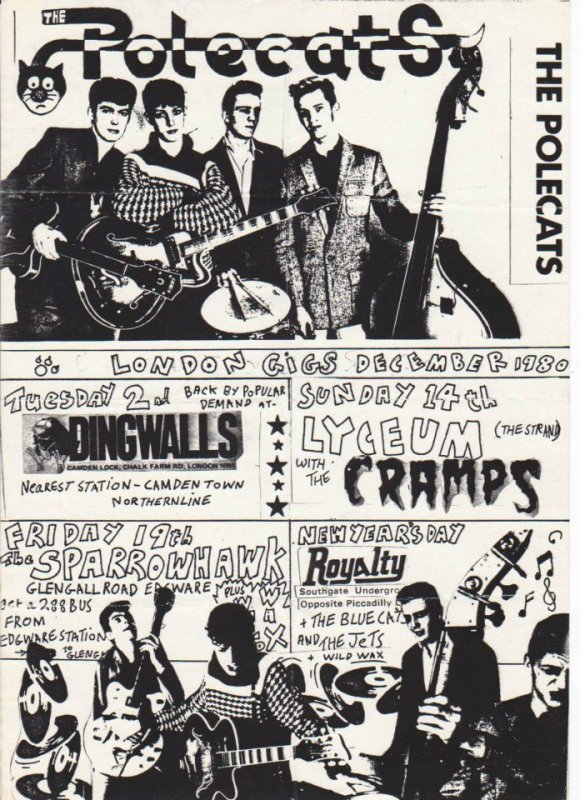 How good did it feel to have Rockabilly Guy out as a single on Nervous ? You all must have been pretty young?
Yeah, we were around 17-ish when it came out. Nervous' first single as well as ours! It was very exciting.
Then you got signed to a major label and it was Top Of The Pops etc. What are your fondest memories from that period and any regrets?
Fondest memories probably playing Top of the Pops a couple of times and playing big venues and festivals with bands like U2. Also great fun playing May Balls in Oxford/Cambridge and going to N.Y. City in 1981 was pretty awesome too.
Why did you split ?
We never really split officially, Tim went to L.A, I started managing bands, so we sort of put it on the backburner.
What did you do next?
I was managing bands, Shillelagh Sisters, Beltane Fire(ex- Blue Cat Trio) then got into promoting parties and nightclubs.
What do you, Tim, Boz and John (Buck) do when you are not Polecats ?
Boz is musical director/guitarist for Morrissey, Tim is making movies, John is a business development director, I play with Katy Prado & The Mamboleros and various other bands & have just been appearing in The Million Dollar Quartet in the West End.
Tell us something we don't know ?
Me and Tim have recently written a excel spreadsheet with everyone we can remember from primary school! We just wrote the soundtrack for a movie, Isle of Dogs, which is due for a major release in the US this year.
What does the future hold for you ,The Polecats ? Will there be a new album and any other projects you are involved with?
Yes , we are currently working on tracks for a new album, hopefully ready by summer 2012. We will be playing in the USA and South America this spring and summer, come see us!