(added June 2007)
INTERVIEW WITH PETE DAVIS
( GUITAR VIRTUOSO OF SKITZO )
made by Wildhank
Hi Pete. How are you? What are you doing these days?
Hi, I'm fine. What am I doing? You mean music I guess. I work with a couple of industrial bands, programming and playing guitar.
Sounds interesting. Can you tell me a bit more about it?
I have liked Industrial music for a long time, and I was initially working as a session guitarist providing heavy metal noise for TFM, but I ended up producing Tongue, the band I was working for, then 2 side projects as well. Not to everyone's taste maybe, but it is good fun, we are usually more interested in beer.
What was your first contact with Psychobilly music?
Hmm, I guess it would have been King Kurt and the Cramps around 1984. There were many Psychobillies at my high school, and I got curious. I was into Rockabilly since I was a young kid, and I also loved punk and metal, so this seemed a great way to combine them. "The Meteors Live" album had a big impact on me when I got hold of it, and its still one of my all time favourite albums, it is so energetic and crazy.
You were not part of the original Skitzo line-up. You joined the band some days after the release of Skitzo Mania.
So when and how did you run into Skitzo?
I was friends with the band for a long time, I used to just follow them around, then later I did some photography and road crew work for them. When Mac left, they asked me to join and I said yes, because there was nobody else who knew the songs, and they had a tour planned. It was less than 1 year after Skitzo Mania, a lot happened in 1987!
The new formed line-up finally recorded Terminal Damage back in 1988. The tone of the album is completely different from Skitzo Mania with its much heavier sound, very distorted guitar etc. After all these years it seems to me a key release of the forthcoming more Punk / Heavy Metal orientated second wave of Psychobilly that started in the late 80s, early 90s. What was the idea of changing the sound? How did it happen?
I suppose we felt there was more speed and heaviness available to the music, and we wanted to see what it sounded like. Mac (Tony McVey) and Steve ( Tomlinson) --the original Guitarist and Drummer-- were both Rockabilly, and when they changed drummers and got Strut (Darren Ward), they liked the extra power he gave the band, then I replaced Mac and it all clicked into place. Phil (Connor)was initially very happy with the new sound, but I think it went farther than he planned. The Krewmen went more in a death metal direction, songs about zombies and a very thick fuzzy production on their later albums. It sounded great, but that was not what we were doing. The Quakes were the opposite, they were just about pure energy, and they were very raw and hungry back then, I really liked them. I think Skitzo were in the middle, we wanted to make it a lot faster and heavier, but keep the raw edge, and not rely on songs about "buckets of blood" etc etc. That is not what we wanted. There was another band from Birmingham later (1989/1990) called "Grovelhog" who really pushed the speed, they sounded really fast and sick. I was almost expecting to hear some new 'billy band using blastbeats, that would have been a really cool experiment, but I don't think anyone did that yet.
The "tone" and the production on "Terminal Damage" was partly due to the producer not really understanding the music, and treating it like a normal Rock album. The guitar sound was impossible to record properly, it sounded great live, but horrible when we recorded it. We didn't have the time or money to mess around with it anymore, so we did the best we could. It was a mistake, but a lot of people liked it, and now a few people say we influenced them.
A lot of people didn't like it, but I guess you can't please everyone.


The band was also filmed at the Night Of The Long Knives all-dayer in Birmingham that resulted in a second VHS issue entitled Terminal Damage, which was recently re-released on DVD. Do you have any particular reminder of the festival?
Hehe, that was a GREAT day, although I remember I was worried about the cameras, and I got crunk, and messed up "Psycho Ward". Then someone tried stealing our amps...
The concert was good, but there were other fun things happening backstage, in the carpark, in the van...
The band also became a side note in Meteors history when the band name appeared on the front sleeve of the Only The Meteors Are Pure Psychobilly platter. The band name is carved on a gravestone and looks to be buried by the all-powerful Mutant Monkey . What did you think about it back then and what do you think about it today?
There was already some argument with them before I joined, and I had to accept it, although I wanted no part of it. Our manager asked me to stop wearing Meteors shirts, because he thought it would cause trouble. It's a real shame.
The band split after an appearance at the Hemsby Weekender in 1990. What were the main reasons for the split?
Phil left, Tony missed a few concerts !!!, then Strut moved to Sweden many months before Hemsby. We had one more concert booked, and we still wanted to play, we had already decided this was the final concert maybe 3 months before, we just didn't tell anyone until the night. I did not enjoy it.
Skitzo finally reformed and recorded The Glove EP (1995) and their third full-length album Vertigo (1997). Iīve heard that there were some troubles in finishing the album. Please tell us a little bit about it.
Only money troubles, hehe. We ended up in a horrible studio in London with a tiny budget from the record company, and nothing seemed to go right, but we had a really good engineer (Bart) who made it sound a lot better.
If I had any choice, I would want to re-record it, and start again. The 15 song demo we made for Vertigo in 1996 was 100x better than the finished album, and that was done live in our friend Mick's (Wigfall) lounge!
What are you listening to at the moment and what are your favourite Skitzo tracks?
At the moment?, Cramps, Bauhaus, Batmobile. I'll listen to anything, I judge a band on their music, and I don't care what style they are. My favourite Skitzo tracks are "Crying State" and "The Glove"
OK, hereīs my last question. The bandīs final split happened about a decade ago and I know that there are no concrete plans in doing a reunion. So I just want to ask you personally if you would like to perform again with Skitzo?
It is too late now. I tried several times to get Phil interested in performing again, but he has moved on. I can not reform the band without him. Maybe this is best left as a memory?
[ Home ] [ TORMENT TRIBUTE ] [ PSYCHO NEWS ] [ GIGS, FESTIVALS,TOUR DATES ] [ UPDATES ] [ THE BANDS ] [ THE RECORDINGS ] [ INTERVIEWS ] [ LYRIX ] [ LINX/CONTACT ]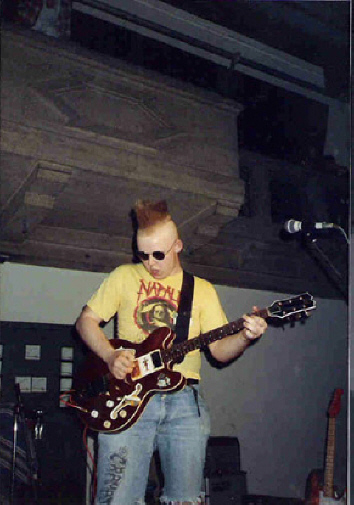 Thanks to Frank John for the photo !