(added September 2010)
INTERVIEW WITH PAUL SCOULDING
( GUITAR PLAYER AND LEAD VOCALIST OF MOJOKINGS, EX-SHAKEOUT )
by John McVicker
How old were when you first picked up a guitar?
I was 8 years old when I first picked a guitar up but was always a keen air guitarist before then. I can remember wanting to play from the word go! It was Stray Cats that made me want to play, without a doubt!! I remember pictures of Setzer and co up on my brothers walls. They were the coolest thing I had ever seen at about 6 years old.
Eddie Cochran was another reason I wanted to play. I remember being at junior school when Levis Jeans used his classic 'C'mon Everybody' on one of their add campaigns. When it charted they showed some great black and white footage of Cochran as a promo vid. That was cool, this young dude with a big Gretsch the same as Stray Cats had. Though, I didn't put 2 and 2 together at that age didn't realise that Cochran was Setzer's main influence!
Which guitarists influenced you?
Setzer was my first influence I have to say! As a kid, all of the great Neo Rockabilly guitarists. Mark Harman (Restless), Boz Boorer (Polecats), Captain Pat Marvel (The Deltas), Stuart Osbourne (Guana Batz). I remember as a teen having a huge Chuck Berry, Cliff Gallup (Gene Vincent) and Carl Perkins infatuation, I still do to this day.
Today, I wholesomely love the guitar, not just because I want to play like a rock'n'roller. I love Grady Martin, Hendrix, Merle Travis, Martin Taylor, Mick Jones (The Clash), Graham Coxon (Blur), Andre Segovia, Pete Townsend, Link Wray.
Was Shakeout your first proper band -i.e. gigging and recording?
Yeah Shakeout was my first proper band, I think I had just turned 15 when I joined my brothers in that band, they had to ask my mother if it was OK. I was in school bands before but nothing serious.
Did you enjoy like in Shakeout-were you pleased with your recordings?
I loved playing in Shakeout. It was a great experience. We were all great friends and had a real crack together wherever we went. I was only 14/15 when I started gigging with them. Locally at first around the Norwich area then nationally then European dates.
I remember playing at an all-dayer in Stoke On Trent early on. On the bill were us, The Texans, Demented, The Caravans, The Radium Cats, The Hangmen and a few others. Back stage I was jamming with Mark and Theo from The Texans, Mark Pennington from The Caravans while Sparky was wandering around out of his box leering around us! That felt very cool, being about 15/16 and hanging out with these heroes of mine! Same thing happened in Germany a little while later with Hammer (Batmobile), Steve Whitehouse (Frenzy) and Rochee (Sarnos!!).
So yeah, Shakeout was a real happy time. We were doing some really original stuff, mixing the influences up. And making some great friends along the way. There has been some people in Europe turn up to Mojo gigs with Shakeout CD's for me to sign, so we must have been doing something right!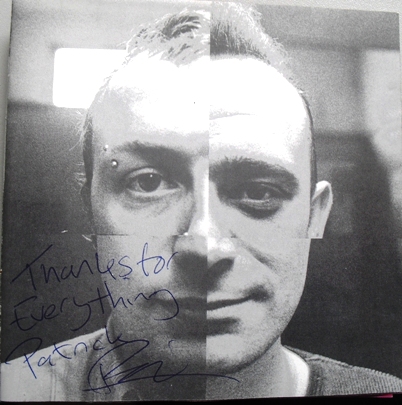 How did you get your record deals in Shakeout?
The first Shakeout record deal came about after we played at one of The Big Rumble Psycho Weekenders in the UK, I think it was our first one we played. It was from Japanese label Planet Records. I think they recorded our set, liked what we did and they offered us a deal. But I think there was about a year from them being interested and then releasing the album in 1995. They forwarded us 80,000 yen to go and make the album 'Dissonance' with. That got great reviews but we kept getting compared to The Guana Batz. But I suppose that's going to happen if you're a band trying to make it on a scene that already has such well established acts.
The second album , 'Top Of The World' was with Crazy Love Records from Germany in 1997. We just shopped the demo for that album around and Guido from Crazy Love offered us the best deal. That's a great label and have always had their finger on the pulse when it comes to new bands with new ideas. We were really on a creative roll by that album and really had so many influences on that. I think we were all really proud of that album.
Why did you leave and start MojoKings?
I didn't leave Shakeout, we just came to an end unfortunately. I think people had personal stuff going on and the band came to a natural end. I was already playing guitar in a Garage band called The Mandrax Incident so I carried on for a while with them. That didn't amount to much, I think we were all smoking too much pot to push it to another level.
Mojokings came a few years later. We started as The FatCat Trio and we were playing mainstream rockin' club Rock'n'Roll. I wrote a few songs - "This ones a jiver, this ones a stroller, this ones a bopper", that kind of stuff. We recorded an album, 'This Rockabilly Wont Die' with Pink'n'Black Records and appeared on their 'Cat'n Around' compilation album. I started to feel the band was getting stale, not trying to create anything new. I changed the name to something a little less obvious, so people couldn't assume what kind of music we played just from the name. I wanted to start thinking outside of the box again and write some tunes that couldn't be pinned down to rockabilly, rock'n'roll, psychobilly, punk etc. The end result was 'Got The Devil In Me' that was released on Pink'n'Black Records again. That album crossed boundaries for us. We were playing rockin' clubs, hotrod shows, burlesque nights, punk nights, psychobilly nights, scooter do's, festivals etc. It even got us nominated for a 2008 Indie Award ,and because of that, even though we were only a nomination, we got gigs at cool and trendy London venues with more mainstream indie bands. Great wild gigs in front of a fresh faced crowd.
How did the deal for Got The Devil In Me CD come about?
As I said, the deal for 'Got The Devil In Me' came about because we had already recorded a album for Pink'n'Black Records as The Fat Cat Trio. Perry Williamson at Pink'n'Black really wanted the Mojo's album because of that.
What happened to the original line up and are you happy with the one?
The original lineup of Mojokings was great fun and we done a lot together. But Scotty (ED...Roberts), the drummer, had some differences and he was getting into the 60's scene and wanted to do more of that kind of stuff. Lee (ED...Payne), the bass player said that if one of us called it a day he would throw the towel in as well, and he was true to his word when Scotty left last September.
That left me wondering what to do next. I had put far too much into building the bands reputation and writing original songs to call a day on Mojokings. But I wondered if I could ever find some more like minded people.
We had been booked for the Bedlam Breakout Psychobilly Weekender for that same month and an old friend of mine Olly Simmonds was already standing in on drums as Scotty couldn't make that gig. My brother Rich agreed to play bass as he was already going to be there playing for the reformed Shakeout. One rehearsal, we done the gig and stormed the place!! Olly decided he wanted to stay on as drummer. He is the best drummer I have ever had the privilege of working with.
A few gigs then had to be cancelled as a full time bass player still needed to be found.
After a few offers from people, Mark Palmer contacted me and after a rehearsal was set up, it was agreed Mark would be the new Mojo bass man. Olly and myself started writing material together, heavier and harder than before, with more influences finding their way in until the sound that was being produced was quite unlike any sound around!! The live shows were getting wilder and sweatier. Then, as things were going better than ever, Mark announced his departure from the band due to personal circumstances.
Rich was called on once again to stand in for a gig. The show was wild and the band played like their lives depended on it!! After the gig, Rich had such a buzz from it that he contacted Paul and Olly and said that he was to be Mojokings bass player, after all it made perfect sense!! At the moment, this really is the best band I have ever been in!
Who was the girl on the cover? Any chance she would to be on my bands next cover????
The girl on the cover is a friend of a friend called Emilly. A friend of mine called Dany Boy got the album cover together for us and also our basic logo. He runs a trashy Rock'n'Roll night in London called 'The Trailer Pussy Show'. He's a really creative guy who's always coming up with really far out ideas.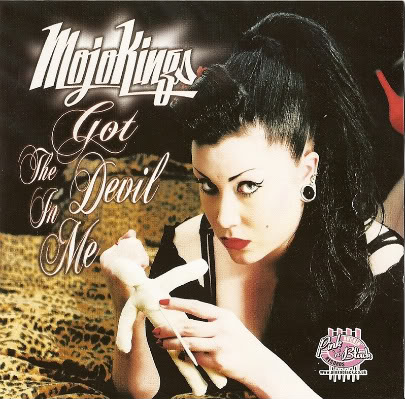 Where's you favourite place to play UK or abroad and why?
In the UK, I love playing at the more alternative kind of venues. Places where you're not really playing to a scene of any kind and the crowd just want to hear some great rock'n'roll played with soul and cut loose for the night, rather than analyzing everything you do. As scenes tend to do. In no particular order I would say my favourite places in the UK are - Last Gang In Town (Cambridge), The Gypsy Hotel (London), Stay Sick (Brighton) and The Devil Kicks Dancehall (Bristol). We also played at the 'BoomTown Fair' this year in Buckinghamshire and that was truly, truly wild!!
And finally what does the future hold for the Mojokings --many gigs and what about a new CD?