(added August 2014)
INTERVIEW WITH PAUL 'HODGE' LEIGH
( DRUMMER OF SHARKS FAME )
by John McVicker
Where and when were you brought up?
I was born and raised in Frome Somerset. It's in the South West of England. Near to Bath.
What was the first music you were into and when did you first start playing the drums? What was your first kit like?
The first music that I was into was Glam Rock. I didn't know it was called that at the time mind you. The first band that I was really into was The Glitter Band, they had two drummers which I really loved. I also loved The Sweet and Marc Bolan. I first started playing the drums like most drummers, on the furniture with wooden spoons as sticks until I persuaded my Dad to buy me a drum kit. This would have been in about 1979/80. This first kit was a Burgundy sparkle Premier kit, which I loved. One of my only regrets in life is that I sold that kit. Live and learn.
Was your first band the Shakin Quiffs with Steve Whitehouse? Who else was in the band ,how did they form , did you gig and didn't you have a couple of tracks on a compilation album?
You've answered part of the question yourself which is my first band was the Shakin Quiffs with Steve Whitehouse and we did indeed have a couple of tracks released on a Nervous compilation called Stack-A-Records. Steve started the band with Gavin Lusby and I believe Merv Pepler but for some reason Merv left and Steve asked me to join. I didn't really know Steve at school as he was a Rockabilly and I was into bands like the Specials, the Beat, Madness, The Jam etc so we didn't really mix until I joined the Shakin Quiffs which was right at the end of our school days in about 1981/2. We did quite a few gigs as I remember, we played at the school and in the local theatre and even in the local Police station as I remember.


How did you get to join the SHARKS ?

This is well documented but to cut a long story short. THE SHARKS were already a very popular Rock'n'Roll covers band that Alan started with his two brother-in-laws. Steve saw them on a local TV channel and basically kept on and on to Alan until he eventually let him and me come for an audition. THE SHARKS had a gig lined up in Cornwall that the other two members couldn't do so Alan asked Steve and me if we would do it. The rest as they say is history.
THE SHARKS split not long after the album Phantom Rockers was out and a Dutch tour. What is your view on the split?
My view on the split now is probably the same as it was then. It was for the best.
What did you do after the split?
Alan and me carried on working together on various different musical projects. Alan has always been more into recording music than playing live so he built the first incarnation of X-Ray studio in his parents garden and we used to spend every weekend in there writing and recording songs. We wrote some great songs in that studio. House of Wax that is on Infamy was written in that studio as was Man With The X-Ray Eyes from Colour My Flesh. Alan and me also had a band called the Circus Freaks. We weren't a Rockabilly or Psychobilly band but we did have some great songs. Some of the titles that I can recall are, The Torture Garden, The Freak and Transylvania Calls You Home. That band also featured Steve Holbrook on keyboards. Steve can be found on quite a few Western Star songs and he has also played keyboards live with THE SHARKS at Bedlam and Inkfest recently. We had some great times.


Didn't you play with Frenzy for a bit and on one album?
I did yeah. This is the Fire. I actually only featured on two songs on the album though as the rest of the songs had programmed drums. I did a couple of tours too with Mark Harman on Guitar.
THE SHARKS reformed in 1993 with Gary Day: what was it like with him in the band ?
I loved THE SHARKS line up with Gary, mainly because it meant that THE SHARKS were back in business. Gary is a great musician and a really cool guy and we had some great times with him in the band. We also wrote and recorded some great songs with Gary. Next to Infamy, Recreational Killer is my favourite SHARKS album. Hooker, which is probably the most popular SHARKS song live , was written by Gary. I'll never forget him pulling the lyrics out of his pocket written on a cigarette packet. He actually hated the song and Alan and me had to persuade him to record it.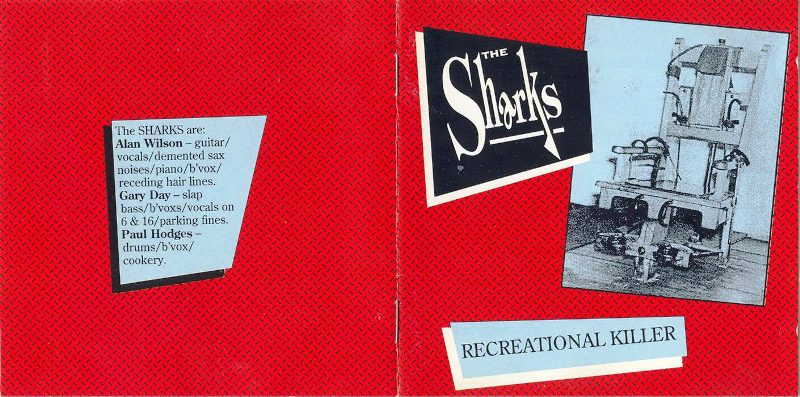 When did Steve re-joined ?
When Gary left to fulfil his commitment with Morrissey Alan and me decided that there was only one course of action that we could take. That was of course to ask Steve to re-join. There was a lot of call for the Phantom Rockers line up to re-unite so we knew that it would be a worthwhile venture even though. Alan and me hadn't spoken to Steve for many years and we didn't know if he would agree to re-join. He did though and the rest is history.
Tell us about Johnny Panic. That's a really underrated album. I think if a lot of people heard it without looking at the cover etc they would think it was a Morrissey demos album or something?
Its a very long story but basically, I joined up with a singer songwriter called Ben Gunstone who had a project that he wanted to get off the ground called Johnny Panic & The Bible Of Dreams. He had some great songs and I was really excited about the project. We did a few gigs locally and a small tour of Scotland and recorded a few songs. I knew Alain Whyte through Gary and I thought it would be a good idea to play him some of the songs that we had recorded with a view of him maybe producing a song or two. Alain loved the songs and agreed to produce a song. That song was How Can You Do from the JP&TBOD album. Alain also played guitar on it and sang backing vocals. Anyway, the guitarist in the band decided to leave just before a gig that we had at the Hope & Anchor in London so Alain stepped in. The gig was amazing. Absolutely packed out so we all agreed that Alain should be a permanent member. We did another tour of Scotland and a few more gigs in London, Gloucester Bath & Bristol. There was a real buzz about the band and we sounded great and we recorded a single and a load more songs, Ben and Alain wrote some songs together hence Irish Blood English Heart and Don't Make Fun Of Daddy's Voice being the same music as two JP&TBOD songs. Alain gave the same music to Morrissey that he had given to Ben and Morrissey and Ben put their own lyrics and melody to it. Our songs were recorded first though just for the record some of which are on the album. Anyway, to cut a long story short. Morrissey again came calling and Alain decided to go back and work with him. And who can blame him. We decided to call it a day.
After that finished is that why you moved to Spain? Were you in a band out there working.
It was partly the reason. I'd basically had enough of the UK and of playing music so me and a girl I was with at the time moved to Spain. When I was in Spain I didn't even think about playing music for about five or six years. I eventually got the bug back and formed a covers band called Costa Rock. Shit name but we were a great band.
Now THE SHARKS have a new album and are playing again. Are you back living in the UK?
Yeah. I live in Maldon Essex. Spain had pretty much bled me dry and with the Sharks back gigging again it's better being in UK.
How did you get to play with Mickey & The Mutants? Are you happy with the album? Did the band split?
Mark Robertson told me that they were looking for a drummer so I got in contact with Mick White. I am very happy and proud of the album. We were never really together as a band to be fair so we didn't really split up as such.
What does the future hold , what are you up to are you in any other bands and I know you support Liverpool to get to watch them much and are you sorry the player who likes to bite people has left?
Who knows what the future holds. THE SHARKS have a few more shows lined up but it won't go on forever. I am working with some on a project called The Voronas which is fantastic if we ever get it off the ground. I do support Liverpool but on't see them half as much as I'd like to. As for Suarez. Lets just say Goodbye and thank you.