(added May 2014)
INTERVIEW WITH NORM ELLIOTT
( GUITAR PLAYER & SINGER WITH MICKEY & THE MUTANTS, NORM & THE NIGHTMAREZ )
by John McVicker
Tell us a bit about your background., where you grew up and stuff like that.
Hiya John, I was born in Northern Ireland & the family moved to Birmingham, UK when I was four, I've been here ever since.




When did music first interest you and when did you first pick up a guitar?.
When I was 13 we lived on the 13th floor of a tower block, one Saturday I looked out of the window & seen someone

from school walking down the path towards the shops a mile away. He had his thick dark curly hair greased into a quiff & wore brothel creeper ted shoes & a black leather bikers jacket. It was the coolest thing I had ever seen !!!
I waited a full hour at

my window just to see him return. At school the next Monday I found him & questioned him, we became firm friends and that Friday after school I went a bought the full outfit, oh and the grease for my hair. He then introduced me to the music of Gene Vincent, Eddie Cochran, Buddy and Elvis. I loved it and I was soon attending Teddy Boy nights & bopping away. Just after this I was at another friends house & he had an electric guitar, he played it and I loved it. I picked it up and immediately played Come On Everybody by Eddie Cochran, It was weird but It just made sense to me. My late grandmother could pickup

any instrument and play it, so I guess some of her skills got passed down to me.




What type of guitar was it?
A: My 1st guitar was a real piece of crap, a Satellite Fender Strat copy and cheap amplifier from the catalogue, god I played it so hard and for so long my fingers bled. Two weeks after I got it I did my 1st gig with a Rock'n'Roll covers band.




What was your first band and did you release anything?
My 1st Psycho band was The Phantom Zone, & yes a track off our 1st demo: Higher My Stakes was released on a Birmingham Punk Compilation Album, but nothing else. We did support most of the new top bands like The Guana Batz, The Vibes & The Sting-Rays etc.



So when did you discover Psychobilly and what was the first band seen?

I loved the three Meteors tracks of the Home Grown Rockabilly Album but when I heard the Meteor Madness EP that was me gone into a world of pure Psychobilly. I ditched the rockin clothes and scene and started dressing pure Psycho. The 1st psycho band I seen would have been the Ricochets but we didn't really think of them as psychobilly then, not sure why coz they certainly were and indeed are !.



How did you get involved with Mickey And The Mutants?

I was in a band that was a tad Cramps-ish & Mick loved what we did so kindly kept asking me to be his guitarist. I resisted for about six months as I'm used to being in my own bands but then my drummer left so I thought, why not ! I fully intended to just play guitar for Mick but it worked out we shared singing and writing.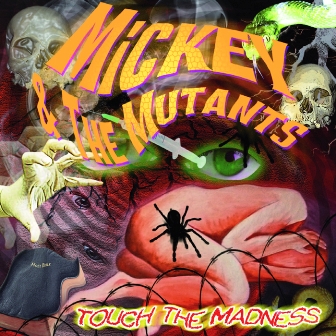 Are you pleased with the album and how's it selling?
Yes I'm very pleased with
Touch The Madness
, it worked out that I wrote and sang on seven tracks and
Mick
did the same on five. It's had rave reviews and rightly so and reached no.2 in the Psychobilly chart. I think it's an awesome album & yes it's selling very well and is still available from all the usual stockists or direct from
Western Star
.



Tell us a bit about Norm & the Nightmarez. Who's in it with you?

Norm & The Nightmarez is a project I was meant to do. Clean Rockabilly guitar, bassey full bass with just a little click and thumping pounding drums. The lineup is me Norm Elliott on Gretsch guitar, vocals and all the Writing, Frank Creamer on drums ( Ex- Colbert Hamilton & the Hellrazors ) and Mark Bending on double Bass ( Ex Sgt Bilko's Krazy Combo ). It's a lineup made in hell !!!. We've done a few gigs now and people love that day one Psychobilly. It has a huge amount of Rockabilly in it !!! The lineup on the CD is different to the one at live gigs tho'.
Every gig brings more gigs and we're playing the Voodoo Rock A Hula festival in May 2014 and are honoured to be playing the next Bedlam Breakout plus many of the top festivals are interested. In fact it's got so busy so quickly I've had to leave Mickey & the Mutants.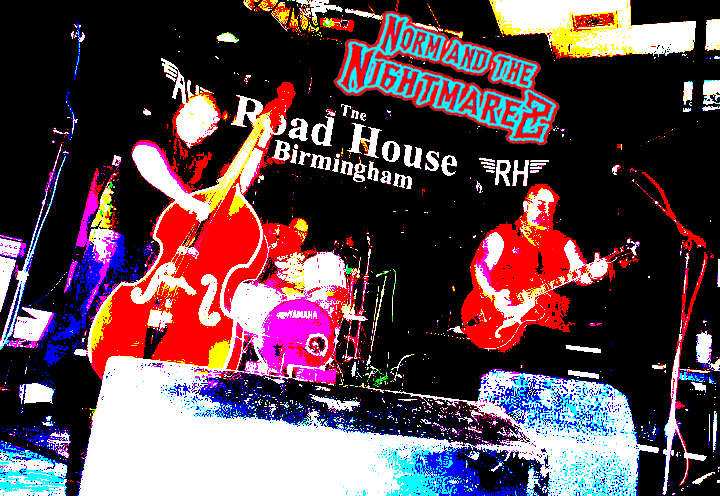 Any recording plans ?

YES YES YES, as with Mickey & the Mutants we are signed to Western Star and have just recorded & mixed the 1st Norm & the Nightmarez album 'Psychobilly Infection', it's due for release in June ( 2014 ) and I promise it's real real special. We're thrilled at how it's come out & have to give a big thanks to Alan Wilson for a great production job. Just wait till you hear it !!!.



What does the future hold and what would like to happen? Do you do music full time or do you work as well?

The way things are going Norm & the Nightmarez are in for one hell of a ride. J jump on, if you dare !!!!!!!. Oh and for now I do have to also do a day job, which like most I really hate (lol)