(added September 2014)
INTERVIEW WITH NICK PLANT
( BASS PLAYER & BRAIN OF LUNA VEGAS)
by John McVicker
First off I'm sorry to hear that Daz is no longer with us, wasn't it him who with your goodself started LUNA VEGAS ten years ago?
Yes, I can still recall the phone call, I was at work. It was always nice to hear his voice, he was in a way like my kid brother to me. After some discussion and reminiscing of our days in Stench from the late 80's, we decided to form a band again, that being LUNA VEGAS. Even when he departed from the LUNA VEGAS we still kept in touch, regrettably looking back maybe not as often as I should. Sad thing is one of our last conversations was to do some recording together. But I have some very fond and funny memories of our friendship as does Chris Ives (drummer).
The band released three albums in ten years. Are you happy with your output? Would you like it to be more?
We have to except that we have only the three as we could have produced at least another. The second album Second Shot Cuckoo Clock was at least half done by Daz, but we took the decision to do the whole thing again, which took a lot longer than we anticipated. The third album Demon Creepers Asylum Seekers we had the situation of Chris departing the band briefly. Tony Allen came on drums for a while, then Jim Goodman our first drummer joined for a brief six months and played on half the album. Fortunately Chris came back and finished the album with drums on Night Nurse which had already been recorded and Mr Oid. With Matt deciding to leave the country, we put recording on hold and concentrated on the gigs we had booked that year like Bedlam Breakout, Stomp and the Psychobilly Meeting in Spain.
What's your favourite of the albums and why?
I personally don't have a favourite. I like the warmth of the first album and simplicity. I like the song structures on the second, but that was a hard album for us, as Matt had just joined and we were still experimenting with the guitar sound, I think looking back if we had waited six months it would have been even stronger, but we all can be wise after and the third is just a all round dam good album. I personally think the third has a more professional feel to it.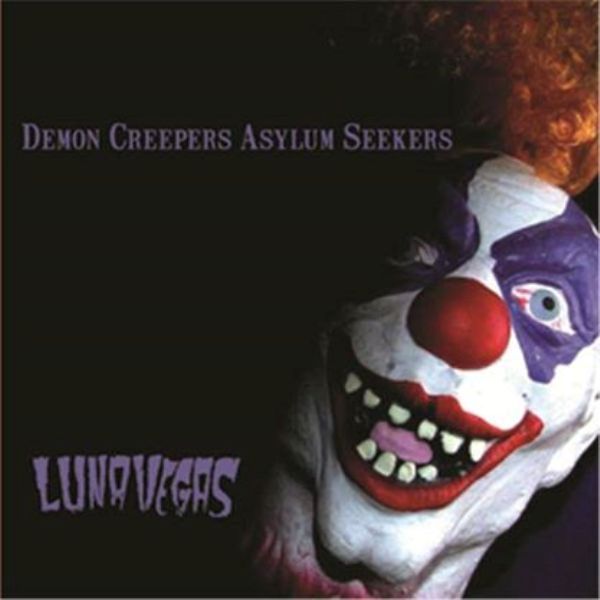 What's the line up today ? How longs it been together and what happened to your ex-members such as guitarist Matt ?
Matt left the UK to live with his now wife in Denmark, his last gig was in Bristol at The Western Star 10 year anniversary. We tried to find a replacement and were at the point of giving it up for a while, I picked up the guitar and thought about having a go and starting another band with Chris. I knew of a local young lad called Jedd Baker who started playing double bass, funny enough he lived down the road from where Daz used to live. We had a few jam sessions, then one night he picked up the guitar and started playing. Me and Chris just looked at each other, we had found our man. So Jedd joined LUNA VEGAS, me and Chris are full of admiration for Jedd, as he has come a long way playing Psychobilly style riffs, he has put in a lot of hard work and practice. We are back to a good tight band and things naturally flow between us. I'm really excited of the new material we are producing. Jedd style has leaned well to LUNA VEGAS, as almost has a few influences of Daz and Matt entwined, but he has definitely has added his own slant to the band.
So what's next ? I heard there might be a ten-inch release coming soon? Has this been recorded at Western Star and will it be released on Western Star?
Yes we have been in the studio Western Star and recorded six tracks, I love the look Alan's face when we always turn up, what are these guys going to be up to this session is written all over his face. I would imagine that's his check up at the dentist look. Sometimes we go down a bit disorganised, we know what we want and expect Alan to mind read (laughs). I love Alan's enthusiasm once we start recording though.
As we released three albums on Western Star Alan suggested it would be pretty cool to release a mini album on vinyl, naturally we jumped at the chance. We have been asked many times about doing a release on vinyl. But it doesn't stop there we pushing onward on the fourth album also.
Are there any live dates lined up to promote it?
I'm not to sure what and where we will be playing, we have been in a few talks with promoters on the USA and Europe front, but nothing concrete yet. But I'm sure they'll come ounce we start playing regular. We haven't pushed to play live really yet, we've done a few gigs to get the gel playing live. We are concentrating on our foundations, plus Chris and Jedd have just started new jobs. Ounce they've climatised to those we will start booking. And yes we will be playing all our new material in the set.
Anywhere you like to play but haven't yet?
We would like to play the festivals in Europe that we haven't played yet like Psychobilly Earthquake and Rockabilly Psychosis in Antwerp. We had the chance to play Brazil a few years back, but due to the line-up changes and finishing the album, we never did it. That's one I would like to do and of course play USA. I would also like to play more gigs where Psychobilly hasn't really ventured, We always love the feedback of people who haven't seen this type of genre. They seem more open minded, naturally. PMSL!!!!!!!
What's yours and the band's day to day life like?
I work with my father in a Engineering factory machining components. It is often the place I write my lyrics singing along in my head while I work, I have loads of paper with scribbled lyrics in my overalls (laughs). I should have been a writer really, but my spelling and grammar is not of great ilk(laughs again). Chris works in a warehouse and Jedd's a trainee electrician.
The band has taken a new direction how we do things now, as I was the original member and from the beginning had the main drive in the band. It came across as it was my band, I kind of fell in the roll which meant naturally that I was making most of the final decisions, not really being aware of it. We all had a brief and grown up conversation and all these things came to light. Now we are all naturally doing a bit and we become a closer unit. I'm not keen on ego's, especially my own!
You've reached ten years of LUNA VEGAS. Is there another 10 years?
Yes 10 years, can't believe it, what a roller coaster ride its been (laughs). We will just keep doing our thing as long as we are able. My greatest enjoyment is the actually playing live, as long as people want to see us play I'll try and keep going. Personally I feel very loyal to Alan and Western Star, so if ever we release anything we will always try and promote and push that release. It's all about respect.
We are in the middle of doing a regeneration of logos and ideas. I'm sure there will be some wonderful and weird dimensions to tap into for more material. We do like the fact that LUNA VEGAS remains Psychobilly, but we will be always looking for that avenue or niche uncharted grounds.
I would like to take this opportunity to thank all the past members who have made LUNA VEGAS what it is. That being Daz Knight, Jim Goodman, Rob Kinson. Tony Allen, Matt Nailor and the present line up of Jedd and Chris.
What's left?.....OH YEAH!