(added July 2012)
INTERVIEW WITH MICK WHITE
( BASS PLAYER IN THE M3T3ORS, GUANA BATZ, MAIN MAN OF MICKEY & THE MUTANTS)
by John McVicker
How did you first hear about Psychobilly?
I was 16/17 years old and my friends and I were into Punk. We went to lots of gigs and frequented the Feltham Football Club on a regular basis. The Meteors played there and that was it. we all went out and got flat top hair cuts and followed The Meteors. That was in 81.
What was your first band and did you lay down any recordings?
My first band was VERBAL ABUSE. We had one song called Verbal Abuse and I'm not sure this counts as a gig but we played in my friend's back garden.
How did you join THE M3T3ORS?
I received a phone call from Steve Guthrie who ran rockin' nights down the Feltham Football Club. He told me Nigel (-ED. Lewis-) had left THE M3T3ORS and they (the Meteors) were looking for a bass player. I was gutted as Nigel was and still is a hero of mine.
I was also savvy enough to know this was a great opportunity for me. I spoke to P Paul Fenech and he invited me down to see the band at the Marquee club. This was a Tuesday. On the Saturday I went for audition at Fenech's house. I remember Paul asking me what tunes I new? I think we started with Maniac Rockers. After running through bout 15 tunes Paul then asked me what tunes I didn't know? I was a massive fan and played their songs constantly.
At this point Paul took Woody (-ED. Taylor-) and Russell (-ED. Jones-) upstairs saying "We're going to talk about you now". Then they came down Paul said " Woody don't like you because he thinks you're just in it for the money, kudos of being in THE M3T3ORS" I pointed to the bass stack and double bass and said "This lot cost me a fortune" Paul then said "Russell don't like you because you are from east London" There was a thing between West and North London Punks going back to Martian Dance and Manufactured Romance and the old Adam and the Ants days. I told Russell " I don't like you either" We both laughed. Paul then said "Well it's my band and I like you so you're in, Oh and we are supporting the UK Subs at the Lyceum tomorrow".
What records were you on? Nice black eye on that Johnny Remember Me picture disc by the way.
First recording I was on was either Wreckin' Crew single or Mutant Rock b/w The Hills Have Eyes. Then Wreckin' Crew album. Then Johnny Remember Me single. After that there are too many bootlegs/compilation albums to remember. 'Curse Of The Mutants' album is a good one because it has tracks I recorded on it that didn't make the Wreckin' Crew album.
Why and when did you leave?
My last gig with THE M3T3ORS was n 83 at the Ace, Brixton. It was recorded for Channel 4.
'What ever ou want' Smithy, my roadie told me Paul was talking about getting rid f me so I knew the writing was on the wall. Things hadn't been good since the Holland tour and started going bad when I met a girl. I had been living at Paul's house in Tooting and moved out with this girl to my parents' house. The Holland tour we had a road manager we called ET because he always phoned his mum everyday) Me and my roadie Steve had one off with some local girls Steve knew and left Paul, Ginger and ET to do their own thing. I like to think Paul wasn't happy because he had to pay for it and Steve and I spent a Christmas with two beautiful Dutch girls but the memory isn't what it used to be. I want to say this though
I am and always will be a M3T3ORS fan and a Psychobilly and P Paul Fenech gave me the chance to become the man, musician I am now. Without him there would be no Psychobilly and he will always be the master and I will always be thankful I played In such a great band like THE M3T3ORS.
Next you were in THE GUANA BATZ. How did that come about? You were on the Batz' first two singles. How did life differ from being in THE M3T3ORS?
THE GUANA BATZ originated in a studio in Twickenham. Stuart Osbourne and I had got together and decided to form a Psychobilly band. Dave 'Diddle' Turner joined when a drummer dropped out. I knew Diddle from school and I went round his house and asked him to play drums. He said "I can't play drums". I gave him a set of ticks and said "You can now" We were not called GUANA BATZ then. I went on to play in a band with Pip (-ED. Hancox-) called the SLAPBACKS. We were a good band but the guitarist bottled out from playing our first gig. Then THE M3T3ORS thing came along and that was that. Towards the end of my stint with THE M3T3ORS I spoke with Diddle and said I wasn't happy and he suggested we start another band.
When I finished with THE M3T3ORS I joined THE GUANA BATZ. The Batz were all good friends and we were all locals to the Feltham Football Club. I wanted that feeling of enjoyment from playing I wasn't getting with THE M3T3ORS and the Batz as a fun band to be in. Our second gig was in Norwich supporting King Kurt. Kurt had said we weren't getting paid and we couldn't have a guest list but we played it anyway. There were booths around the dance floor at the venue and Diddle and I were tucking into some pie and hips. Kurt were in another booth and decided to throw chips over the divide at Diddle and me. They obviously didn't know there were bags full of flower and stuff in our both and Diddle stood up and covered them (Kurt) with it. Recordings with the GUANA BATZ: 4-track EP, The Cave single, loads of compilation albums and bootlegs and The John Peel Sessions recorded by the BBC.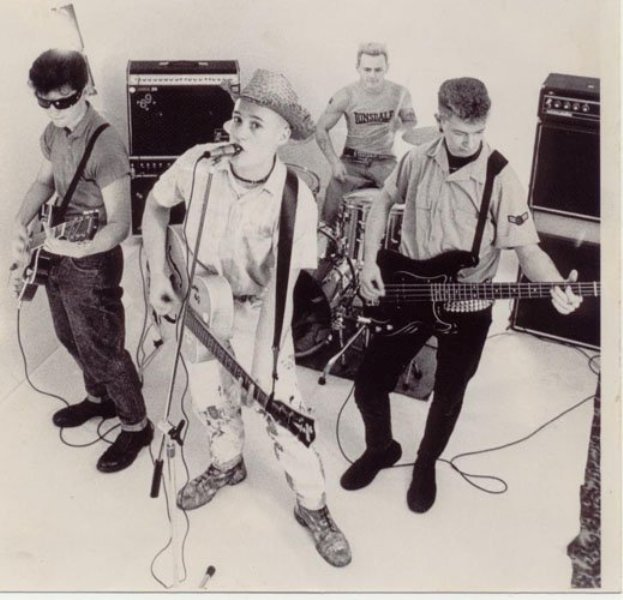 Why did you leave and when?
We had a band meeting and Stu and Pip said they wanted a double bass player and be more rockin'.
I love playing slap but back then strings were expensive and I would wreck them regularly. Also it was a pain in the arse humping it around and keeping it in tune. I told them I wasn't going to play slap and fiddle, Tom Evens (our manager) and I were going to start another band. Which we did called FLAYED ALIVE. I wasn't happy at the end of the Batz as they wouldn't use any of my songs. So I needed another outlet. Diddle and Tom went back to the GUANA BATZ eventually and I carried n with FLAYED ALIVE for about 10 or so gigs.
Didn't you manage Demented Are Go for a bit. What was that like?
Yeah, not many people know that? Demented Are Go supported the Batz in Cardiff and I thought they were a great band. I went up to see them play again in Cardiff and asked if I could manage them, which they agreed. Their first gig in London was at my 21st Birthday bash at the Clarendon, Hammersmith. I produced a track of theirs, their first I believe, for a compilation album. I had set up a gig in Paris and arranged for a coach to take us and 40 odd Psychos to France. I was at Victoria coach station with all these fans and the band (and the coach) didn't turn up. So that was that.
You seemed to disappear. What have you been doing? Did you keep n touch with Psychobilly, band and mates etc?
I got into producing music after this and started building various studios where ever I lived. I was always around but just kept a low profile managing and producing local bands.
How did MICKEY & THE MUTANTS get together?
I found myself writing more rockin tunes and wanted to record some of the tracks. I also had set up a gig in Birmingham for a band I manage called Dirty Crawlers and they blow out so I told Norm Elliott from Bionic Krugarrands I would do a few old Meteors/Batz numbers of mine as I didn't like to let people down. Well, the response to me playing what was supposed to be just a guest slot was ridiculous. I had met Drummer Paul Mummery through Spud Taylor from the Sin Kings and wanted Norm Elliott to play guitar but he wasn't available at the time. I tried several other guitarists but eventually talked Norm into it.
Any gigs lined up and are there any recording plans?
First official gig is Sat 11th August @ the Scream Lounge, Croydon. Then Sat 6th October @The Tiger Lounge, Manchester. Then Sat 10th November @ Pompy 3. We will be playing a secret gig before Croydon so stay tuned. There is loads of other stuff coming up but nothing confirmed yet. We will be recording in the new year.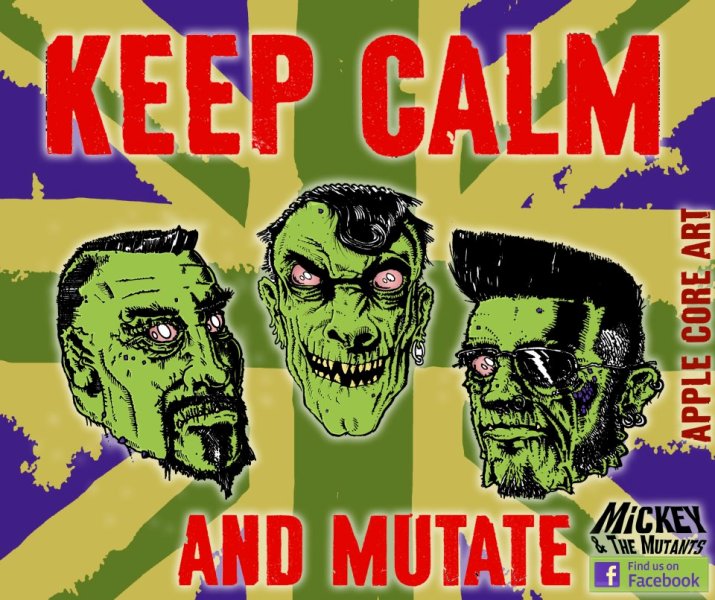 MICKEY & THE MUTANTS ON FACEBOOK