(added October 2009)

INTERVIEW WITH MARK ROGERSON

( GUITARIST WITH THE RAPIDS )

by wildhank

At which age did you start playing guitar ? What was your first encounter with Rock'n'Roll or Rockabilly?

I was 18 when I started playing the guitar, Lee had one for Christmas I got mine out of the loft and we learnt together. My first encounter with Rock 'n' Roll was as a child, it was my parents influence. My Dad was a Bill Haley fan, so I grew up listening to all the greats Elvis, Eddie Cochran, Buddy Holly and more. They took me to see Duane Eddy & Jerry Lee Lewis at the Rainbow Finsbury Park in 1978 I was 14 or 15.

Lee, Paul (Rapids first bass player), Andy (drums), Terry (drums) and I were all at school together. We started our secondary school in 1976 as Punk was exploding onto the scene. We started dressing as Teds and discovered Rockabilly through Rock 'n' Roll.

When did The Rapids form and what was the main inspiration for creating a rockin' outfit?

We formed in 1981 we all used to hang out together, how many kids say we are going to start a band! We were no different.

My parents used to go out nearly every Saturday night so they would all come round to my house at first we had a tea chest bass until Paul had saved up to buy a double bass. We couldn't play a note but boy did we have some fun.

Please give us a short band story, original line-up, line-up changes and releases.

Short it isn't I'm afraid.
1st Rapids line-up. Very Early. 1982
Lee Gocher: Vocals , acoustic guitar.
Jim Key: Lead guitar.
Mark Rogerson: Rhythm guitar.
Paul Mitchell: Double Bass.
Andy Mayne: Drums.

Jim Key was only helping us out for one gig the only gig Andy did. I didn't play the gig as I only knew one chord! Jim thought we had potential so he introduced us to Rob Smith (Now plays with The B17's). Rob got us playing properly It was Rob who came up with the lead guitar for Scratch Chicken Scratch.

2nd line-up 1982-83
Lee Gocher: Vocals acoustic guitar.
Rob Smith: Lead guitar.
Mark Rogerson: Rhythm guitar.
Paul Mitchell: Double Bass.
Terry Winchcombe: Drums.

Rob left but introduced us to Spike. It was now that we started to add more and more original material to our set. Spike is a Cliff Gallup fan because of this we also started covering a lot of Gene Vincent. I gave a tape to Carlo Edwards he wasn't too interested in the Vincent covers. He made a mix tape, fading snippets of songs together, it was mainly Silver Bullet. We got our first gig in London at the Rock Garden Covent Garden supporting Restless. Mark & Ben (Ed note: Harman) liked us we supported Restless at pretty much every gig they did in or around London.
So this is the line up recorded One Kiss, Hi-De-Hi for the Dance To It compilation (Ed note: they are also on Rockin' It Up). Scratch Chicken Scratch for Hell's Bent On Rockin'.
3rd Line up 1983 -1985
Lee Gocher: Vocals acoustic guitar.
Spike Arrow: Lead guitar.
Mark Rogerson: Rhythm guitar.
Paul Mitchell: Double Bass.
Mick Wiles: Drums.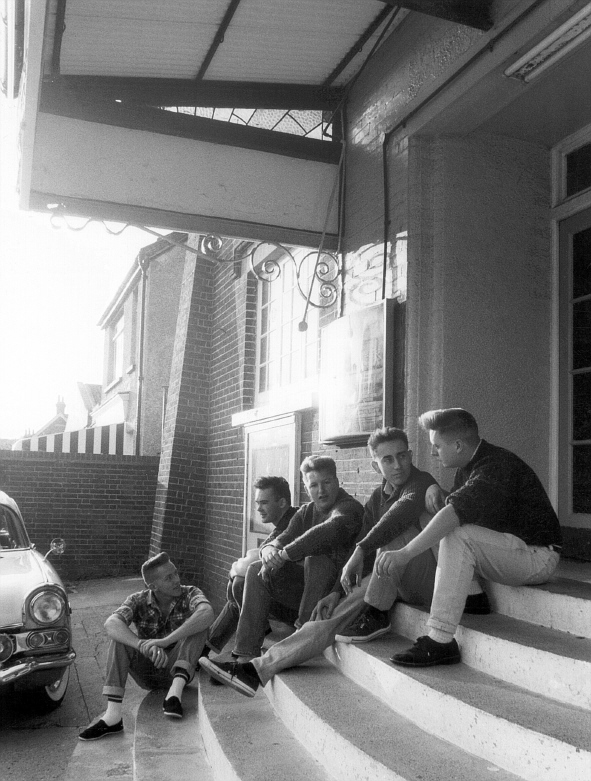 Paul left as we had started recording Turningpoint.
Tony Farthing was drafted in for the recording, which we had to re-schedule in order to Tony up to speed with the songs.

Releases are:
One Kiss & Hi-Di-Hi - Dance To It Compilation.

Scratch Chicken Scratch - Hell's Bent On Rockin'

Night Out With The Boys - Riverside Club Compilation

Turningpoint & The Raid - Nervous Records

Legend Of The Lost & The Raid - Stompin' At The Klub Vol. 2

When and why did you guys split up?

The split up was slow and drawn out. Spike left to join Frenzy as they were looking for a new guitarist. We'd met Paul Gaskin at various gigs. He was playing with The Outer Limits. I don't remember how it came about but he ended up joining. Not for long though. The Rapids were based in Dorking, Surrey. Paul lived in Essex. Traveling to rehearsal was too much. I think we did 2 gigs with Ricky Gamble, he lived in Dorking, was an exceptionally good guitarist. I then took over on lead. Lee was also developing as a good guitarist. We started sharing some of the lead guitar. Tony left around about Christmas 1986. Danny Huckridge took over on the bass. Mick started to be less willing to do any thing. So The Rapids ended as a 3 piece rockabilly band playing covers. By 1987 - 88 The Rapids were no more.

Despite the fact that the band definitely comes from the Rockabilly edge, the sound of the Rapids is very, very unique and hard to pigeonhole. Many songs seem to be kind of experimental, vanguard, with Pop, New Wave, but also Western influences. Where did the main influences come from and what do you think makes the Rapids sound so special?

Thank you for the compliments. I was recently discussing this with Mick (Drummer). For a brief time we created some interesting well written songs. It was actually all 5 of us doing that, we were writing and playing as a band. Lee generally wrote most of the songs, they would be played on an acoustic guitar we then did our tried and tested method, play the song over and over again. Some songs never made it any further. Our sound came from being a 5 piece band, 3 guitarists. The chord progressions and the lyrics did the rest. We rehearsed every Sunday afternoon and sometimes well into the evening. At our most creative we were playing 2 - 3 gigs a week. Sunday was pretty much devoted to working on new material. We were playing live so much that we didn't need to rehearse the set. We just wanted new songs. We were listening to a very wide range of music. On the Rockin' scene The Blue Cats and The Shakin' Pyramids were heavy influences. I remember Lee being really into Big Country, I was into The Clash. Experimenting is what playing music is about. We really were just having fun doing it.

The band also doesn't match with other stereotypes of the genre. The sleeve photo of the album Turningpoint showcases a band photo, missing big quiffs, blue jeans and other clichés from that era. Do you like the sleeve design of the album and 12" EP The Raid ? Did you feel restricted by the Neorockabilly, Psycho scene?

We never had any of that big quiff look. We all came from the early 80's rockabilly scene. The sleeve photo shows us in our stage clothes we wore black army clothes I think they were Spanish army tank regiment uniform. It was taken on Waterloo Bridge using a time exposure and a flash on black & white film. Then hand coloured. I had just finished 4 years at Art College I had studied graphic design. All of us had wanted to get away from the standard Rockabilly / Psycho imagery we wanted to be different, Roy Williams did advise us not to (Looking back I think he was right - don't tell I said that!).

I think the photo for Turningpoint is fantastic. Francis the photographer had shown me the contact sheet he had already hand coloured it. It leapt out shouting album cover! I am not so happy with The Raid cover Lee wanted a Viking, I drew it, it makes me cringe when I see it. I think the drawing is awful! We were never really part of the Psycho scene. Neo-Rockabilly was a term that hadn't really been heard of at the time.

Speaking of the album, who came up with the idea of covering the Tenpole Tudor classic Swords Of A Thousand Men and is there a particular reason why Legend Of The Lost has not been released in studio version?

Lee had the idea we used to be the house band at The Riverside Club, a local club. We played it there, one night. Dick Coppen who was then playing in King Kurt, was also the former Tenpole Tudor bass player, was there that night. When Tenpole Tudor reformed we supported them at The Riverside. Eddie Tenpole asked us to play it in our set saying later that we did it so much better than they did! We supported Tenpole Tudor at the Marquee Club where because of this he asked us not to play it!

Legend of the Lost became part of deal for the Klub Foot album ABC wanted an unpublished original. We were recording Turningpoint at around the same time and had decided not to put Legend of the Lost on the album. There is no studio version the only other version is our demo version. That's on our MySpace player.

The Rapids also became part of the Klub Foot scene. Do you remember the gig when the band was taped for the compilation album and what other band(s), guitar player(s) from the Klub Foot days impressed you?

We only actually played the Klub Foot twice. The first time was for the recording, which was a brilliant day. We all had to be there for effectively a run through of the whole gig. To sound check the sound for the gig and the recording. We were there early, all the bands and the crew got on really well. Every band on Klub Foot 2 played their socks off, you can hear it on the record. We played far more regularly in the basement of the same building The Broadway. We did a lot of gigs supporting Restless. They impressed us, they were so tight as a band. This was Jeff on bass and Mick on guitar era Restless. Got to know them quite well.

Is it true that you designed the famous Nervous Records logo? How did that happen?

I did indeed. I was having as discussion with Roy Williams he mentioned that he wanted a new logo. I went away came up with the idea. Roy liked it. It's been the Nervous Records logo ever since. I'm quite proud of that.

Were you involved in any other rockin' projects over the years?

After the Rapids we briefly did a band called Thunderbirdhead. It was Spike, Danny, Mick and myself we lost faith in the scene in the UK. So it was short lived. I went off and played in an eclectic mix of bands in the 90's. Then I had seven or eight-year break didn't play in any bands at all. About three years ago I answered an advert on the Internet. I joined Johnny & The Midnight Trio as lead guitarist. Their drummer left so I called Mick so two ex-Rapids are playing together again.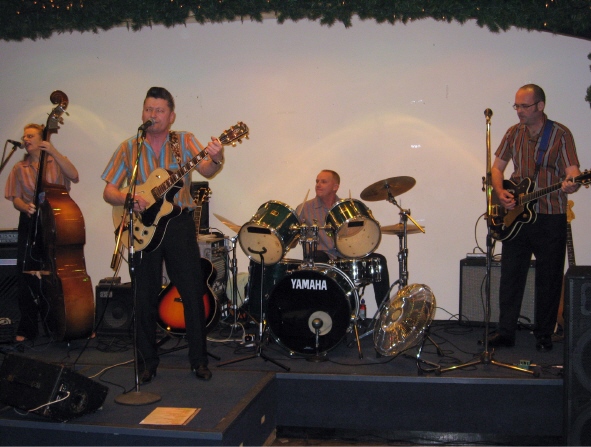 Why did you decide to create a MySpace page for the band and how have people reacted?

I thought it would be a good idea, to see what level of interest there is out there. So far the reaction has been positive and there are new people worldwide listening to the songs. Not many at the moment but it is growing. Germany seems to be where most of our fans live. What has been exciting is the amount of interest in the USA and Canada.

Please give us hope. Any chance of seeing The Rapids live onstage again, maybe for a one-off gig?

Tony Farthing recently contacted me to say he wants to do another Rapids gig. He now lives in the USA. Can only get limited time off work. He is planning a trip to the UK next summer (2010). Only here for two weeks it seems unlikely we could get a gig in that gap, if we could we would prefer it to be in London. Who knows we are open to offers. We would like to play again, I spoke to Lee recently, and we would need to do a lot of rehearsing that costs time & money. For the amount of effort it needs to be more than one gig. A short tour maybe - I don't know. Be good to get together again. Last time was 10 years ago in Essen. So it is overdue.