(FRONT MAN OF LUIS & THE WILDFIRES, THE DRAGTONES AND LI'L LUIS Y LOS WILD TEENS)
Please tell us a bit about your personal background. Where did you grow up and what was the best and worst moment of your childhood?
I grew up in a suburb of Los Angeles, North Hollywood. All though its grown so much its now a pretty big city in the San Fernando Valley. Let's start with the worst; witnessing my best friend at the time die in a drive by shooting by gangs. And the best, well, too many. Maybe getting my first guitar or being team captain in my high school basketball team.
What is your earliest memory of Rock'n'Roll, Rockabilly music and at which age did you decide to become a Rock'n'Roll star?
(laughs) I will try my best to give you the short version. When I was seven years old, we went to go see a movie, as we did every Sunday, but this time it was different. The movie was La Bamba. The Story and Life of Ritchie Valens. I had no idea he was an actual person whom grew up just four miles away from me. I just loved the movie and music and wanted to do that. My parents bought me the music soundtrack on cassette (which is still my own) and I played that cassette over and over and I'm sure it made my family crazy until my dad bought me a cheap guitar the following year. But didn't really learn how to play it for another ten years.
Were you involved in any other projects prior to LI'L LUIS Y LOS WILD TEENS, how did the band eventually come about and do you still remember that particular night when that certain Irish guy showed up for the first time? How did you and Reb Kennedy get in touch after the show and when did Reb come up with the idea of releasing a 7'' single and forming a record label?
Well this is a few questions in one. I'll try to answer them all. I had a band called Los Rockin' Babaloos (Los Rockin' Babalus) when I was a teenager. We did mostly late 50s early 60s Mexican Rock'n'Roll numbers and some originals. We were terrible. But we were the only band doing that in Los Angeles at the time. We tried to play the Rockabilly scene but the few promoters at the time would tell us, we would never play the scene because we were doing it wrong. We shouldn't mix Spanish music with Rockabilly. So we played the Spanish Rock scene with many alternative bands, and Ska bands. We eventually broke up and the scene was changing. More Chicano, Mexican American kids were coming to shows. I got asked to put something together for a Latino night they were having and I quickly started LOS WILD TEENS. Still playing Spanish numbers but mostly in English now. The promoter that night sent Reb a message and we had our next show in San Francisco for a very intense Irish man living there by the name of Reb Kennedy. He was a promoter there and an aspiring label owner. He liked what we did and said, he was moving to Los Angeles in a few months. We didn't think anything of it. But he called me when he did and came to a rehearsal and told us which song he liked and recorded it at a studio in Hollywood, where The Rolling Stones once recorded. We were just a couple of young Chicano kids going along for the ride. Next thing you know, people in Europe are sending us messages to play and at that point we had to take the band a bit more serious and Reb decided to build a studio, and a roster of fantastic young Mexican American kids. I think he found them all at all our early shows.
How would you describe Reb in a word or two and what do you think is it that makes the label and the recordings so very special?
Passionate. He lives, sleeps and breathes the label. He has a very amazing and supportive wife that understands his passion. He and Omar Romero put as much heart and soul in recording as much as the singer they are recording into his song.
How and when did LOS WILD TEENS metamorphose into THE WILDFIRES?
The WILD TEENS ran its course. We did awesome gigs around the world and even though we didn't record much, we did tons of gigs. I kept performing but would just use any of my pals on the label that were available to back me. But I came to a rehearsal of Chuy & The Bobcats one night. As Angel, my drummer for many years and very close friend was playing with them now. While they were taking a break I started jamming with Victor Mendez while he was messing around on the piano. Then the rest of the guys joined in. We wrote the song, Let's Party that night. I came back the following week and while the Bobcats where taking a break I tried another song and the guys joined me and we wrote four more songs. A couple of weeks later, Reb called me because a recording session with Gizzelle was cancelled last minute and they were sitting in the studio doing nothing. So I asked him if I could come in and I called the guys and they all came in and we recorded five songs. We took a break and realized we had something so I wrote six more songs while there and we had an album. Reb called me the following week and wanted to release it in time for Viva Las Vegas, and came up with the name THE WILDFIRES because it was a very hot summer in Los Angeles and there was many brush fires. Our first gig as a band was at Viva Las Vegas.
Brain Jail and Heart-Shaped Noose have become Rock'n'Roll classics. How are you pleased with these albums in retrospect and is there anything you would like to change sound-wise or with the track selection?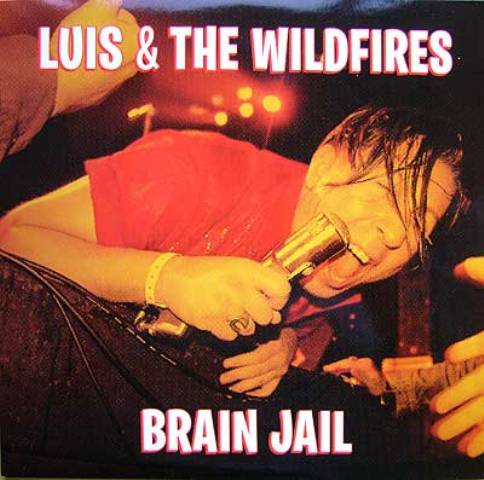 I'm proud of Brain Jail because its an album that should never have happened or surprisingly did. But as far as the second, I truly wish I didn't drink so much during the making of it. I was going through a rough patch in my life and drank a lot. And its evident on certain tracks that I should have just stopped. But sadly those of the best versions from those few weeks. I'm very proud of the singles we did for Norton Records in between those two albums but I would love to take a second chance to record heart shaped noose again.
Heart-Shaped Noose includes three surprising cover versions from the likes of Tom Waits, Joy Division and the Them. Songs that wouldn't come to mind if you think of a traditional 50s or early 60s Rock'n'Roll-type act. How open-minded are you when it comes to other genres and what does it need to make Luis Arriaga to like a song? Which of the original numbers do you like the best and is there any tune that you would like to cover but you do not dare to try out?
I have a very eclectic music taste. Those are some of my favorite song writers and artist and I personally relate to them in one way or another. I would cover a Charles Bukowski song if he ever recorded one. I love any artist or band or song that has passion. You can do a dance number but if you do it with actual or real passion and heart Im sure I would love it. There are many songs I would love to cover but never will attempt. Just because they are so perfect. They don't need someone coming in a fucking them up.
Most of your original numbers are either about being in love or even more often being fucked up by love, frequently backed by a decent dose of booze. Anyway how do you usually get a song together?
Well, I can honestly say every song I've ever written has a component, lyric or emotion I've gone through or know too well. A lot of my songs also deal with death or mental instability. I feel like we all as humans have bouts of mental instability, thoughts of death and sexual desires. But most people don't talk about them. I guess I do.
It caught my eye or maybe even my ear at some point that a couple of your songs hold some animal metaphors something like 'to live in a panther cave', 'to stink like a skunk' and 'to walk like a dog'. Is that just a coincidence or do you have a soft spot for some kind of animals?
(laughs) It's 'walk like a duck and stink like a skunk.' I think its just coincidence though. Im a huge animal lover. The annoying kind too I'm sure. I have to pet every animal that comes my way.
What always has been impressive to me ever since I started listening to your output for the first time, is the feeling, heart and soul, the intensity that you give to all these songs. You not only sing, but you scream, you cry and on stage you even gesture the drama, the pain or the happiness of the stories going on in a particular song. Is this a natural feel for yourself to express what you're doing or is this just hard training and part of the entertainment of the show?
Well, like I mentioned earlier, all the songs have a particular lyric that I've lived, felt or think about. so it's real for me. Im a very emotional person. I get angry at small things and cry at movies and songs and love anything and everything that's beautiful. My performance on stage isn't an act. Its just an extension of my life and things that I feel and live that I can't actually do in real life.
How did THE DRAGTONES project come about? Is there any difference for you between working with THE DRAGTONES and working with THE WILDFIRES?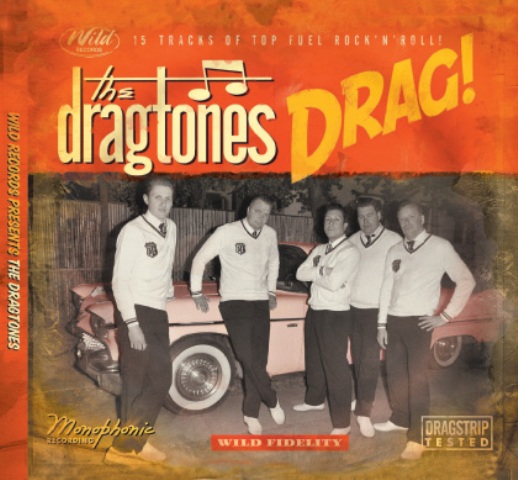 There's a huge difference on how I approach song-writing with both bands and performing. Its tough to explain. I just need to be in a different state of mind for both. I've played with both band on the same night at the same festival and I actually need a few minutes alone to change my state of mind. Now, how the DRAGTONES came about.... I was playing a festival in Spain with THE WILDFIRES in 2007/2008 just after the release of Brain Jail. I was approached by Mike Barbwire and Per Thorsell. Both of major fame from Swedish bands, the Barbwires and The Hi-Winders. They were looking to start a new band. Something different. And they like what I was doing so they asked me. The mentioned to me that a few other people were interested in being part of the project. I didn't take it serious so I told them to contact Reb since he is my manager and talk to him. A month later Reb called me and said some Swedish guys want to start something with you and I'm ok with it if you want to do it. It would be good for you. I emailed them and we chatted. I sent them a few demos recorded on my phone and I flew over there. Found out that Vigilante from The Hives was part of this and Jugglo for Fatboy and I was star struck and it was incredible. Well we rehearsed for 10 hours and got really drunk and we became a band and started touring. I don't think we have ever rehearsed so much since.
Your latest release is 'The Devil Inside' 7'' single. How's the first response from your fan base and record dealers? How much fun or hard work was it to shoot the promo video in Spain?
That was a demo song I sent Mike Barbwire years earlier and when we got together in Los Angeles to record our album with Wild Records, it morphed into the song Insane. So many years later we listened to it again and Mike had an idea to change it a bit and I heard his change and I wrote new lyrics. And its a great song now. Our fans seem to really dig it. Its a bit more Pop and Punk than our usual stuff but its still Rock'n'Roll.
The video was just a silly fun thing. We woke up with hangovers at 8am, went to the beach, not sure why and just started recording. There wasn't' any direction really. The skate park was close by and Jugglo skates so we did that. And then we went to a bar. That part was a genuine drunk session being recorded that took place at 2 in the afternoon. We had a gig that night so we had to take a nap before (laughs)
You played some quite popular European Psychobilly festivals in Belgium and Pineda earlier this year. Did you enjoy the 'Psychobilly experience' and is there any difference compared to work a crowd at the traditional Rockabilly, Rock'n'Roll circuit?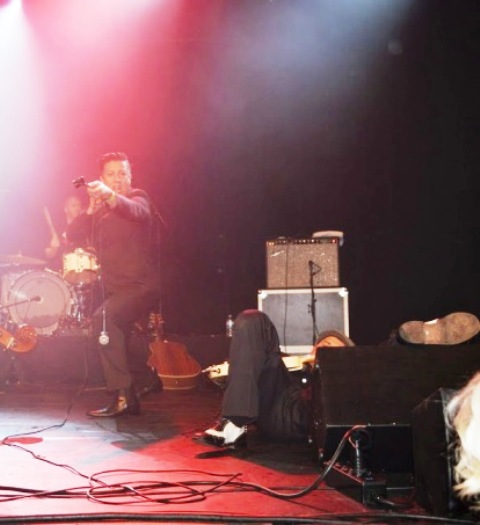 Well to be honest, at first when I think about it I wonder how the Psychobilly crowd will react to our music. But when its show time I don't even think about it. I'm not Psychobilly, Im not rockabilly, I'm not Punk, I'm not Garage... I play Rock'n'Roll music. If you like Rock'n'Roll music than I think you'll be ok with anything I do, unless you're a purist. At point I just feel sorry for you. Don't limit yourself! Feel things you've never felt before. It's just like sex. Just do it.
Speaking of differences and gigs. What do you feel is difference between the scenes in the USA and in Europe?
I feel like Los Angeles is just jaded. There is music here 24/7. Bands and DJs all the time on all kinds of music. We do have music lovers. Live music, alternative music, but not many. It's tough to play here for anyone I think.
You are on the bill for the Let's Get Wild festival later this year. Who's in your backing band at the moment and are there any plans like tours or recording sessions set in stone for 2016?
My band for the last year as the WILDFIRES happens to be this young and super talented band called , Bebo & The Good Time Boys. Very young and new to the label. Their latest album on Wild is doing very well. They have toured it and have received a great response. They remind me of an early WILDFIRES. Such a spark and energy and make this old guy look a bit younger on stage. We will have something new and fresh for Let's Get Wild. At the moment just a 45 but if it goes well, a new album. We just have to wait and see.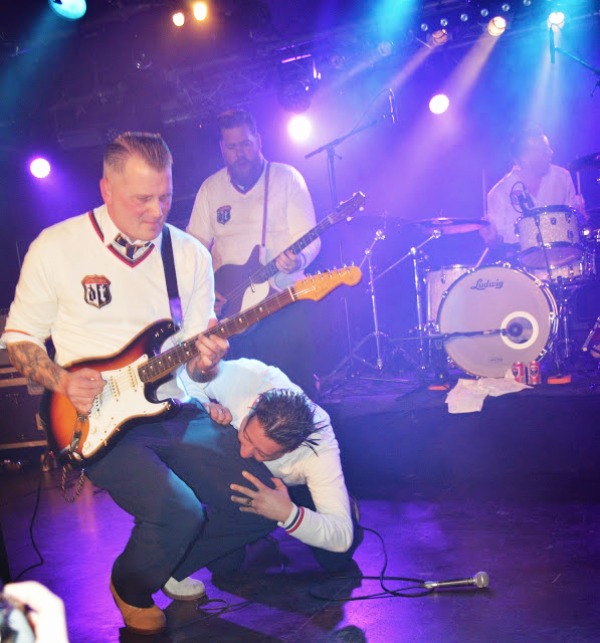 LUIS AND THE WILDFIRES ON FACEBOOK