LUIS & THE WILDFIRES
Brain Jail (2007)






Emerging from the ashes of Li'l Luis Y Los Wild Teens was this fantastic band in 2007 to spread the word. The album is not only a key release for the California-based cult label but it also has become an instant Rock'n'Roll classic with its exciting razzle-dazzle of 40's Rhythm'n'Blues, 50's Rockabilly and 60's Garage Rock, all delivered with 70's Punk attitude. Or is it vice versa? LUIS & THE WILDFIRES' debut full-length offering is available on CD format by Wild Records as well as a 12'' vinyl package by Norton Records with two extra songs included on the latter one. With all killer tracks it's impossible to pick any highlights, but personal favourites must include Wild In The Head, Gonna Leave, Let's Party and That's Love. Brilliant stuff!
Heart Shaped Noose (2011)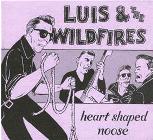 After a lineup reshuffle LUIS & THE WILDFIRES are back with yet another killer five-incher released on Wild Records in early 2011. Eight original numbers, three odd cover versions from the likes of Tom Waits and Joy Division plus a rework of the traditional Baby Please Don't Go with Spanish lyrics give birth to yet another masterpiece of desperate Rock'n'Roll. Intensity and inspiration is written all over this release, with Mr. Arriaga singing, crying, screaming the stories to be told and the rest of of four-piece just delivering the raw Rockabilly Psychosis soundtrack to match. Highlights include the title track Heart-Shaped Noose, I'm a Man, Give Me A Chance, No More Days and Going Out West.
[ Home ] [ TORMENT TRIBUTE ] [ PSYCHO NEWS ] [ GIGS, FESTIVALS,TOUR DATES ] [ UPDATES ] [ THE BANDS ] [ THE RECORDINGS ] [ INTERVIEWS ] [ LYRIX ] [ LINX/CONTACT ]