The Loveless
Kiss That Crazy Corpse (1985)




Leaping out of thin air were short-lived UK three-piece THE LOVELESS in 1985. This four-track vinyl EP was released in 1985 on low-profile Fragile Records and is the band's lone legacy on vinyl format. Kiss That Crazy Corpse has been deleted for decades and has become a collector's item. All songs were also included on the earlier released cassette album Tales From The Grave. Track listing: Monster Klub -- Say You Will // Halloween -- Sadist.
Tales From The Grave (1985)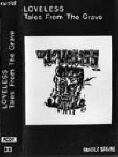 Another almost forgotten treasure in the history of Psychobilly is this ten-track cassette that was originally out on Fragile Records, just moments before the first big wave of Psychobilly broke. This U.K. outfit created some excellent, raw e-bass Psychobilly, heavily influenced by the earlier Meteors releases and the ongoing Garage & Trash disease, before eventually imploding without leaving any trace other than this tape and a piece of 7" vinyl. Highlights are Plague Dogs, Monster Klub, Sadist and Halloween.
[ TORMENT TRIBUTE ] [ PSYCHO NEWS ] [ GIGS, FESTIVALS,TOUR DATES ] [ UPDATES ] [ THE BANDS ] [ THE RECORDINGS ] [ INTERVIEWS ] [ LYRIX ] [ LINX/CONTACT ]