LONG TALL TEXANS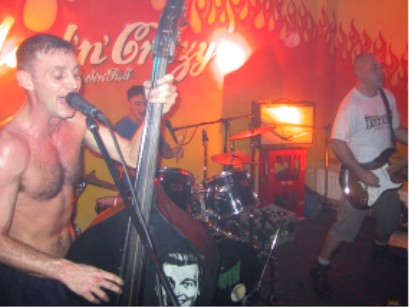 The Long Tall Texans were formed by Mark Carew (b/v), Mark Denman (g) and Bill Clifford (d) in January 1984. They started to support headliners like King Kurt or the Meteors. In August 1985 "Theo" Anthony Theodotu replaced Bill Clifford. The Texans combine a mix of Rockabilly, Psychobilly, Ska, beer and pure fun. Especially on stage the Texans have always been a real happening (I´ve never seen something like a bad or boring Texans gig!) with ever smiling Carew hammers his double bass that now and then it simply falls apart.
They made their vinyl debut on "Zorch Factor 1 " and signed a record deal with Razor Records. In 1987 the Texans released both their first Mini LP "Los Me Boleros" and their first real long player "Sodbusters" to became headliners of the scene in the late 80´s.
In 1991 Denman left the band and Mark Carew & Theo used different guitar players like ex-Rattler Doug Shepherd.
22 years after the band was formed The Long Tall Texans are still sweating and have finally released a new album in 2005.
Discography:
Singles: Saints And Sinners(1987)--Should I Stay Or Should I Go(1988)--Get Back Wet Back(1989)
Albums: Sodbusters (1987)--Los Me Boleros (1987)--Saturnalia (1989)--Five Beans In The Wheel(1989)--Singing To The Moon(1991)--Texas Beat(1999)-- Ballroom Blitz(2001) -- In Without Knocking(2001)-- Aces & Eights (2002)--The Long Tall Texans Story(2003)
-- The Adventures of The Long Tall Texans(2005)
[ Home ] [ TORMENT TRIBUTE ] [ PSYCHO NEWS ] [ GIGS, FESTIVALS,TOUR DATES ] [ UPDATES ] [ THE BANDS ] [ THE RECORDINGS ] [ INTERVIEWS ] [ LYRIX ] [ LINX/CONTACT ]