(added August 2012)
INTERVIEW WITH LEIGH ' THE WOLFMAN' OSBOURNE
( BASS PLAYER ABD FORMING MEMBER OF THEE WALTONS)
by John McVicker
How old were you when you first picked up the double bass?
I was 15 and still at school when I first started playing a 'Tea-Chest' Bass in my Ma & Pa's garage, along with two other school chums. One on snare and the other on geetar. Real raw skiffle stuff! Fantastic! It's from here I started thee band.
What about your favourite bass players?
Nigel Lewis would have to be up there. His style captures that true Psychobilly horror rock sound, that nobody has really been able to emulate since that early M3t3ors stuff. The thrash, up front, double bass style adopted by many 'Psychobilly bands' don't do it for me. Its not big and its not clever. :D
How and when did THEE WALTONS first get together?
THEE WALTONS evolved from those first skiffle sessions in my parents old garage at the end of their garden. Suppose you could say we were a true 'Garage band'! Thee name came about because we had all grew up with The Waltons American TV series and joked that if they were true Hillbillies they wouldn't be saying 'Goodnight John-boy' from separate rooms! :D Haahaaahaaa! From this I developed the idea that we would be 'THEE' real Waltons and portray ourselves as more like the Deliverance, inbreed Mountain dwellers. Hick! Hick!
Who was in the first line up and what was your first gig like?
The first line up was Gary 'Kirk' Walton on geetar, Ian Skoda on drums (now of Skatonics fame!), Big Dave Presley on lead geetar, me on bass, Verge singing, and Spanner, Flaps, Sonny-Boy, and Reecey-Boy on backing vocals and weird array of percussion instruments. (Chicken Stomper, Washboard, wobble board, jug etc..) as The Hairy Melon Quartet (as in Mary Ellen from The Waltons TV programme). Thus the original name for the band was 'Thee Waltons & The Hairy Melon Quartet!' :D Hhhahaaaaaa! Bonkers!
Our first ever gig was at the infamous Red Lion near Gravesend, Kent. 26th September 1986! We wrote a convincing letter to the proprietor (with an American stamp on it!) and told him that we were indeed a big band from Virginia, USA and had chosen his venue to kick start our UK tour. He fell for it and supplied three or four support acts! Hhhaaaaaahaa! When we all turned up he laughed and said 'Bloody 'ell! Not you lot! This should be interesting.'....It was! We blew the crowd away with our refreshingly new and crazy style. As with most areas, Gravesend had been starved of anything original for years and had grown weary of 'Dire Straits' cover bands. Yawn!
How did you get the record deal with Raucous and was it a good one?
Howard at Raucous has always been good to us. He's a good egg is Mr Piperode (Check spelling !!! ), and still a pal of thee band 25 years on. Not sure how we got the deal with him, but young and keen we signed on the dotted line. Sold our wretched souls. Someone is making a 'couple of quid' on royalties from our old stuff as I see it for sale everywhere still. - eBay, Amazon, record fairs and shops...but it ain't us. :(
BUT that's ok. We have produced our best work yet in the brand new 'Carry On Yippin'... with Thee Waltons' album and we quite rightfully take the full royalties for this. God Bless the t'internet!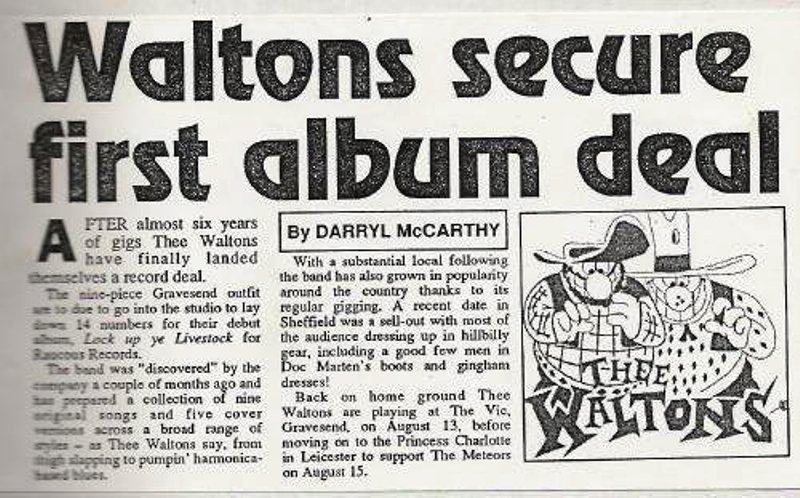 Were you happy with your first release?
We were happy with the first release. Looking back we might have done a few things differently, but hey, its done, its out there, and its a great part of our musical history.
No doubt this lead to more gigs and releases did you have day jobs?
We've all had to maintain day jobs, especially as a few of us had families at a young age and the band couldn't support that. We've never looked at it as a way of earning a living, and anyone who did soon drifted from the band in search for gold in them thar hills. Instead we have always treated it as a great way of all getting together for a night or weekend away and having a giggle.
Favourite venue to play and did you play in Europe?
Yer know, we've never played in Europe! We've had plenty of great offers throughout the years. Europe, America, and Japan! But its never timed right for all of us to be able to commit to it....with jobs and families to consider. Shame. However, Now we are older and things are easier we are open to gigs abroad, and are considering some offers at the moment. ;)
Best thing about being in THEE WALTON ?
Thee best thing for me is that I have been able to keep close to my olde mates from school and still enjoy their company and the laughter we share as Thee Walton Family.
Any funny stories of on the road, groupie excess to tell?
Plenty dude! But what happens on tour...stays on tour! Yip! Yip! ;)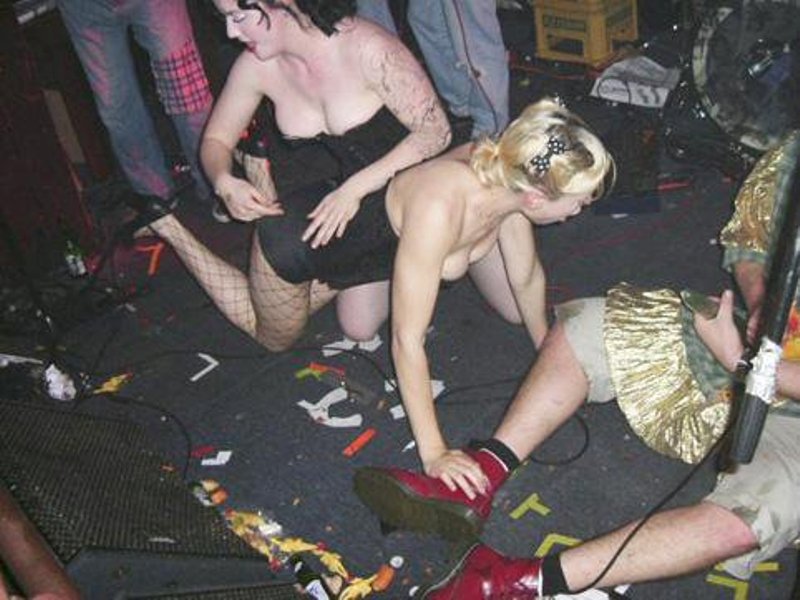 When and why did you split?
We split back in the early '90's. Pressures on those of us with young families, and work commitments, plus the fun had started to go out of what we were doing so a break was for the best.
Whose idea was it to get back together and are you pleased with the new album?
The 2004 'King Kurt vs. THEE WALTONS' decade reunion gig brought us all back out of the woods and was probably the small spark that went on to light the blazing Olympic Torch of our true resurrection in 2008 at a remote country pub in Charing Heath, Kent aptly called 'The Red Lion' (as with our first ever gig in Gravesend in 1986).
News of our reformation spread like wild fire! Thee time was right and a nostalgic voyage was about to embark!
Thus the previous 4 years of creative energy spewed its way forwards and into the laps of all our loyal olde fans and many new Waltonites in the form of the 'Carry On Yippin'... with Thee Waltons' album! Available NOW on facebook, our website, eBay, Amazon and all good record stores! Yip! Yip! Yippity Yip! HHHhhhhhhooooowwwwwwwwwlllll!