(added July 2012)
INTERVIEW WITH LEE BROWN
( BASS GUITAR MANIAC WITH THE M3T3ORS AND THE PHARAOHS)
by wildhank
What is your earliest memory of listening to Rockabilly, Psychobilly? What kind of music were you listening prior to that?
I grew up listening to 1950's Rock'n'Roll and became a big fan of Carl Perkins, I started to listen to other artists like Johnny Burnette and Joe Clay. I also liked the Elvis' ĎSun Sessionsí with Scotty Moore and Bill Black, so I guess my interest in Rockabilly started from there. My brother was a Punk in the late 70's and early 80's and it was because of him that I first heard THE M3T3ORS in 1981.
Why did you pick the bass guitar up for your musical achievements and did not opt for the more common double bass? What were your influences as a starter on the bass guitar back then?
My main influence on the bass back then was probably my dad, who played in a few bands in the 1960's & 70's, and first taught me how to play and also there was Jet Harris, after he left The Shadows. I liked the way he used the bass as a lead instrument. I did actually learn to play the double bass in school but I made a decision to stick with the electric bass when THE M3T3ORS released Wreckin' Crew. I really liked the hard sound they had from that point onwards.
Have you been with any other bands before you joined THE PHARAOHS?
Yeah I messed around in a few bands with mates but nothing serious.
Where did you know Glenn Daeche from and how did you eventually become a member of THE PHARAOHS?
I knew Glenn from back when he first started THE PHARAOHS as we lived in the same town. They were the only local Rockabilly band at the time and me and my mates would go to every gig. I actually played with Glenn once, back in the early days of THE PHARAOHS. During a gig at the local football club, the original bass player Carl damaged his hand in the middle of the show. His hand was bleeding so bad, he couldnít carry on so Glenn asked me to help him out and finish the gig. Glenn later asked me to stand in for Carl at the next PHARAOHS gig a week later. It was a few years later when I was asked to join full time.
THE PHARAOHS were filmed at the Klub Foot in September 1986 by the Jettisoundz crew. This footage eventually was to be released on VHS and DVD. Do you remember how often you played at the Klub Foot, what was the special thing with this location, and how was it like to be captured on camera?
To be honest I donít really remember the cameras being there at the time. I think I played the Klub Foot twice with THE PHARAOHS and about three times with THE M3T3ORS - I think we did the very last show there. It was a great place to play and I have many good memories of it.
You were also part of the line-up that recorded the classic 'Vigilante' EP for Nervous Records in March 1987. Are you still pleased with the way it sounds like and what is your favourite song of this 12ď piece of vinyl?
I was really happy with how that EP turned out. My favourite track was probably Cleopatra.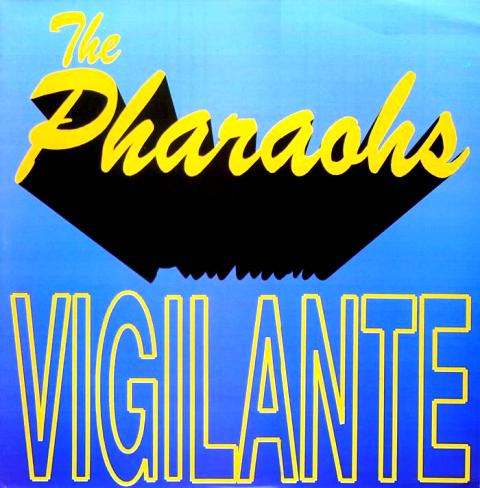 What were your main reasons to leave THE PHARAOHS and to join THE M3T3ORS? How did it happen?

THE PHARAOHS supported THE M3T3ORS several times and I got to know Toby 'Jug' Griffin. One night he phoned me and asked if I would be interested in auditioning with THE M3T3ORS. Of course I said yes straight away and agreed to meet him the next day in London for the audition. As far as I can remember the audition only lasted about 30 minutes and it must have been ok as I ended up doing my first show with THE M3T3ORS in London the very next day. That was in late 1987.
You played the bass with THE M3T3ORS on five studio albums and on the Live III- Live Styles of the Sick and Shameless. Which one are you most proud of and why and are there any songs from your time with the band you dislike?
I am equally proud of all the albums I played on as they are all different. I honestly donít think there were any tracks that I disliked.
In my humble opinion Madman Roll is a turning point in the history of the band. The sound is more darker compared to previous releases. Would you agree with that and is there a particular reason that the general feel of the recordings changed quite a bit?
Yes I suppose it was a little darker that previous albums, although Iím not sure I thought that when we recorded it. I guess at the time I just thought it was just another shade of madness and insanity! It is what has kept THE M3T3ORS interesting to listen to over the years because they constantly change and evolve.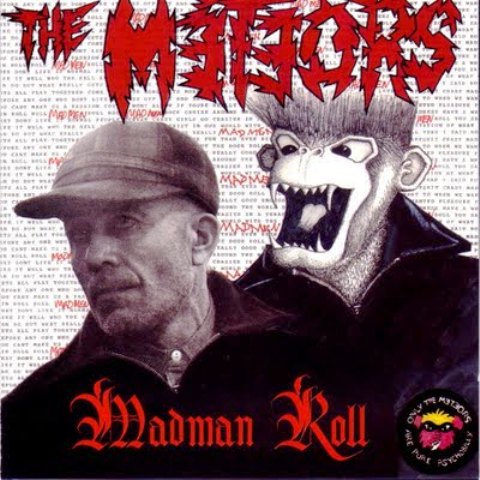 You were also an important part of P Paul Fenech's first solo album, The Rockin' Dead. You were playing the bass on the majority of the songs and you are also co-credited for engineering. Do you remember when the idea took shape to record some music under the moniker of P. PAUL FENECH, what are your favourite songs of the album and what exactly was your part in the engineering side of this record?

I think P. Paul had the idea to do it when I first met him but he always said he would only do it what he felt the time was right. I was really honoured to be asked to work on that album. My favourite tracks were probably 'Dirty Crazy Mean & Nasty', 'I'd Rather Be Crazy' and My Soul Screams Out for You' although they are all good tracks. As for the engineering side, I worked on recording all of P. Paulís guitar tracks and vocal tracks and worked with him on the mix of most of the tracks.
You had to work with four different drummers during your stint with THE M3T3ORS. Did that changing line-up have some impact on your bass playing and which of them was the best to work with?
They were all good drummers and all different to work with but I donít think that it had any impact on what I did. P. Paul was always very clear on what sort of drummer he wanted and they had to fit in with us from day one or they didnít get the job. It was as simple as that.
How would you describe P Paul Fenech in a word or two?

Pure Psychobilly!
What is your best and what is your worst memory of being with the kings of Psychobilly?
I have so many good memories it's difficult pick a best one, but I will never forget all of all of the fans we met in so many different countries who always made us feel so welcome. I donít think I have a worst one.
When exactly and why did your involvement with THE M3T3ORS come to an end? Have you ever had thoughts of joining yet another band and didn't you miss the stage, the touring and the hours spent in the studios after stopping your musical career all of a sudden?

I left the Meteors in 1994, after nearly seven years, simply for family reasons. My eldest son Tom was nearly two years old and I was away so much of the time I was missing him growing up so I decided to leave. This was the only reason and I left on good terms with P. Paul and Wolf. Of course I missed life on the road but after 6 months or so I joined a band playing locally with a mate of mine. Over the last few years I have been teaching both of my sons to play bass, although my youngest son Jack now plays drums, guitar and keyboards too.
Have you been keeping track with the story of THE M3T3ORS or with Psychobilly in general and what music do you listen to these days?

I still listen to Rockabilly and Psychobilly and have continued to follow THE M3T3ORS over the years. Since 1981 they were my favourite band and to this day still are. Just because I left the band it didnít mean that I stopped liking them.