KING KURT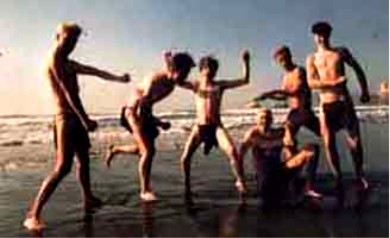 KING KURT was formed in early 1981 by Jef Harvey (v), guitarist John Reddington, Bert Boustead on bass guitar and drummer Rory Lyons. The first gig was held as the Zimbabwe Swingers before they settled as Rocking Kurt and the Sour Krauts. Paul Laventhol aka Thwack and 'School Boy' Maggot on ( a borrowed) sax joined the band to complete the six-piece by July 1981 and the moniker was changed to King Kurt. Jef left the band in 1982 to focus on art school and Gary Cayton better known as Smeg was to replace him and to take over lead vocals. Around the same time KING KURT released the classic single Zulu Beat b/w Rockin' Kurt on Thin Sliced Records. The combo hit the Psychobilly scene with their very special sound, humour and pure party power.
More gigs followed including onstage drinking games, hairdos for the audience, tons of flour, eggs and baked beans. By 1983 their popularity had increased and they were eventually signed to Stiff Records. Their debut album "Ooh Wallahwallah", was produced by Dave Edmunds and the first single outtake "Destination Zulu Land" reached no.36 in the BBC charts and even led the lads to Top Of The Pops.
By the end of 1984 Reddington and Boustead waved goodbye and Jim Piper (g) and Dick Crippen (b) came in. Their full-length offering 'Big Cock' hit no.50 of the UK album charts in March 1986 and more singles were in the pipeline. By 1987 the band imploded but not without releasing another single, Bye Bye Baby under The Kurts moniker. The outfit was reformed and hit the road to Rack'n'Ruin again from 1992-1996, with a lineup consisting of Smeg, Paul, Maggot and two new members, Billy and Daniel. One last studio album was recorded in 1994, Poor Man's Dream. Since 2002 King Kurt is back again, playing a few gigs a year fronted by Smeg. He is backed by Paul Laventhol, ex-Klingon Strangy, Eli and Gaff these days.
Discography:
Singles: Zulu Beat(1982)--Destination Zululand(1983)--Mack The Knife(1984)--Banana Banana(1984)--Billy(1985)--Slammers(1985)--Road To Rack & Ruin(1986)--America(1986)--Land Of Ring Dang Doo(1987)
Albums: Ooh Wallahwallah (1983)--Big Cock (1986)--The Last Will And Testicle (1988)--Road To RackíníRuin (1988)--Live & Rockiní (1989)--Destination Demoland (1990)--Poor Man's Dream(1994)--Alcoholic Rat(2001)--Live & Unreleased (2001)
[ Home ] [ TORMENT TRIBUTE ] [ PSYCHO NEWS ] [ GIGS, FESTIVALS,TOUR DATES ] [ UPDATES ] [ THE BANDS ] [ THE RECORDINGS ] [ INTERVIEWS ] [ LYRIX ] [ LINX/CONTACT ]