(added September 2009)
INTERVIEW WITH JULIAN HUNDY
( RHYTHM GUITAR AND SAXOPHONE OF HENRY AND THE BLEEDERS )
by John McVicker
Your second album has been out for a while, what's the reaction to it been ?
Yeah, it's been out for a while now and everyone we speak to seems to love it. Most people said it's better than our first one, Those Teenage Bleeders, which is great as we're always looking to progress as a band.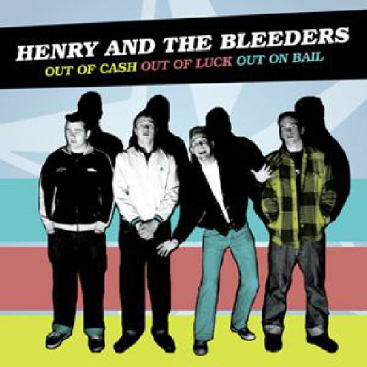 Sounds like you had a bit of fun, problems recording it?
Ha ha. Yeah, it involved too much beer, one wrecked hotel room, one arrest, two driving licenses up for grabs, three police cars, one police helicopter and one court case. But that was all on the first night, the rest of the recordings seemed to run fairly smoothly and was great fun.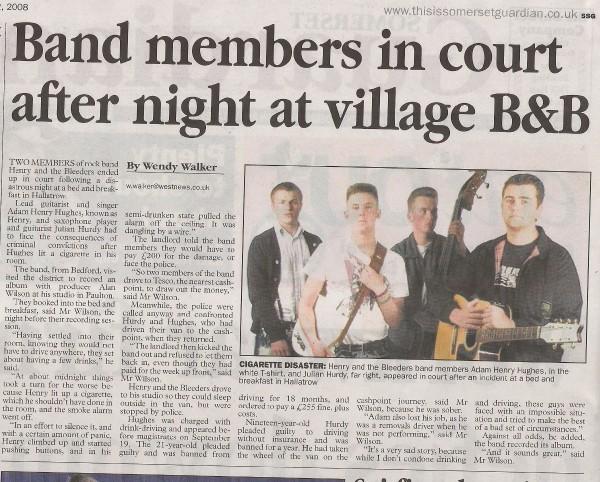 What's the plan now? More gigs? Any Euro gigs planned?
We are trying to get loads of gigs now and would love to get back into Europe, maybe do a few festivals. There's also been talk of maybe going to America, but we'll see.
How did your first deal with Ambassador Records come about?
Darrel Higham simply messaged us on MySpace and wanted to come and meet us. He met us in our local pub and asked if we fancied recording our first album on a new record label and we did. It was a very relaxed kind of deal.
What has it been like working with Alan Wilson and Darrel Higham?
We always love being in the studio, we spend most of the time listening to Alan's stories and pissing ourselves laughing. He will have a story for every situation, it's great. He's also a great producer bringing our sound to the way we want, we're so glad he wanted us on Western Star. At first we were kind of star struck by Alan and Darrel, but once we relaxed we learned to have a laugh.
What has been your best gig so far?
That's a hard one. But one our best gigs was probably Padua in Italy, supporting The Griswalds. I won't forget that one.
Any funny gig stories?
Off the top of my head- we were asked to play a local festival in Bedford and we were on before a few other bands. On our last song the crowd went mental and invaded the stage. They pretty much wrecked the drum kit and spilt beer everywhere. It was very hard for the next band to start on time.
Did a couple of you play in the reformed Griswalds for a bit?
Yes, Henry played guitar, Miles on drums and Quincy on bass for a little while. It was a great opportunity for us as got to play in Italy with The Bleeders. Plus the three of us managed to get a gig in L.A. (USA), which was amazing and a couple of others in Europe. It was a great experience and we thank Gary Griswald for considering us, but The Bleeders always will come first.
Have you started thinking about album number three yet?
We've started thinking about it, a couple of song ideas are in the making and we look forward to getting back in the studio. but for now we are concentrating on gigs and getting people to notice us. I think our latest album "Out Of Luck, Out Of Cash, Out On Bail " will help us to to do this.
What do you hope the future holds for Henry And The Bleeders?
Well, hopefully we'll become mega rich and never have to work. Just do the band full time as it's what we all really love doing.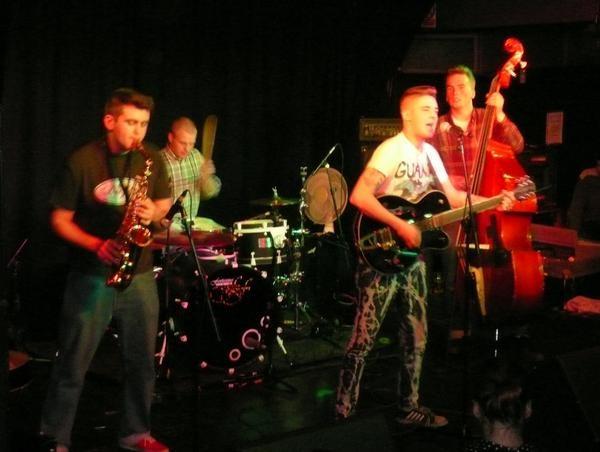 HENRY AND THE BLEEDERS ON MY SPACE