(added June 2011)
INTERVIEW WITH JOHNNY SPEEDKING
(SINGER AND GUITAR PLAYER WITH THE SPEED KINGS)
by John McVicker
How old were you when you first picked up a guitar and who influenced you ?
I was 13 when I first started playing guitar. I bothered my mum and dad about it and ended up getting a jet black Jim Dunlop Stratocaster copy for Christmas. I was pretty much self-taught for most of the time and picked it up by playing along to my favourite bands like Motorhead and Rocket From The Crypt or just real old classic rock n roll such as Chuck Berry or Little Richard. It wasn't until I got to about 16 or so when I was playing in a band with a double bass player and he gave me a tape of old rockabilly stuff and Stray Cats tunes that I got turned onto the Rockabilly / Psychobilly stuff.
How and when did the band start? Where are you based and do you have day jobs?

I had been plugging away at trying to get a Rockabilly / Psychobilly thing going for a few years and had quite a few false starts but 'Speed Kings' as it is now only really started about 5 years ago when me, Greg and Gaz (our original drummer) met. That was when we really had a line-up that clicked, started writing original tunes and did our first proper gig for Rob (Mosh n Go) in Sheffield. We've had a couple of line-up changes since before we've finally sorted out the current line-up with Tony on drums which I think is the best we've ever sounded.
We're all based around the Nottingham area. It's great for gigging because we're so central to everywhere in the UK. Me and Greg both have day jobs but Tony doesn't work because of his back condition. Greg works for a credit-check company and I work as a design engineer in the rail industry. Boring, huh?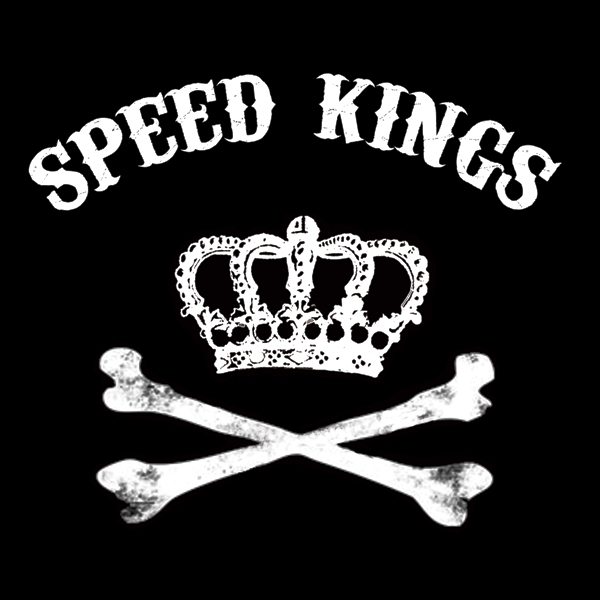 You first album was self-released. Why do it that way and how has it sold?

We just saw it as the best way forward for us and were lucky that it has worked out so well. We'd been offered some deals and had a lot of friends who had made deals to get their albums out but we never got anything that we thought was worth our time. We like to do everything with our own DIY punk ethic and want to carve out our own style and our own sound. When you go to some places you get pushed towards a certain style because of the label or the producer's preference or what they think will sell better. We weren't interested in having somebody else telling us what to do or putting their hands in our pockets. We saved up the cash from gigging constantly all over the UK and paid for the recording and pressing ourselves while our good friend and local tattoo shop owner, Ben Stone, did the artwork for us in exchange for doing a gig for his shop. It's sold so much better than expected and has already paid for the pressing and recording of the next album. We're really pleased to have sold copies everywhere from Germany, the Netherlands and Spain to America to Japan and we even sold one that was on it's way to an Outlaw biker in jail out in Australia... It's been crazy. It's still available on www.speedkings.bigcartel.com by the way!
Are you happy with the sound on it?

Well, I'm a perfectionist so I find it very hard to let go of things without them being perfect but with making an album if you're not careful you end up taking 12 years to get something out like you're Guns & Roses or something... Sure, there are things I would go back and do differently but overall I'm incredibly proud of our first album. It's got the best songs I've ever written on it and is the result of years of hard work. I just can't wait to get into the studio with the new line-up to the new tracks down and get the second album out!
Why did (your last drummer) Steve leave?

The whole thing with Steve was kind of a long time coming... I don't want to slag him off but we just needed someone a bit more reliable. With Steve we never knew if he was gonna turn up to gigs or, if he did, if he'd just go missing after sound check and turn up 5 minutes before we were due onstage in an utter state! Haha! He's a good guy and we still see him about from time to time but me and Greg have always been ones to party after the job's done. Make sure everybody in the crowd has a good night... Then go ahead and do it yourself!
I have read your blog about playing in Russia. How did it come about and how are the women out there?

It came about kind of suddenly really... Johnny Pepper works as a booking agent overseas and she'd just put us on her books and sent her new band roster out to a bunch of promoters. Anastassia (from Wreck & Thunder who put on the night in St. Petersburg) just checked out all of the bands on the list and picked us as her favourite! It was that simple!
Have you played abroad apart from Russia?

Unfortunately not... We had booked a fortnight of shows across Germany and through to the Netherlands last year but it dropped through at the last minute due to a bunch of flaky promoters cancelling shows on us. That was a real shame. We're working away at breaking through over there though. We know by our record sales that the audience is there waiting for us! We just need to find the good promoters!
What is the best gig you have played so far?

There are too many to choose to be honest! Russia obviously stands out... The crowds over there are just certifiably insane and we had an incredible time doing that. We have played some great shows over here in the UK though. The Meow Club in Newcastle always put on a great night, Rob in Sheffield has us on some real big shows up there, we've played alongside Mad Sin in Nottingham and Bristol... This last year has just been insane. We couldn't have asked for a better year of gigs.
Will your second album be out on your own label again or will you sell it to a label? When should it be out?

We're considering all of this at the moment. The first album did so well that we're seriously considering a self-release despite the expense and the hard work. Plus, cutting the disc and then shopping it around to labels would delay getting it out to the fans and more than anything we just want people to be able to hear the new tracks! We're hoping to have it out later this year. We've been taking a bit of time off of live shows lately and are demoing new tracks at the moment. You can follow our progress on www.speedkingsuk.blogspot.com. We're regularly posting updates on what's going on and teasers of new tracks as we record them. We've received a really good response so far!
What do you hope the future holds for the Speed Kings?

More of the usual for us! Hard work, thousands of miles on the clock, cuts, bruises, broken bones, bleeding eardrums and another year of kick-ass gigs off the back of a great new album! We can't wait...