(added January 2011)
INTERVIEW WITH JOHN REDDINGTON
( ORIGINAL GUITARIST FROM KING KURT)
by John McVicker
What were the early gigs with Jef Harvey like?
The very early gigs with Jef were chaotic and great. We had a left handed drummer teaching himself to play right handed (Rory Lyons), a drummer playing guitar (Paul 'Thwack' Laventhol), a fourteen year old saxophonist (Maggot), a singer with a highly individual approach to timing and melody (Jef) and all six of us wanting to be at the front of the stage showing off, preferable with a beer in hand. We played anywhere that would have us, a disused peanut factory, the Old Queen's Head, art colleges, places that defy description.
How did you meet original King Kurt singer Jef Harvey?
I met Jef through a mutual friend from Brighton. we then got together to write some songs and it spread to Jef's contact Rory, my friends Paul and Robert and my cousin Alan Power (Maggot). Paul turned up at our third gig and apparently said "That's the band I want to be in."
Did you think it was over when Jef decided to quit in early 1982?
No, I didn't think it was over. I think we were complete optimists and knew something would turn up. I think there was a bit of a transition between Jef and Smeg and maybe they shared the set between them a couple of times.
First impressions of Smeg?
He had a brilliant haircut that covered his face and was a fire risk when he lit up. He was a walking disaster with enormous potential, of which the greatest part has yet to be finished. He took to it like a duck to water after he overcame his initial awe at joining us. I expect he'll be a prime minister before he's finished.
Do you have any regrets about 'Mack The Knife' being chosen as a single over your 'Wreck-A-Party-Rock'?
We went back to the studio after doing the Ooh Wallahwallah album to re-record those tracks for the next single. Both went down well at gigs, so it was a question of which come over best on vinyl. I think at the time the consensus in the band was that 'Mack' was the better performance and the video still looks good to me today. In hindsight we should have been bolder in our choice of singles and tried harder to get the stage mayhem onto vinyl regardless of radio play.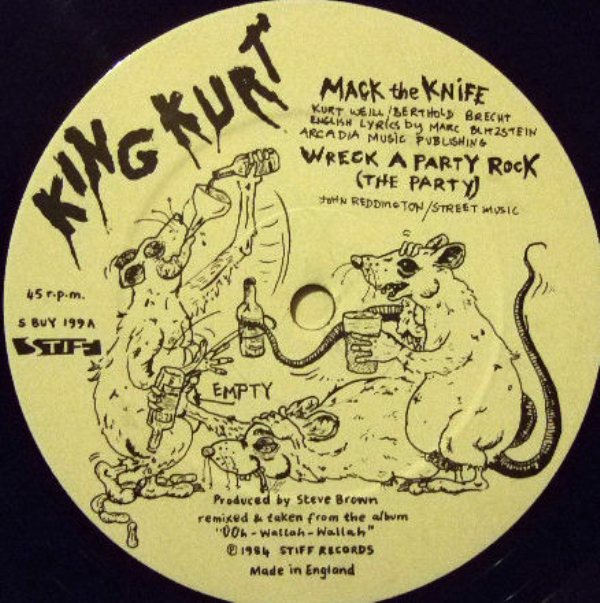 Why did you and bassist Robert Boustead quit in July 1984 after the release of 'Banana Banana'?
I can only speak for myself, but I blame democracy. We were democratic to the point of putting up with things that nobody was happy with rather than speak out against them. I left because the fun was being taken out of the band. Perhaps it would have been fairer to the others to stay and put things right.
When you re-joined King Kurt in August 1986 had the band changed and what did you think of the album 'Big Cock' that was released when you were out of the band?
The most interesting and positive change was that my cousin, Maggot had become more of a creative force, writing a number of songs such as 'Ring Dang Do' which was released as a single. On a negative note for me, there were songs to learn which I'd had no hand in writing or arranging, which I've always find difficult.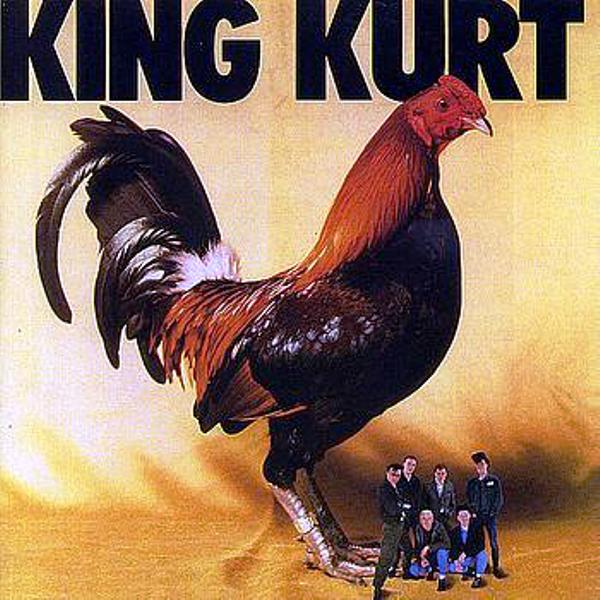 In between your King Kurt years you played in the band Igor's Night Off and released a single. How was it?
Igor's Night Off was my sister's band. Suzanne is a great singer and 100% Rock'n'Roll. Robert, Paul and I all played in a band with her pre-King Kurt. I missed playing live and the chance to make a racket with my little sister when their guitarist left was to good to miss. We released the single 'We're Having A Party' in 1985. I like the guitar sound on it, self-indulgent fun.
What did you do when King Kurt split in 1987?
I stayed in Camberwell, London bought a double bass and learnt to play it. I drove some silly American cars, went back to college and became a lawyer, moved to Barnet and didn't pick up my guitar for four years.
What did you think of the King Kurt album 'Poor Man's Dream' released in 1994 and featuring Smeg, Maggot, Paul and two new members?
I still don't think I have a copy but obviously know some songs which are O.K.
How did this year's "original" lineup gig come about when you played the Garage in March 2010?
There were talks of it about three years ago. Then a couple of people changed their minds. Then early 2010 it was back on! The promoter was really interested in doing it as well. I'm really glad we did it, my only regret is that I saw faces in the crowd I hadn't seen for twenty-odd years but didn't get the chance to talk to them due to the Garage's chucking out policy at a ridiculous early hour.
Could you say what is your favourite King Kurt memory?
My favourite memory is being turfed out of our beds at machine gun point in Spain and discovering that certain band members had rationalised that by walking backwards into their hotel rooms through the scene of havoc they had created they would establish their innocence. Because their footprints only showed them coming out of their rooms into the mess they couldn't possibly have created it. Genius..... but of course it didn't work. There were a few machine gun incidents with foreign police!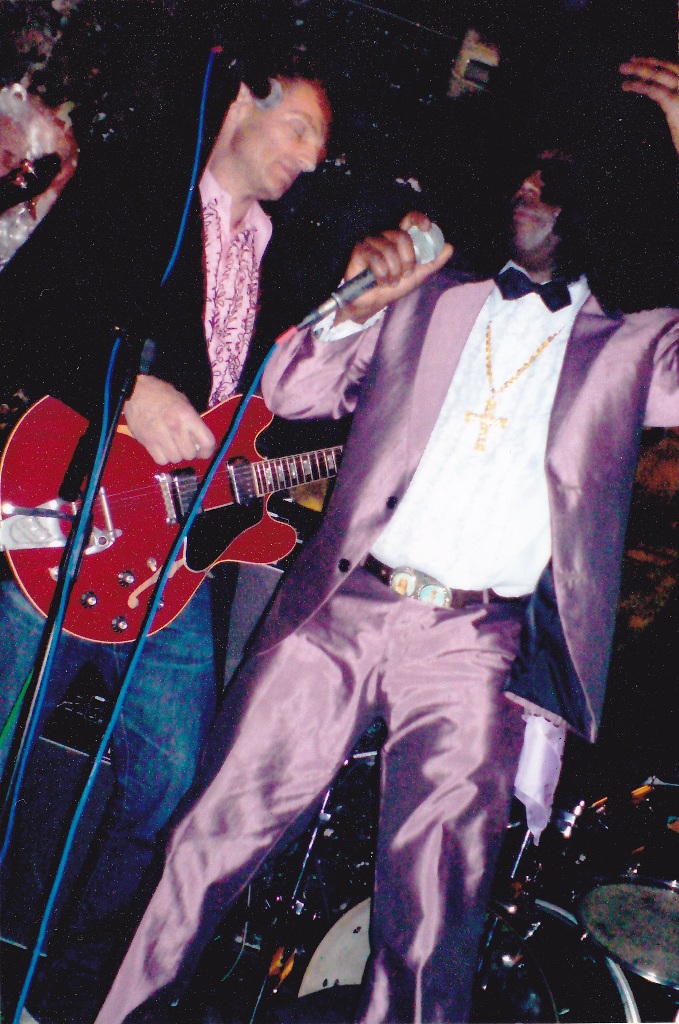 [ Home ] [ TORMENT TRIBUTE ] [ PSYCHO NEWS ] [ GIGS, FESTIVALS,TOUR DATES ] [ UPDATES ] [ THE BANDS ] [ THE RECORDINGS ] [ INTERVIEWS ] [ LYRIX ] [ LINX/CONTACT ]