(added October 2013)
INTERVIEW WITH JOHN O'MALLEY
( GUITAR PLAYER AND SINGER WITH THE NITROS)
by Wildhank
What age did you start playing guitar and how did you become interested in Rockabilly, Rock'n'Roll music?
I started playing guitar at the age of 11, my uncle taught me the basics then left me to get on with it. I first got into Rock'n'Roll / Rockabilly when I heard Elvis, my aunt had the 40 Greatest Hits LP, so I'd go round her house and play it to death. After that I discovered all the rest, Bill Haley, Gene Vincent, Johnny Burnett.
Did you play with any other bands before becoming the guitar player of The Nitros?
I played in a couple of bands at school with some friends, I wanted to play rockabilly but none of the others were into it so they didn't really last that long. I did my first gig at 12 in a local pub one afternoon, I still remember it now.
How and when were The Nitros formed? How was it like to play with Gary Pudney, who later went on to form The Griswalds? How did you become the lead singer ?
The Nitros were formed when I answered an advert in Melody Maker that Gary Pudney and Mark Swain had put in. I went to Mark's house in North London and basically joined straight away. We weren't called The Nitros straight away, before that we were " The Cut Offs", then called "Pink 'n' Black" then we decided on The Nitros. Gary was ok, he was a bit older than the rest of us at the time, a good guy though. I only became the singer when Gary didn't turn up to rehearsals one day so I sang a few songs, the other two in the band preferred my singing and wanted me to front the band. It was a bit bad on Gary really but we felt better as a trio at the time.
As far as I know the track 'Destruction Derby' on the Fury compilation 'I Love My Car' in 1987 was the band's first release. How did it come about and how did you get the deal for the subsequent mini album on Link Records?
Del put out " Destruction Road" on Fury, it was almost like he wanted to give new bands a start. After that, Link Records heard about us and offered us the deal for the mini LP, I don't think we sold that many but it was a start and good to get some of our songs out on vinyl.
Why did Mark Swain and Jon Atrill leave after the debut album and how did you convince Gary Day and Rich Taylor of joining The Nitros?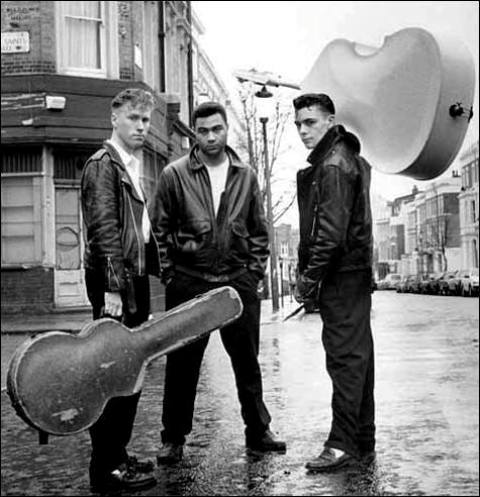 Jon Atrill left the band first, he had a few personal problems and lost interest in drumming. After that Mark seemed to lose interest as well, he wasn't bothered about the band so I was feeling a bit out on my own with no committed members. Gary Day actually approached me at the Klub Foot one night, he said he really liked The Nitros and would be up for playing bass for us, we exchanged phone numbers and went from there. We tried a few drummers before Rich joined, he had a great style and fitted in with what we wanted to do. We all had the same sense of humour so it was easy to get along.
The band went on to record two more great albums for Nervous and Rockout Records respectively. So which of these do you like more and why?
I'm not sure which of these two LPs I prefer, I like songs from both of them so I'd have to say I like them equally.
When and why did The Nitros become involved with Colbert Hamilton? How did the first sessions go with the 'Black Elvis' and any funny stories to tell our readers from these days?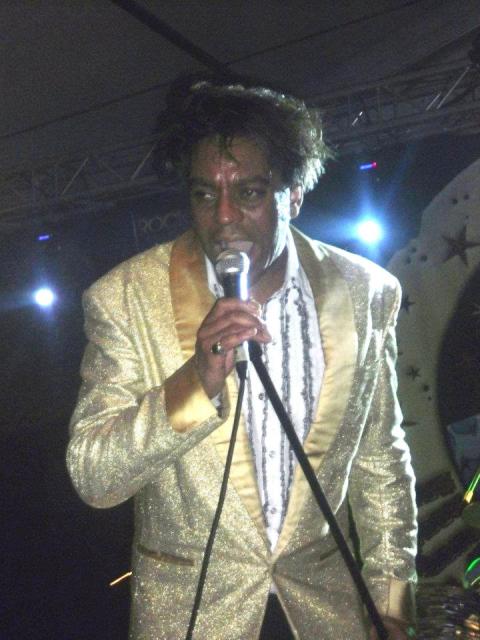 We had seen Colbert working in Kensington Market, it was such a cool place with some great clothes stalls in it. We knew Colbert wasn't with his band The Hell Razors any more so we asked him to sing for us. I wasn't to bothered about being the lead singer any more, I had never really wanted to be the lead singer to be honest, but always seemed to end up in that position for some reason or other. Colbert came round my house for some rehearsals and straight away it sounded awesome, all of a sudden we had fresh inspiration. It was great to be developing new material again, the ideas just kept flowing until we had enough for a new CD.
You guys eventually released Still Taggin' Along! and a four-track 12'' E.P for Vinyl Japan before returning to Nervous Records to record the classic 'Wild At Heart' in 1994. Who came up with the idea of covering Reverend Horton Heat's Bad Reputation and how are you pleased with the album in retrospect?
I'm pleased with both of those LPs, but Wild At Heart is my favourite, Alan Wilson did a great job on it, I still listen to it and feel a tingle on certain songs. It was Gary's Idea to cover Bad Reputation, he's a fan of the Reverend :-)
You were also touring Japan back then. How was this experience like ?
After the Nervous release, we go to go to Japan for 8 days on the same bill as The Long Tall Texans. It was awesome, an experience I'll never forget. We were treated so well and looked after, I'd love to go back some day and do it all again.
When and why did the story of The Nitros come to a break?
After Japan things seemed a bit dull in comparison. Gary had joined Morrissey, Colbert had started another Rock project so things just drifted out. I ended up joining a Rock'n'Roll band called Good Rockin' Tonight who I still play with today. We never really split, it was just everyone had other things going on.
Gossip is that you were also involved in a side project with Skitzo's Phil Connor and original Guana Batz bass player Mick Wigfall back in the 90's. Tell me a little bit more about this band and did you record anything ?
In the early days of The Nitros, we did a lot of gigs with Skitzo, so Phil and I became good friends, he's a great guy who I haven't seen in quite a few years now. Skitzo had split for a while so myself, Phil and Mick Wigfall started a band called Rabbit Action, we didn't do that many gigs although we did record a 4 track demo which I think I still have a copy on cassette somewhere in my loft!! Again, we all drifted off to do other things and Phil reformed Skitzo, they were very popular so I guess it was best that Phil went with what was good for him.
When and why was it decided to reform Colbert Hamilton & The Nitros ? How much did you enjoy the gig at the Psychobilly festival in Spain last year and would you mind introducing the current lineup?
We were offered a gig in France at a festival, and the Psychobilly Meeting gig in the same year. It was a good opportunity to get back to the music I really love playing. I had mentioned to Colbert about getting in touch with Gary and Rich but he wanted to use two other musicians that I had worked with before. I'm not really sure the reasons but I think he had fallen out with them some years before so I didn't really question his motives. So on bass is Jason King, I've know Jason for about 15 years now and knew I could rely on him, he's very solid and easy to work with. The same with Guy Schalom on drums, he's an awesome musician with a great knowledge of various styles of music, I knew he would add something extra into our sound.
Tell us a little bit about the new album, 'Love Or Glory Man'. What was the main idea to record a new album after almost twenty years and how would you describe the 14-track CD in a few words?
The new CD came about after having done the two European gigs, we had some fresh enthusiasm again. I had some songs that I written some years ago specifically with Colbert in mind and I desperately wanted to record them. I knew it would be difficult to get everyone together in a studio as we all have other musical projects on the go, so I bought an 18 track recording studio. I set things up in my house, did a few demos with Colbert, got Guy in one day to do the drums, a couple of weeks later Jason came in and did the bass. After that a sat in my office and did all the guitar parts. About a month after that, Colbert came to stay for about three days and he got all the vocals down. Once all these were in place I did all the backing vocals at my leisure (mostly in my pyjamas!!!) It was a slow process but it was all coming together nicely. Once I had all the recorded tracks down, I set about mixing it all....which took ages!! I'd mix some tracks, listen to it several times and then go back to it and re-mix it. I guess because I had the freedom to do as many re-mixes as I liked, I took extra care in getting it exactly how I wanted it. I wanted it to be perfect, and listening back now with fresh ears, I think it is perfect :-) It did take me a long time but I'm a bit of a perfectionist, and I am very proud of it now. It's got a great mix of various styles, but still with that Nitro Neo-Rockabilly edge.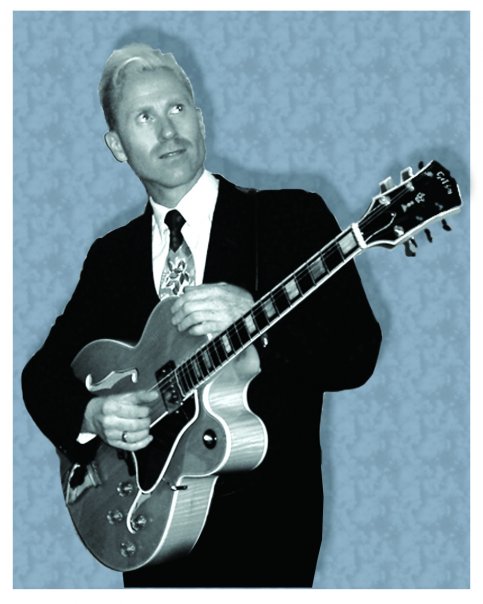 COLBERT HAMILTON & THE NITROS ON FACEBOOK