(added September 2011)
INTERVIEW WITH JAMES BOWEN
(BULL FIDDLE PLAYER AND FORMING MEMBER OF THE DEVIL WRAYS)
by John McVicker
1.How old were when you first got into the music and who did you like?
I first started getting into Rockabilly as a teenager when I started listening to some of my dads records/cassettes, mainly Crazy Cavan/The Flying Saucers/Ray Campi /The Jets stuff like that.
He was also playing guitar for a Rockabilly band at the time so I would tag along to their gigs.
By chance I came across a 'Only The Meteors Are Pure Psychobilly' CD lying about the house one day, as soon as I heard 'Voodoo Rhythm' I was hooked and started looking deeper into the world of Psychobilly.
Some of the main bands which have influenced me are The Sharks, Tall Boys, The Phantom Cowboys, Long Tall Texans and The Krewmen.
How old were you when you first picked up the slap bass?
I have been playing guitar and electric bass for about 10 years but only started playing a double bass 3 years ago.
Who is your favourite bass player?
I don't really have a favourite bass player but if I would have to list a few-
Mark Carew, Simon Langhard, Gary Day and Steve Whitehouse.
How did the Devil Wrays come together and how did you get an ex Krewmen on board?
I had just moved to Brighton and bought a double bass and decided to put a few adverts out to start a Psychobilly band. I had a phone call from Zac (The Devil Wrays guitarist) who was also looking to start a band. We started having regular practices without a drummer and then Iain (ED. Tovey)came along, he played drums with us for a couple of years.
Long story short we had a lot of lineup changes (singers/guitarists) over the last few years and weren't getting anywhere fast.
We decided to take a break for a while, in the meantime Zac had met Dom (Krewmen/MadDog Cole) and started a new band.
Iain was having problems with his hands and was finding it difficult to carry on playing drums. The Devil Wrays break didn't last long and before we knew it Dom was playing drums and Iain had jumped onto rhythm guitar, ever since then we have been going from strength to strength.
How did you get the deal with Western Star and what was it like working with Mr Wilson?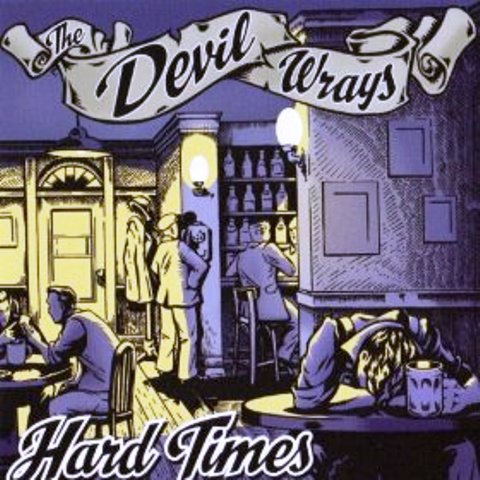 We first went and recorded an album at Western Star in May 2010 (Me, Iain and Zac). Working with Alan was a breath of fresh air, its not very often you get to record with an engineer who really understands the music.
At the end of the session he approached us to see if we would be interested in releasing it through the label. Of course we accepted!
But within the next couple of months we had another lineup change and decided not to release it (maybe we might release it in the future).
We returned again in May 2011 with the new lineup and current lineup (Me, Iain, Zac and Dom) and recorded our debut 'Hard Times' which is now available from Western Star/Raucous Records/Amazon etc.
What has been your best gig yet?
My favourite gig so far was our last one at The Concorde 2, Brighton with The Caravans & The Peacocks. Home town shows are always great!
Have you played in Europe yet/any plans?
We haven't played Europe yet. But we would love to! Get in touch if your interested...
Do you have day jobs?
Yes, all of us have day jobs. It can be hard to work around them but we manage somehow.
Are you pleased with the finished album?
Alan has done an excellent job at Western Star and we are all very happy with the outcome of the album.
What does he future hold for the Devil Wrays?
Much more gigging! We are also working on more new material for our next album.