Krewmen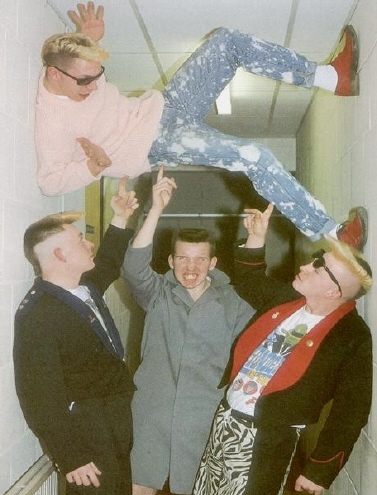 Starting in 1982 the Krewmen mainly played pure Rockabilly songs. In 1985 the band played in "Elvis The Musical". After that Tony McMillan (b) recruited Jimmy Fahy (d)-who eventually joined Get Smart a few years later- & Carl Sonny Leyland (g/v). They signed a record deal and released two EPs for Lost Moment Records.
But McMillan was bored always covering other people's material. So he reformed the Krewmen. In came Mark Cole (v), Jason Thornton (b) and Dominic Parr (d) with McMillan switching back on guitar. They released a trio of legendary albums in 1986 and 1987. With the success of the album releases, Krewmen developed into one of the most influential Psychobilly bands of the era. What made the Krewmen different from the other bands at that time was that they played incredibly fast plus the sensational voice of Mark Cole, who was arguably the best Psychobilly vocalist of the era.
After their third longplayer "Into The Tomb" Cole left the band for personal reasons--in fact he also left the UK-- and Tony McMillan took over on vocals. The sound started to change a little bit. In 1988 Parr and Thornton also decided to leave the Krewmen for private reasons. In came Steve Piper (d) and Paul Oxley (b)-Tony McMillan had tried other bass players in between-. The new formed trio was also responsible for the next few album releases.
Since their very beginning Krewmen has released two handful of albums and several singles all on Lost Moment Records( Curse of the Graveyard Demon was originally distributed by US record company Skyclad for the US market only) . The band also toured the USA and became headliners on several Psychobilly festivals all over Europe.
Mark Cole has already started a comeback with a new formed outfit called MadDogCole in 2007.
Discography:
Singles: What You Are Today(1985)--Ramblin(1985)-- My Generation (1988)--Do You Wanna Touch (1988)--Forbidden Planet(1992)
Albums: The Adventures Of The Krewmen (1986)--Sweet Dreams(1987)--Into The Tomb(1987)--Plague Of The Dead (1988)--
[ Home ] [ TORMENT TRIBUTE ] [ PSYCHO NEWS ] [ GIGS, FESTIVALS,TOUR DATES ] [ UPDATES ] [ THE BANDS ] [ THE RECORDINGS ] [ INTERVIEWS ] [ LYRIX ] [ LINX/CONTACT ]