(added February 2010)
INTERVIEW WITH GRAEME GRANT aka CAPTAIN DRUGBUSTER
( BASS PLAYER WITH DEMENTED ARE GO!, THE KREWMEN, FRANTIC FLINTSTONES AND MANY MANY MORE )
by wildhank, Johnny Pepper
At which age did you start playing bass?
When I was 16 I started playing a bass, that was bought on higher purchase, which was £10/week.
As everybody knows, you are a lefty. I read a couple of years ago that you are also able to play a stand-up bass stringed for right-handers. Is that true?
I do not play a left handed bass. As at school they asked, who would like to play a stringed instrument. I raised my hand, and they said " no, not you, you're left handed so here's a triangle and a woodblock". So when I left school, I bought a right handed bass and taught myself, by listening to early Sun Elvis Presley, Bill Hailey and the Comets and Willie Dixon.
I was told that you were thinking of a creating a coffin-shaped bass long before The Nekromantix were in existence. Is that true and why didn't it work out?
In 1987 whilst squatting in Tuffnel park we were (Demented Are Go) visited by Kim (Nekromantix) and I showed him how to play the bass. And showed him an idea I had of a coffin shaped double bass I had drawn on a piece of paper, and the next time I saw him, if by magic, he had a coffin shaped double bass, bugger. And I love him all the same.
As far as I know you were one of the original "crazies". How did you discover The Meteors and please tell us a little bit more about these early days of Psychobilly.
I first heard of The Meteors from my best friend Julian Page's brother. He brought back the single Radioactive Kid/Graveyard Stomp, after coming back from a 999 gig, in the middle of 1982.I then started following the band. Although I first saw the band as a five piece called Raw Deal, who were a rockabilly band. But all the "crazies" were from the outskirts of town. And the London crew was called "the zorchpeople". In the early days of psychobilly we were still going to rock n' roll weekenders. But we had flattops, bleach jeans, pointed creepers or steel toe capped boots. Then there was the Halloween ball in October 1982,and it was The Meteors, Screaming Lord Sutch and the Cramps, this gig changed my life forever... We went mental, which was a dance adopted by other cults as the wreckingpit / moshpit.
You joined Demented Are Go! in 1987. How did it happen?
I was in Dingwalls dancehall in 1987 when I was approached by two dodgy geezers. The tall one asked me if I would like to buy some acid (LSD), I said "yes, nice one man", about an hour later I went to the bar, where I met again the tall man, and said "out of the blue", "do you know any bands who need a bass player?"... to which he replied: "yeah, we'll have you". I said: "what band are you with?"...he answered: "Demented are Go". The tall man I had met was the brilliant drummer Ant Thomas. The rest is history.
During your time with the band, Demented Are Go! released the classic Kicked Out Of Hell, which is widely regarded as one of the most essential Psychobilly albums of all-time. Any memories left from the recording sessions?
I remember every second of that session. Everyone had their heart and soul in that recording. Even the fiddle player Simon Cohan. Shadow Crypt was the one for all of us. All band members had a room each in the squat, and one day, Sparky with a tin of blood red paint wrote the words of Tangenital Madness around and around the walls of Lex (Luther) 's room, way before he reads it out loud on the Orgasmic Nightmare album. And yes it was me singing Vietnam *LOL*.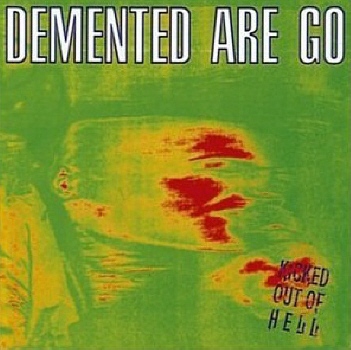 The band was quite successful, the album sold well and a huge tour of Europe followed. So why and when did you leave Demented Are Go!?
In 1997 my wife at the time and I decided that we didn't want to bring our son up in London, so we moved to Kent, which is only an hour away. But as soon as I got there, I had to go to the employment office, who said: "we understand that you have been unemployed for more than 6 months now, what is your profession?", to which I replied: "I am a double bass player". They repeated the question until I answered "my last job was as a security guard". they said here's a job as one, which I had to take or loose all benefits. Which was hard, as I had a 1 year old son at the time. That was the end of my career with Demented Are Go!
Next you became a member of the Krewmen. Please tell us a little bit about your days with Tony McMillan and the rest of the band.
In 1991 I had temporarily split up with Demented Are Go. I received a phone call from Steve Piper, drummer from The Krewmen, who asked me to join the band for an American tour. Which I did, as well as a silly video. This ended on a bad note, as he (Tony McMillan) stole my bass guitar.
After you had left the Krewmen you were drafted in by the Frantic Flintstones. When did you join them and what was it like to work with Chuck Harvey?
It was one big drug enduced session working with Frantic Flintstones. I could handle the session, only I didn't want to do the backing vocals "doo woop,doo woop" ...so I left... and re-joined Demented Are Go!!
You eventually rejoined Demented Are Go! How long did your second stint last with Demented Are Go!? I guess touring Japan was a great experience for you. Do you have any funny stories from the tour bus for our readers?
I stayed for approximately 7 more years. We were promoting Tangenital Madness in Japan, and you've never seen anything like a rush hour bullet train, with what seamed a million Japanese people, swarming like ants with Spark Retard skateboarding trough all of them. You know about the rest, rubber fish etc etc....
How did you get involved in the Hemsby TV stuff? Where did the idea of "Captain Drugbuster" come from?
It was all down to Mouse DJ singer of a band ( Space Cadets, Red Hot & Blue) and was recorded in Kings Cross in 1990/91.Again this was just another drug crazed drunken haze.
The 10" vinyl Captain Drugbuster Meets Jock McRock & Rumble Steve The Raid was released on BeBe's Records in 1997. How difficult was it to recruit ace musicians Steve Hooker and Ricky Lee Brawn for that project? Did you guys ever play live?

It wasn't difficult at all, as Steve Hooker asked me to do it and recruited my friend Ricky Lee Brawn, the drummer, who was more than willing to join. Yes we did a festival in Germany, can't remember when, but it was with Darrel Higham.
You were also member of the Planet Rockers, Switchblade, Mac Cutis, The Rimshots, Ronnie Dawson, Darrel Higham & The Enforcers, Tenpole Tudor, Hippies With Muscles, Sonny Ray & The RocknRoll Trio. Which of these were most fun to play with? Did you ever regret an engagement with a band in any way?
I enjoyed all of the bands listed above, as they are all gods in their own way. and I have NOTHING else to say...
What was your most memorable gig?
All of them are memorable in their own way. I loved them all.
You also have become a husband. What is it like to be married to a woman half your age?
Yes I am married, and its tiering, as she wears me out mooch.
Your next EP Captain Drugbuster Meets The Zorchmen will be released soon on Diablo Records. Do you have more details for us ? And what's next?
The details are: it will be released very soon, and there will be a tour to follow. "Watch this space" "No more, no less".. the end. Thank you!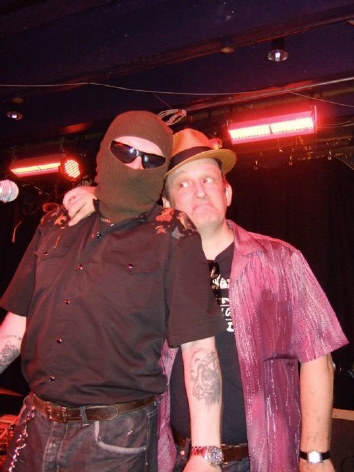 [ Home ] [ TORMENT TRIBUTE ] [ PSYCHO NEWS ] [ UPDATES ] [ THE BANDS ] [ THE RECORDINGS ] [ INTERVIEWS ] [ LYRIX ] [ LINX/CONTACT ]