(added January 2015)
INTERVIEW WITH GLENN DAECHE
( FRONT MAN WITH THE PHARAOHS)
by John McVicker
Where and when were you born and brought up?
24th January 1961 in Epping Green. I was brought up in Harlow.
When did you first discover music, what was the first record you bought?
When I was very young my dad introduced me to swing - specifically Glenn Miller who I'm named after!. I also remember dancing like a maniac to Sounds Inc.!! The first record I bought was Thin Lizzy 'Johnny The Fox'.
How old were you when you first picked up a guitar and what was it?
I was round 18 and it was a guitar! Can't really remember much about it - the first guitar I bought was an SG Gibson copy.
I once had a Gretsch Double anniversary but I left it in my car outside a house where I drank homemade beer and ate curry and when I came out someone had nicked it! Now I like Fender else but have an amazing Epiphone semi acoustic that I've been playing recently. Sorry I tend to ramble on when asked about guitars.
What was your first band and did you release anything?
My first band was the Phantom Pharaohs which became THE PHARAOHS. So yes I released everything with my first band!
How and when did THE PHARAOHS first get together/ first line up?
As I say THE PHARAOHS were born from the wreckage of the Phantom Pharaohs. I realised that I old sing in the toilets of Hound Dogs Rock'n' Roll club (great acoustics) and decided with a bunch of mates that we'd form a band. None of us could play a note so we kind of picked an instrument and learnt it. After a while I decided that I wanted to do this as more than a hobby so picked up Carl Sheeran (double bass) and his brother Mark (drums) at a random party and I carried on playing guitar. Then I decided that I needed someone who could actually play guitar and recruited Andy Cleall, a friend from school.
How did you get the deal with Nervous Records and were you happy with Blue Egypt?
We were playing downstairs at the Klub Foot and Roy Williams asked us to record an album with him. I wasn't totally happy with Blue Egypt as I didn't think the bass and drums sounded quite right. But I love the energy on it. I don't think anyone is ever entirely happy with anything they record. There always seems to be room for improvement - or maybe I'm just fussy!
You played a lot at the Klub Foot. Any funny memories?
It all went surprisingly well there. No falling off stage or different band members playing different songs or neo-Nazis taking out half the drum kit and very nearly half he band! However, I did leave my white peg trousers there and they were last been adorning the legs of Steve Whitehouse. I would still like them back! .
Have you played overseas much? What is your favourite country?
We've played Germany, Spain, Holland, France and Austria. I like Holland, people are so laid back over here and you get a good crowd.
Of all your albums and 12 inch single which is your favourite?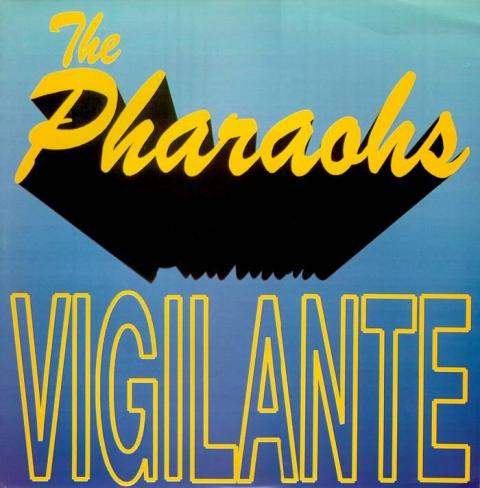 Blue Egyptian as I got to revamp some of Blue Egypt. But I downloaded Vigilante recently (believe it or not I only had vinyl and no record player for around 10 years!) and it's blowing me away!
When not gigging what are you up to-other bands, working?
I play with Choppy in the Heydon Louis Duo, until recently I played with the Noxious Toyz and I drive a lorry called Samuel for Fed Ex.....
Do you ever see any ex PHARAOHS...Ben, Lee Brown etc./ what are they up to?
I only really see Ben Evans - he's a guitar tutor and still lives in my hometown of Harlow. If we count fleeting ex members I saw a couple on Saturday night playing with the Caravans - at one point or other I've played with pretty much all of them!
What do you hope the future holds for THE PHARAOHS? Any recording /gigs planned?
I plan to keep playing until someone carts me off or people stop coming! I'd love to play the States at some point. We have some gigs lined up next year - we're playing the Stomp in May 2015 and there's a couple of other bits and pieces to be confirmed. I'm currently writing a new album called Rockabilly Love God and hope to record it in 2015. Keep up to date with all our news at THE PHARAOHS or our page on Facebook!! (shameless plug alert!)