(added November 2014)
INTERVIEW WITH GARY PUDNEY AKA GARY GRISWALD
( LEAD SINGER WITH THE GRISWALDS)
by John McVicker
In the last interview you said THE GRISWALDS would be back and you sure are. How's it going?

Everything is going great. Thanks to the boys in the band and our great management team, we are playing and recording regularly and enjoying it very much.
The second album has been out a couple of years now. Are you pleased with it and how is it selling?

(laughs) It seems longer. I don't know how well it is selling in total as we don't have these kind of figures. I know that we sell a lot at shows ourselves.
I am very pleased with it as I am with all the new material we are recording at the moment. I'm very lucky that the rest of the guys have the same attitude and vision as myself as to what we are trying to do. Crazy, fun psychobilly.
Do you still live in the U.K. and do you fly to Holland to record and gig?

Yes I still live in the UK and thanks to Laurens Kling, my manager, I just have to sit back and wait for an email telling me which airport to be at and when. It's a lot of travelling but it's worth it. I don't mind going to the Netherlands so much, it's become a second home to me and the people are mostly good people.
When you're not recording or gigging what are you up to?

When I'm not recording or gigging I just get on with life by reading and writing. I don't work anymore, not since I won 120 million on the euro lottery I find it very hard to get motivated to going to work everyday.
When you were in Bad Manners did you appear on any releases and what was Buster like to work with?

Yes I appeared on a lot of releases. As a band we used to record non-stop and as I was living where we recorded, I was on quite a few releases. Buster is a very intelligent man, however due to personal issues we don't speak anymore and that's all I have to say about that.
Do you have any idea what any of the ex members of THE GRISWALDS are up to i.e. Clive, Jason , Keith , Martin. Do you ever see them?
I ran into Clive a couple of weeks ago in a pub. He seems fine I think he plays guitar now but that's all I know about him. Martin has all very successful tattoo studio that he owns and works in. Jason had a couple of companies that are linked to body building and personal training / fitness. And Keith........don't know don't care.
Where have you not gigged that you would like to?
Mexico, Canada, Japan, Denmark, Sweden, Australia and anywhere else we've not been.
Tell us about the upcoming tour and the new release. Where and when can we buy it?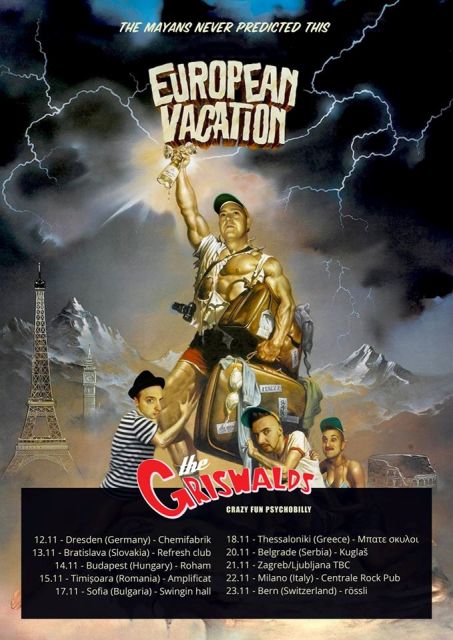 The upcoming tour is the "European Vacation" tour to promote the 10 inch 7-track mini LP of the same name. We will be selling the disc at the shows mainly but some will make it out to the usual distributors so that people in countries we are not visiting can get their hands on it. At the moment we are doing 10 countries in 12 days but it looks like we could be adding to that before we leave.
How rare is the Hucklebuck 7-inch single? Does sell for a lot on e-bay?

It's rare. I don't even have a copy! As for value I guess like anything, it's worth whatever someone will pay for it.
Finally what do you hope for the future of THE GRISWALDS?
Just more of the same. More gigs , more recording and a hell of a lot more partying.